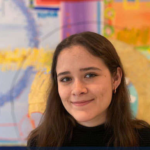 For Isabella "Isa" Di Bono '21, the "new normal" of COVID-19 has meant moving home to Tegucigalpa, Honduras, and finding ways to make art without a studio.
The ability to explore freely is essential to Di Bono, whose path to an art major wasn't a straight one, just an obvious one. She enrolled at Notre Dame intending to major in economics but figured out after just a couple of classes that the major just didn't interest her.
She intended to minor in studio art from the beginning but as she got deeper into her art coursework, it became clear that she needed to switch majors. Until she got to Notre Dame, Di Bono considered art a hobby, a passion she could pursue on the side. She took foundational art courses in her first few semesters. Later on, electives introduced her to different mediums, like photography, ceramics, printmaking, and bookmaking.
Now a senior, Di Bono has a BFA thesis to plan. She is working on a concept around the work she gravitates toward naturally—large-scale abstract paintings. She starts with oils or acrylics and sometimes weaves in spray paint or drawing. Di Bono's abstracts usually measure five-by-five feet, nearly as tall as she is.
For her thesis, Di Bono will work closely with her mentor, painting professor Maria Tomasula, Michael P. Grace Professor of Art and director of graduate studies. Each BFA student forms a relationship with a professor who mentors them through the thesis process. Tomasula will guide Di Bono through her work, the refinement of her artist statement, and preparation to exhibit on campus next year. On campus, BFA students also make use of studio space for their thesis and receive a stipend for materials when their project is approved.