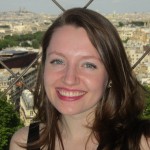 My name is Sarah Goodman and I am currently a student in the Master of Science in Patent Law Class of 2013.
The MSPL program at the University of Notre Dame will give me opportunities to learn about intellectual property law, as well as practice field-related skills for employment as a patent agent following graduation.
I have a B.S. in Medical Biotechnology from Upstate Medical University in Syracuse, NY.  While at Upstate, I worked on two research projects in the department of Neuroscience and Physiology. Both of these projects focused on the isolation and characterization of mutations in subjects with Parkinson`s disease or schizophrenia.
This past summer, I conducted research in the biology laboratory of the Centre Hospitalier Intercommunal; the hospital of Saint Germain en Laye and Poissy in France. For two months I designed and conducted a research project investigating genetic mutations in subjects with Factor XII deficiency. I am currently analyzing the sequencing files from this project for any novel variations.
My capstone project will be to research an invention and write the patent application. The project I chose is in the molecular biology field and will concern genetically engineered yeast for use as an analytical tool.
I enrolled in this program because patent law is a growing field with technologies constantly evolving. This is a good career to combine a passion for science with an interest in law.  The University of Notre Dame is a great place to begin this career because of the dedication of the professors and researchers on campus. The resources available for this program far exceed my expectations.  As I begin classes, this upcoming school year promises to be very exciting!