I recently returned from a trip to Nairobi, Kenya. While I was there, I met with the Law and Science Faculties of the Catholic University of East Africa (CUEA), to talk about their idea of creating a Master's in Intellectual Property. I also had the opportunity to deliver a series of lectures to faculty and students about US and international patent law.
I am really excited about this collaboration, in no small part because of the enthusiasm of the CUEA folks I met. They see that IP, and patents in particular, are critical to growing their developing economy; and want to figure out how to leverage their ideas in a global marketplace. I am excited to see what the CUEA folks develop, and hopeful that I can be a part of it!
I also got some time to be a tourist. More about that in the next post….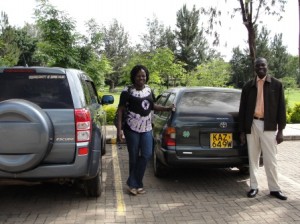 The Dean of the Science Faculty and one of her Department Chairs show off their Notre Dame gear.