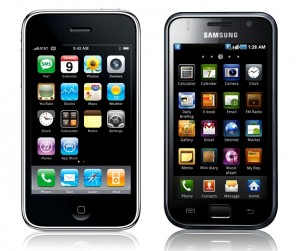 The nine jurors who will convene this week in the Apple vs. Samsung patent lawsuit may not know it, but their decision will likely have a profound impact on the shape (and many other features) of mobile technology to come.
According to the New York Times, if Samsung comes out on top, we should expect to see a lot more devices on the market with an unabashed likeness to the iPhone and iPad. Without any retribution handed down in a landmark case like this, it may be open season for imitators of Apple's signature sleek, minimalist design.
As for the other outcome, the Times cites Christopher V. Carani, an intellectual property lawyer in Chicago: "I think what we'll see is a diversification of designs in the marketplace if Apple wins." Rather than face similar lawsuits, the burden will be on mobile manufacturers to make products of distinct design and functionality.
But experts say the verdict will likely be a mixed bag. The Times reports that Apple's case for infringement of design patents—regarding the look of the devices—is weaker than that of their utility patents, which protect functional features. Experts say Apple will likely win-some, lose-some, and ultimately won't come close to the 2.5 billion in damages they were seeking.
But how's this for some juicy courtroom tidbits—evidence was presented in which a top-level Samsung executive expressed that the iPhone's release gave their company "a crisis of design" and that using the iPhone compared to Samsung's products was a difference like "that of Heaven and Earth."
Ouch! How will it all shake down? We should know this week!