Day 4 – Praying, Singing, and Rollercoasters!
On Sunday, some of our singers visited Christ Lutheran Church of Jasper while others attended mass with the Monk of Saint Meinrad. We sang I Will Lift Mine Eyes for the Monks and Peace Before Us at the Lutheran Church. We all regrouped and relaxed at the Abbey after mass and service and played card games, knitted, and changed for our trip to Holiday World later that afternoon. Dr. Doerries even joined in a game of cards!
After a delicious lunch of meatloaf, salad, fruit, and home-made cakes, we made our way back to the sanctuary for our recording session. We tackled two of our most difficult a cappella pieces from Vespers for our Lady, the 'Ave Maris Stella' and 'O Crux.' The text of 'O Crux' is the motto of the Congregation of the Holy Cross, the founding order of Notre Dame: O hail the cross our only hope in this passiontide grant increase of grace to believers and remove the sins of the guilty. We also recorded the Lesser Litany from our Evensong, which included beautifully sung solos by Caitlin, Maria, and Flannery!
We finished recording a little early, which allowed us to race to the bus and head over to Holiday World. The excitement increased as we saw the arches of the four rollercoasters on the horizon. After a group picture at the entranceway and safety instruction from Dr. Doerries and Mrs. Villano, we explored the amusement park. While some singers ate dinner first, others went straight for the tallest coaster in the Park. Dr. Doerries, Mr. Clayton, and Mr. Judge tackled the Voyage roller coaster! Take a look at the post-ride picture, they were whipped out!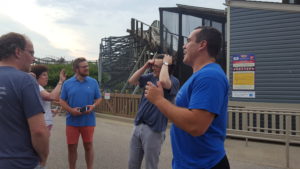 Unfortunately, after a few hours in the park, the rain clouds rolled in and inundated us. While the chaperones stayed dry in Kris Kringles' restaurant, the singers played in the rain until the bus came to take us back to the hotel.
That evening we held evening prayer in the lobby of the hotel, where we shared moments of joy, sadness, and the kindness of strangers. Despite all our fun in the rain, we were exhausted and sleep came quickly Sunday night.
We are excited to record our final music on Monday and then head home to our families!
Love to all!