Our journey began bright and early on Saturday morning as the choir and brave parent chaperones boarded the bus at 8:30am. Our drive to Bloomington flew by with only a short restroom break in Grissom, IN. We had a picnic outside a SUBWAY, the choir's 'favorite' restaurant, for lunch and then we drove to the retreat center to check-in and meet our choir families. The retreat center is outside Bloomington in a rural valley surrounded by cattle farms and tall grassy hills, which block cell-phone reception, but are beautiful as the sun sets.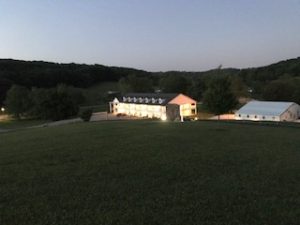 At about 3pm we dressed for our Evensong service at Trinity Episcopal Church and boarded the bus to head into downtown Bloomington; Trinity Church is just down the street from Indiana University Bloomington. When we arrived, Juan Mesa and our string quartet were already preparing for the service. We warmed up briefly, put on our robes, and sang our hearts out for a hearty congregation.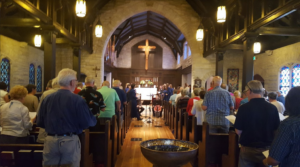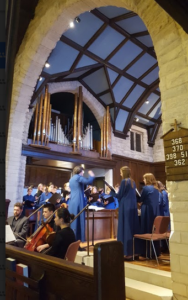 After the service we walked to Farm, a restaurant that specializes in farm to table food. We had a two-course meal of fresh greens (with amazing ranch dressing!) and roasted chicken, smashed potatoes, green beans (pasta for our vegetarian singers), and then walked to Hartzel's Ice Cream for dessert (all homemade flavors!).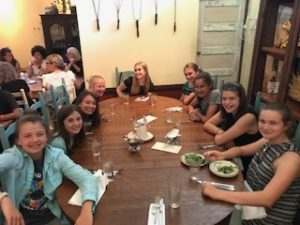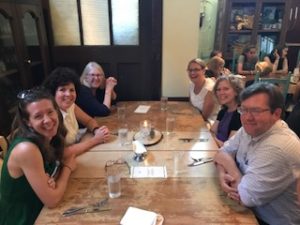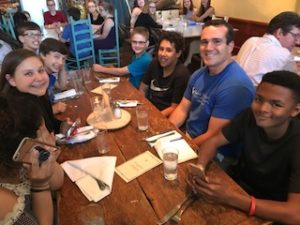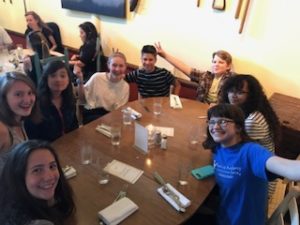 After arriving back at the retreat center last night, we held an evening prayer service where we had a moment to voice our joys and concerns about the day. There were many highs, the singing, the food, the friendships strengthened, new friends formed, but many of us were sad to leave home and the family and friends we hold so dearly. There were a few teary eyes, but we sang, prayed, and hugged each other before going to bed, which helped us feel at home in our big choir-family. We are at peace as the sun dips down below the hillside.
We were soooooo tired after a day of traveling, singing, and feasting, that most of us went right to sleep (after a little bit of chatting after lights out!). Breakfast arrives early at the retreat center: 7:15-8:00am! And Sunday mass/services will be a time for worship and fellowship.
We miss our families, our friends, pets, and loved ones, but we are healthy, playful, and singing mightily! We are excited for Sunday's adventure to St. Louis.
Much love to all our parents!