"The triumph of simplicity is important," says Hamlet 50/50 costume designer Elivia Bovenzi Blitz, and her work for this production is certainly a triumph in that regard. For this brand new, world premiere adaptation of Hamlet, Blitz collaborated with director Vanessa Morosco to create a dynamic, familiar-yet-new look to the costumes which conveys the essence of character in a bold and unique fashion.
Getting Oriented
Blitz's work for Hamlet 50/50 began in early 2023. Blitz had worked with director Vanessa Morosco in the past, and Morosco's direction to her design crew for this production was to find their own inspiration for creating the world of the play. For Blitz, that was a good thing – not having a set idea in mind helped her to bring innovative ideas to the table.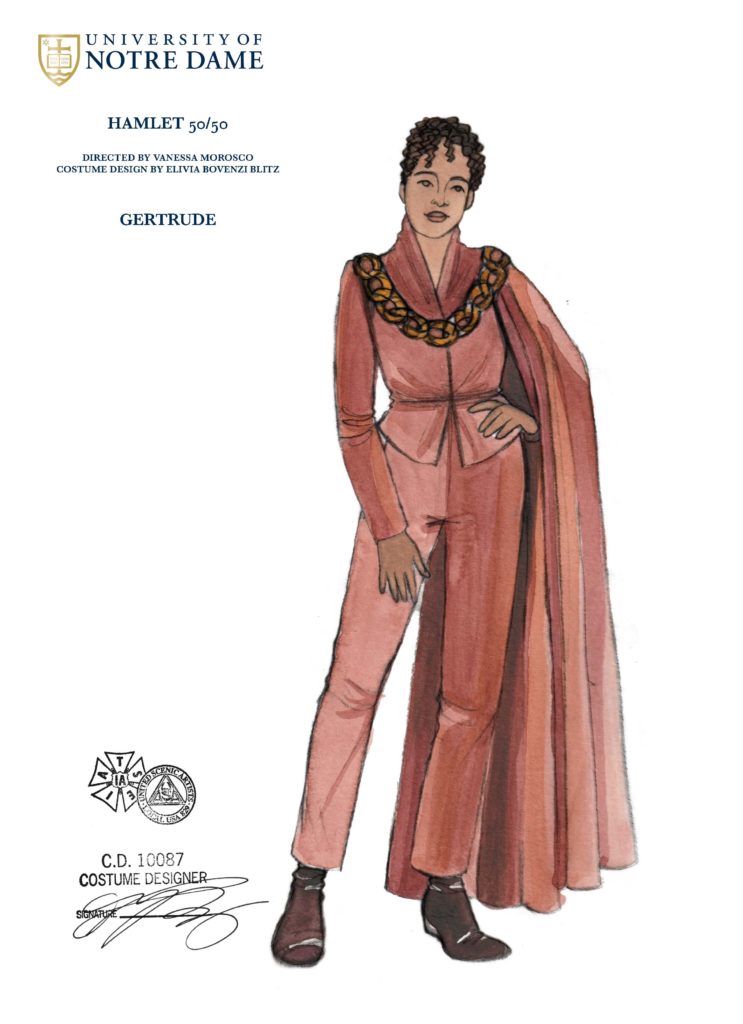 As a designer, Blitz's typical approach is to use the costumes to show the differences in power in the world of the play, and to convey the character without them having to say a word. As the process evolved, Blitz settled on a blend of her own personal style (favoring mixed patterns for the players) with a cleaner, more Scandinavian aesthetic that was functional and utilitarian.
Blitz's approach was to create a contemporary look, without being period-specific. The design is relatively modern, but not necessarily of the real world. It's an elevated style using details that define characters, such as the capes that we see on Gertrude and Claudius: a look that denotes regal and ceremonial authority, but blended with more everyday styles.
Function and Freedom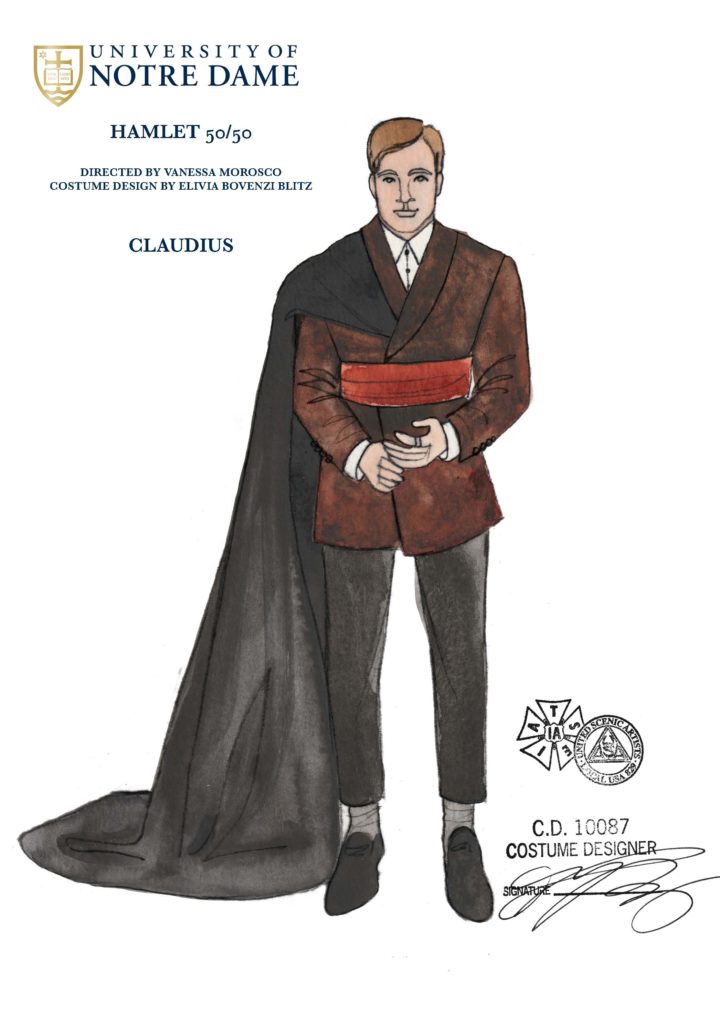 In a typical Shakespeare production, certain characters have more preferential treatment, based on their importance in the story; Shakespeare doesn't necessarily call for multiple elaborate looks and changes. In Hamlet 50/50, however, everyone has a more equitable amount.
As Blitz describes it, function and freedom became the two most important characteristics of the 50/50 ethos when applied to the costumes. Part of the conversation was making the backstage elements more equitable – for example, making sure that costumes for women don't take longer to change than those of the men. Footwear was another important piece of the puzzle; the intent was to create more ways for actors to move around the stage by keeping actors out of footwear, like high heels, that might limit their motion.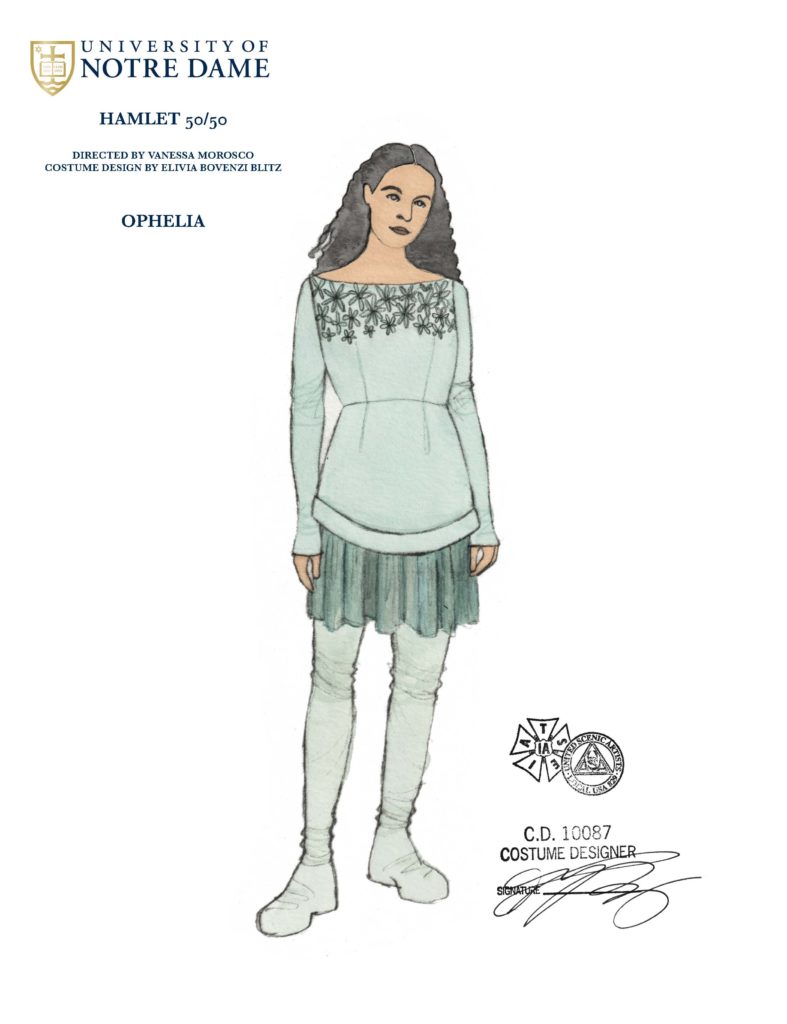 One element of the costume design that reflects the 50/50 ethos is the choice to put all of the characters in gender-neutral trousers, which allow for functionality and freedom of movement without fear of exposure. For Ophelia, the skirt was a careful choice, one that conveyed youth and innocence. But other characters' costumes have skirts as a layer amongst other layers. Similarly, Claudius's cape was originally designed to be shorter, but in the development process, it became more of an Elizabethan-inspired style which lives over one shoulder. "I didn't want him to look like a magician!" Blitz laughs.
The 50/50 production ethos extended into the build of the costumes as well. For Hamlet 50/50, the idea was to give the shop an opportunity to build more things and use more of their skills and talents in a better way, instead of just altering store-bought clothing. Costume builds were assigned in a different manner; Blitz's list of dream builds seemed impossible at first, but to her surprise, the shop didn't flinch at the ask, and actually even surpassed it.
"As a costume designer, you have to be so multifaceted," Blitz notes. "You have to be able to perceive actors' individual needs, read body language, and be very intuitive and diplomatic. No one's on the operating table – it is not life or death. We have high standards for our work, but we want to execute it as simply and easily as possible."
—
Learn more about Hamlet 50/50 at shakespeare.nd.edu. Performances run Aug. 15-27, 2023 at the University of Notre Dame – don't miss it!