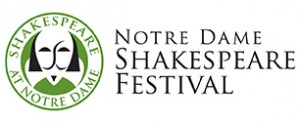 Dear Actors,
With auditions tomorrow, you should be aware of one key difference between last year's plans for the Young Company and this: this year all actors cast in the Young Company will have roles on stage with the Professional Company in Henry IV.
There are several reasons for this decision.  First and foremost, it's a larger show, affording us an opportunity to grow.  Secondly, while I still firmly believe there is inestimable value in working on any crew for a professional production taking place right here on our campus at Notre Dame, it's also clear that the opportunities to be on stage are what draw us as actors.  This summer's production is tied directly to the history of your predecessors here at Notre Dame—and the play arguably includes some of Shakespeare's greatest characters and writing.  They are very much worth your time.
Upon arriving in the summer of  2012, the Young Company was the first program of the Festival I was certain needed to continue.  I felt then as now that ND and St Mary's students are strong, and able to compete with those from elsewhere, even among BFA students.  It has been our goal to increase the participation of our own students in the Festival.  It's for this reason we recruited (and have engaged) West Hyler, a director with Broadway credits, who has assisted no less an internationally known director as Des MacAnuff (former Artistic Director of the Stratford Festival), and who regularly casts the international productions of Jersey Boys wherever it tours.
Even if you are unsure about joining the summer Festival, DO NOT MISS THE CHANCE TO AUDITION FOR MR. HYLER.  I guarantee you will see his name again, be it in New York, Las Vegas, or around the world.
There are a few slots remaining, and you should e-mail DEB GASPER (dgasper@nd.edu) by 5pm TODAY to arrange your slot.  Even if your audition piece is not yet up to snuff, heck, even if you're on book, don't miss this chance.
See you tomorrow!
-Grant
Grant Mudge, Ryan Producing Artistic Director                                                                  Notre Dame Shakespeare Festival                                                                          Shakespeare at Notre Dame                                                                                              World Class Theatre. | Right Next Door.