By Michael Wagg
I'm writing this in Bo Diddley Plaza, downtown Gainesville.  The great blues man spent his last thirteen years just a few miles out of town.  Later I'll stroll to The Bash, an annual music festival in tribute to the musician Tom Petty, who was born and grew up here in Gainesville.  He worked briefly as a grounds keeper at the university where we've been resident all week – and where a lime tree he's said to have planted is these days known as the Tom Petty Tree.  Coming to Florida this week, I'd expected sunshine, water and perhaps the odd alligator, but what the week has really brought, in abundance, is music.
I've been drenched in it, like the downpour on Wednesday night that turned the humid heat dry; and seem to have found sounds round every corner of this relatively small but very buzzy northern Florida city. It's been a rock 'n' roll week.
As I mentioned in the previous entry the driver who picked us up at Gainesville airport was a renowned reggae singer and songwriter who treated us to a beautiful private concert before we'd even set foot in town. Moments later I started to spot, among the Halloweeners, another species – the punk rocker – as spent revellers started to stagger back to our hotel from Fest, a huge punk festival here in town which sadly we just missed.
The next evening, while the rest of my gang enjoyed karaoke elsewhere (including, I'm sure, their unforgettable rendition of Bohemian Rhapsody) I stumbled across an open mic night in a little pub called The Bull, where the quality of act was exceptional. I particularly enjoyed a young man who stepped up to do a 10-minute drum solo; and another who played Rick Astley's Never Gonna Give You Up with Floridian vim and vigour. I love Rick and so do the good people of Gainesville.
Later an older man with a banjo sang a song about falling in love with a woman who lived many, many miles away and how he was going to put 'one foot in front of the other' and eventually reach her. Don't be silly, she said, I'll get on a plane and come to Florida! So the lyric changed to all the things they'd do together in Gainesville: We're gonna walk in the woods, look at the trees; pick up rocks and cones and pine feathers… from bathrooms..!
The music of Gainesville, which has a sunshine smile on its face, hasn't let up. Last night after our show I wandered into town for a quiet pint only to find about 200 students gathered outside in the market square for a band called The Picadillies – with banjo, cello, flute, bass ukulele, guitar and drums, they played raucous sea shanty rock as acorns pelted down from the oak trees above. And a few days ago it was a chance meeting in the thrift store, after I'd popped in to pick up some shorts, that led me to more music, when the woman at the till, unprompted and excitedly, told me that her friend went to school with Tom Petty and that The Bash, in his honour, was a must.
There's music in the Gainesville waters as well as 'gators, and we hope to have added a beat or two of our own. Supporting the music of Shakespeare's verse, we've added music to our story of Macbeth. Annabelle opens the show singing and playing; while later we sing My Poor Bird in a round. We punctuate the action with buffalo drum, recorder, tambourine, wood block, bird whistle, thunder stick, and our (and particularly Annabelle's) pride and joy, the autoharp. A small harp with buttons for its 21 chords, Annabelle found it after her previous AFTLS tour and liked it for its portability and as a theatre instrument she could master quickly. There are 36 strings and they're temperamental, leading Annabelle on an adventure to track down a re-stringer, which led her to Goshen, Indiana and a man called Bill at Second Song Music who, like Annabelle could talk about autoharps all day! They would have done if she hadn't needed to be back in time to sing Ae Fond Kiss at the top of our show. The autoharp is now as well travelled as we are and comes complete with stickers from our stops. It's our spikey, moody, faithful old friend. Like Tom Petty's lime tree.
Created as a nod to Tom, back at The Bash we're treated to a wonderful, friendly, free festival. No fences or gates, just great bands on three stages and thousands of local people rocking up. I enjoy the rocky Morningbell and the bluesy folk of Wax Wings, before gathering at the main stage for Larkin Poe. Their singer introduces one song by describing her recent move from Georgia to Tennessee and (as if she'd read my previous blog!) the feeling of having one foot in the past of the previous place and one in the future of the next. The song is called Georgia off my mind.
But the best was yet to come: Enter Mavis Staples. The blues gospel singer and civil rights activist is 83 years old and, while understandably having the odd mid-set sit down, her voice and performance is astonishing; and her band just about the coolest middle-agers you could care to imagine. A singular treat to see Mavis, she leaves the stage powerfully, mid-song, having encouraged the gathered crowd to vote in the elections this week. I'm tired, she says. And the crowd laugh. But she goes on to describe the things she's tired of in the society she sees around her and so the reasons to vote. A wise and powerful woman, long after Mavis has left the stage her crowd are still singing the refrain she started: we've got work to do.
Meanwhile back on campus I have a quick look for the Tom Petty Tree but fail to find it, like many before me. Google maps had told me there's also a Tom Petty Road in Tennessee and Tom Petty Plumbing and Heating in Ilkley, Yorkshire. Whether they exist or not I don't know, as like much of the music here, delivered with a wink and a sideways glance, it may all be part of the funky folklore. In a interview not long before he died Tom said he had no recollection of ever planting a tree on the University of Florida campus. Still, it makes for a good story, or a song. Something like The Lime Tree That Tom Petty Never Planted (Grows Old in Gainesville).
I'd try to write it myself if I had the time, but we're moving on now to another tune: Georgia on my mind.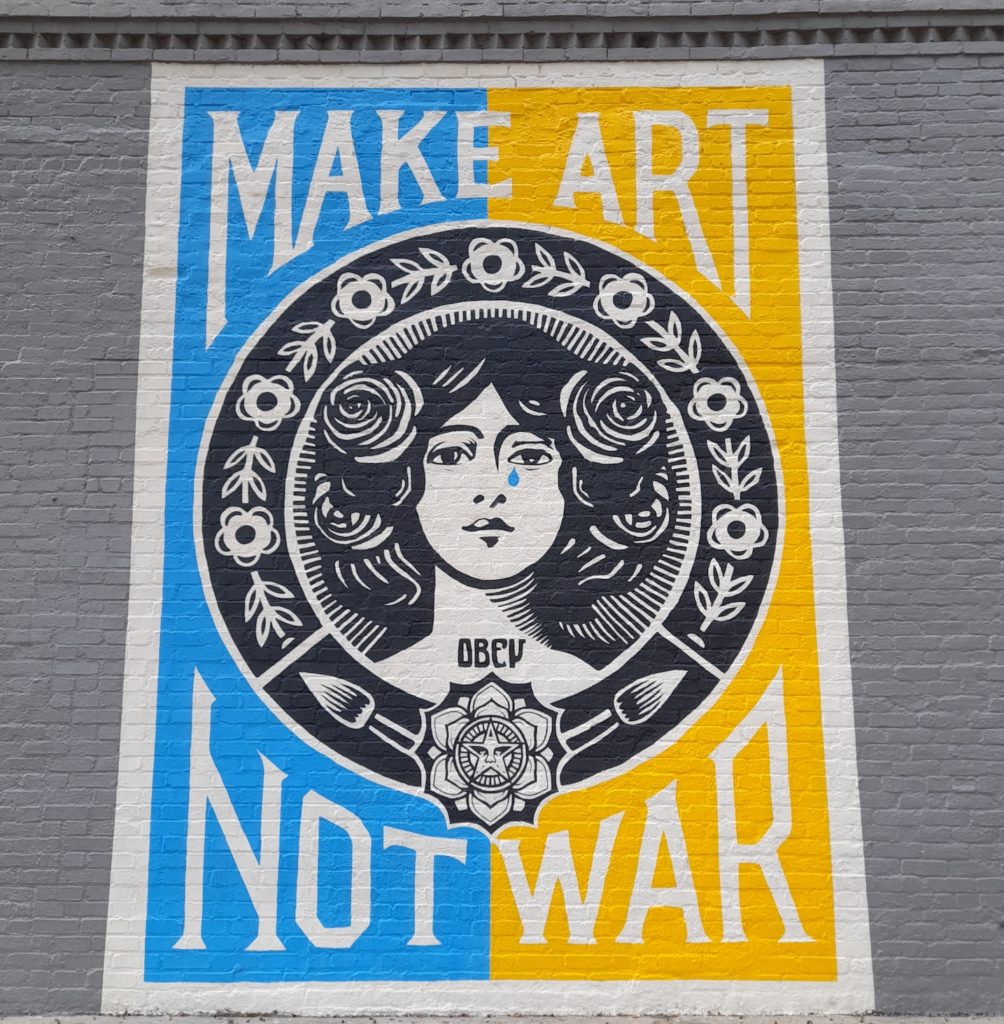 Here's the Macbeth Fall '22 playlist so far:
Pineapple Kryptonite – Atarashii Gakko
Do you Know the Way to San José – Dionne Warwick
Somewhere Over The Rainbow – Israel
San Francisco – Scott McKenzie
Sweet Home Chicago – Robert Johnson
No Time For Crying – Mavis Staples