By Annabelle Terry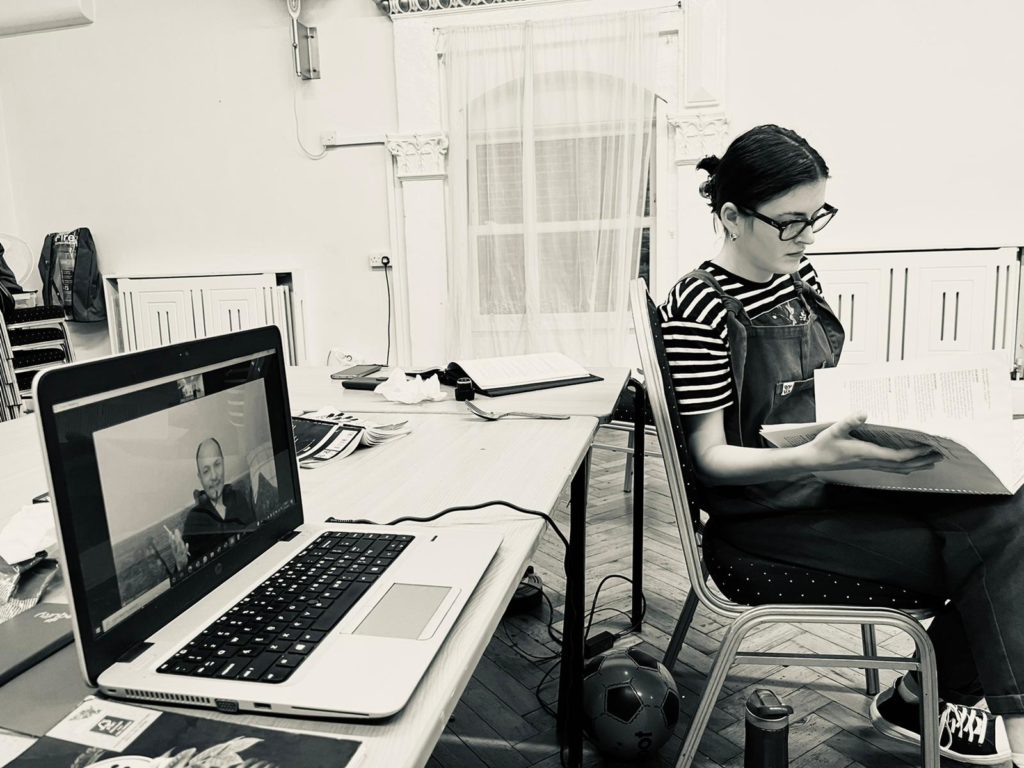 Friday 17th December 2021
"Shall we go prove what's to be done?" – Don John 1.3
The first week of rehearsals is complete! And what a joy it's been.
At the end of the first week, it is typical to find the actors together in the corner of a nearby pub somewhere, sharing a pint together and looking back on what they have achieved so far. But the goalposts have been moved for us Much Ado cast – the Covid 19 pandemic and new Omicron variant rages around us in London, and so we all scurry back to our homes straight after rehearsals. Don't worry too much, though – the Whatsapp group is still full of banter and we raise our glasses from a distance to a brilliant week against all odds.
We are currently working as 4 of us in person and 1 on Zoom (Will is isolating after sadly catching Covid the week before starting). I can honestly say I have never seen anyone as buoyant whilst working virtually as Will has been this week. Despite not being physically in the space with us, his presence was absolutely felt, and we were able to get stuck straight into 'table work' – reading through the script and analysing it for meaning, sense and tone. This proved invaluable and we were quickly into creative discussions regarding setting, music, comedy and much more.
This is my first time working for AFTLS and I'm still pinching myself that I get to be part of this group. I have always been a lifelong Shakespeare nerd and now I get to devise and perform in my favourite of his comedies! It's my first time in a rehearsal room without a director too, and I jokingly likened it to being in a school room without the teacher and getting to play. They do say that through play comes the best work, though, and this script lends itself to just that. We are very quickly finding the abundance of light and shade in Much Ado; moments of quick wit and barbed retorts followed by the most heart-breaking and romantic dialogue. The characters already feel so relatable and we are excited to discover all their depth and the journeys they go on throughout the play.
Having finished table work we got up on our feet and started trying out ideas. We were joined by the lovely Jen Winter to act as another body in the space on behalf of Will and to give us some pro tips on choreography for the masked ball scene. So far we're thinking a mashup of 4 songs with a different style of dance accompanying each to serve the feel of the duologue being spoken – sound ambitious?!
All week there has been a palpable sense of gratitude in the air – that we get to be doing what we love, in such good company, at such a tumultuous time. We know there might be more disruption ahead, but we take it one day at a time and as a team.