Week Twelve: San Jose State University, California
By Kaffe Keating
"And tell them, there thy fixéd foot shall grow till thou have audience."
– Orsino, Act 1 Scene 4
The Hammer Theatre building, as it's now known, in downtown San Jose used to be the home of the San Jose Rep. Founded in 1980, the San Jose Rep achieved international fame and produced many critically acclaimed productions. However, just like so many repertory theatres in the UK over the years, the company was no longer able to financially support itself and declared bankruptcy in 2014.
'The Rep' used to be everywhere in Britain. For many actors it was an alternative to classical training at drama school; you'd just learn on the job. You'd be performing one play in the evening and rehearsing the next one during the day, one company of actors all playing alongside each other in a wide range of parts. Some Repertory theatres still exist today but, with the advent of television and stories being brought into people's living rooms, the model is no way near as sustainable as it once was.
After the San Jose Rep left, the building stayed empty for a year and a half. Someone would just come in every so often to make sure the toilets still flushed. Then, thankfully, San Jose State University won a bid to take the building over and give it a new life as The Hammer, named for former mayor Susan Hammer and her husband Phil who were both instrumental in the theatre being built in the first place. It's on its way now to becoming a cultural hub in the heart of the city, bringing in both touring companies from around the world and also providing the students of San Jose State with a professional performance space.
At the heart of the project is Lisa Laymon, an ex-member of the Silicon Valley workforce who has now turned her talents to helping run a theatre. Her daughter is in the business too, currently living and working in Manhattan as a stage manager, so it's clearly in the blood. O for a stage manager, that would ascend the brightest heaven of organisation…
We're over the half-way point now and we're feeling it. London and life after the tour is waiting
loudly around a corner towards which we're now beginning to hurtle. The built-up fatigue is also starting to take its toll, it feels like we've finally learnt not to settle fully anywhere; our bodies now used to the idea that there's no point gathering moss if the stone's just going to start rolling along again any second. It makes the inevitable uprooting every Monday somewhat easier, but it also makes it difficult to ever fully rest.
Our classes this week are a slightly different affair than what we're used to. Usually we've been brought in by an English Department, and a typical class involves sweeping the desks to the side of the room, getting everyone on their feet, and encouraging the students to read the text out loud and try to mean what they say; activating a part of their brains which is less analytical and more instinctive. They're always good fun, but here we've been working with a lot more students who already have a grounding in performance. It's been a fun change of pace, meaning we've been able to dust off a different set of exercises, and invent a few too.
The classes aren't the only difference this week. We're in a much more intimate performance space in the form of 'Hammer 4', the studio theatre at the top of the building. We've played a huge range of auditoria so far, from the more traditional in Notre Dame, Wellesley and USNA, to concert halls in Texas and a converted barn in Winedale, but this is the first time we've played in a smaller, black-box space.
Not only that, but we've got matinees! Two of them! One at 11am for local high school students (an ungodly hour to be performing anything, let alone Shakespeare…) and another at the more civilised time of 2pm on Saturday. This is also means we'll have our first and only two-show day – standard fare on a regular job but not something we've had to do before.
The shows turn out to be great fun, the intimate space providing a whole new spin on the
performance. Although, by the end of the Saturday afternoon show, I for one am absolutely
knackered. We've done three shows in just over twenty-four hours, something that's usually only topped by crazy Christmas panto schedules. Good fun though, and it's always good to feel like you've worked hard.
After packing up the case after final show on Saturday afternoon, we head over to the University's football stadium to cheer on the San Jose Spartans in a face off against the San Diego Aztecs. Lisa was kind enough to sort us out the tickets and we join her and her husband Alex in the stands.
"So I'm guessing there's a big rivalry here then? San Jose and San Diego?" I presume.
"Not really…" says Alex, "San Diego's about 600 miles away."
Of course. This country is so massive, how am I still being surprised by that? That's like thinking Bournemouth and Rangers are close enough to each other to have developed a local rivalry. And we get annoyed when everyone thinks we know the Queen…
The game, although small scale by national college football standards, is a feast of colour and sound. Between each stoppage of play (of which there are lots) the big brass band up in the stands starts playing, cheerleaders are thrown into the air in sequence, and we get to watch a slow motion replay of a young man in protective gear fall on his neck again and again. It was a brilliant experience and I'm finally starting to get a handle on the rules…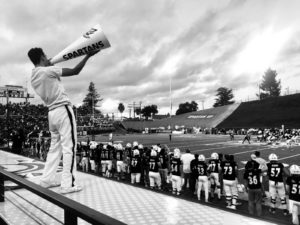 On Sunday, Lisa had offered to take us on a hike to see some of the famed Giant Redwoods. They are truly magnificent. I'm standing, goggling at a bunch of them all growing in a circle as Lisa gives us a bit more information.
"These aren't even the big ones, you know."
"What do you mean?" I gawp. These trees are taller than some blocks of flats I've lived in.
"These are what's called 'second growth'. They're probably two or three-hundred years old. You see how they're all growing in a circle? There would have been a much bigger tree in the centre which they would have all sprouted from."
"What happened to it?" I ask, my mind boggling.
"Cut down. They used to be everywhere here, but they were cut down and used for timber to build San Francisco during the Gold Rush." I can't imagine what a forest of first growths must look like, the first Europeans to come across them must have lost their minds with wonder. Before, you know, proceeding to chop them all down of course.
There was, however, one surviving giant left. Named 'Methuselah', after the oldest man in the Bible, Lisa drove us up the hill to take a look. I've never seen anything quite like it. Over fourteen feet in diameter, and over 1800 years old, it's like discovering something straight out of a Tolkien novel. Here's a picture of Al giving it a hug for scale.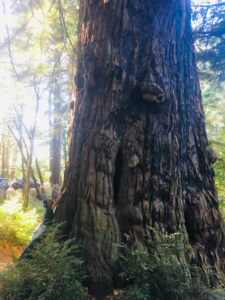 And just like that, as soon our roots get a solid grasp on the ground, it falls away beneath us once more. We're heading East again (the weird direction for jet-lag), back to the familiarity of Indiana and DePauw University.
DePauw, which is situated in the small town of Greencastle, promises a somewhat slower pace than the rushing, traffic-laden Silicon Valley. After the intensity of the last few months, spending some time with Methuselah has helped me realise that a bit of peace and quiet may be just what we need…