~Abstract Submission & Registration Deadlines Extended to 9/7/2022~
Friday, September 30 – Saturday, October 1, 2022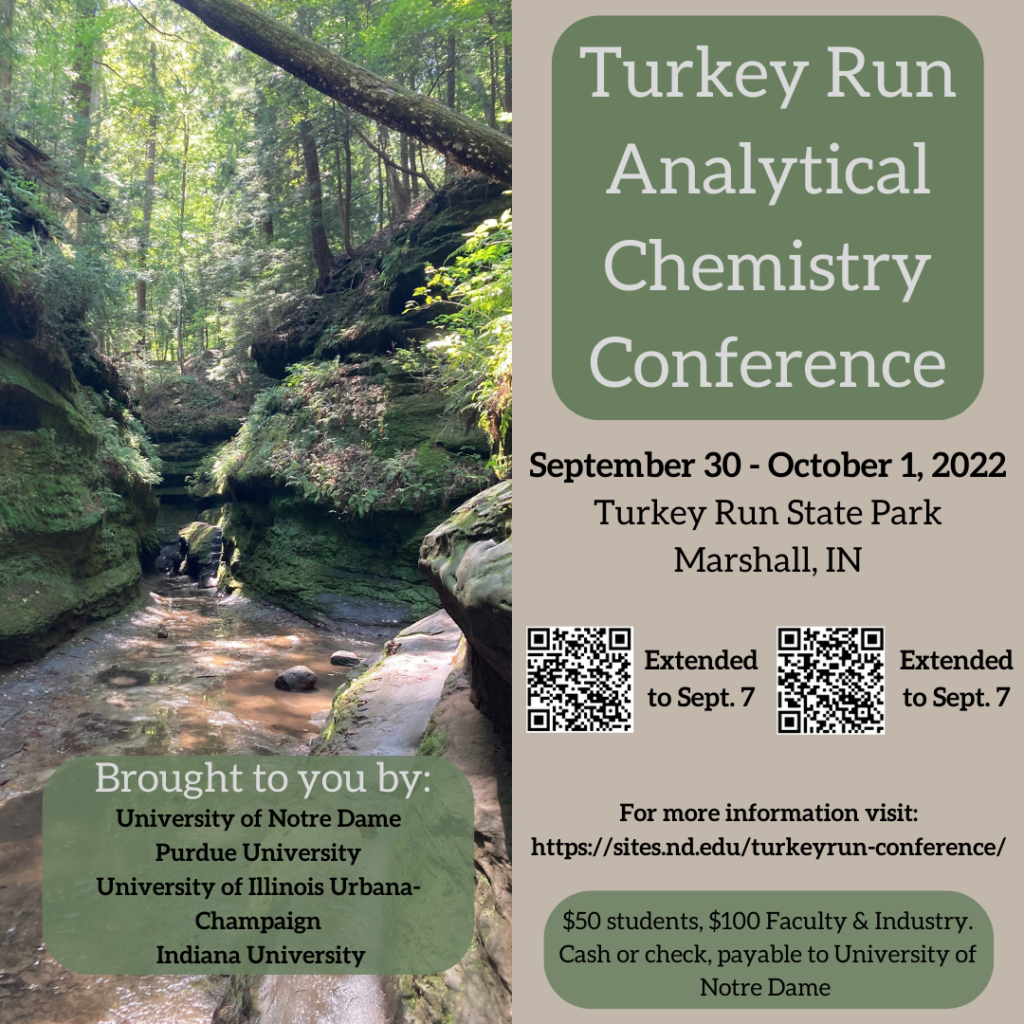 What is the Turkey Run Analytical Chemistry Conference?
The Turkey Run Analytical Chemistry Conference is a student-organized meeting held at Turkey Run State Park in Marshall, Indiana. Purdue University and Indiana University established the meeting in 1970. The University of Illinois at Urbana-Champaign joined the conference in its early years, and University of Notre Dame officially joined in 2008. The conference provides a unique setting in which the attendees from top analytical chemistry divisions in the country can interact in a relaxed environment while sharing knowledge and experiences on a more personal level that may be difficult to attain at larger conferences. Attendees typically include mostly graduate students and some post-doctoral staff, professors, and undergraduate students.
Full Conference Program:
Deadlines
Registration: DEADLINE EXTENDED TO 9/7
Register using this link: https://nd.qualtrics.com/jfe/form/SV_e8WNF23Kq3hyvzg
Abstract Submission: DEADLINE EXTENDED TO 9/7
Submit abstract using this link: https://nd.qualtrics.com/jfe/form/SV_6VRRJXgWLKFacIe
You should receive a confirmation email once the surveys have been completed. If you have questions or comments, email khayes5@nd.edu or hwhitehe@nd.edu. The registration fee is $50.00 for students and $100 for all others, which includes dinner on Friday night and breakfast Saturday morning. The registration fee can be paid by cash or check directly to your school's conference representative, via mail, or upon arrival at the meeting. Checks should be made payable to University of Notre Dame.
Presentation Guidelines
Poster presentations: 48″ X 36." Poster pins will be provided.
Oral presentations: Presentations should be 10 minutes in length. There will be a separate time for questions and discussions. Presentations should be in PowerPoint format with a 16:9 aspect ratio. Presenters should email their presentations to khayes5@nd.edu by 7am on October 1. We also recommend each presenter bring a flash drive with a backup copy of their presentation.
Keynote Speaker
Marta Venier is an environmental chemist and Assistant Professor at the Paul O'Neill School of Public and Environmental Affairs at Indiana University in Bloomington, Indiana. In her research she employs analytical chemistry and mass spectrometry techniques to study the fate, transport, and behavior of persistent organic pollutants in the indoor and outdoor environment, including both legacy and emerging pollutants. Since November 2019, she has been leading the Integrated Atmospheric Deposition Network (IADN), a monitoring program funded by the U.S. Environmental Protection Agency.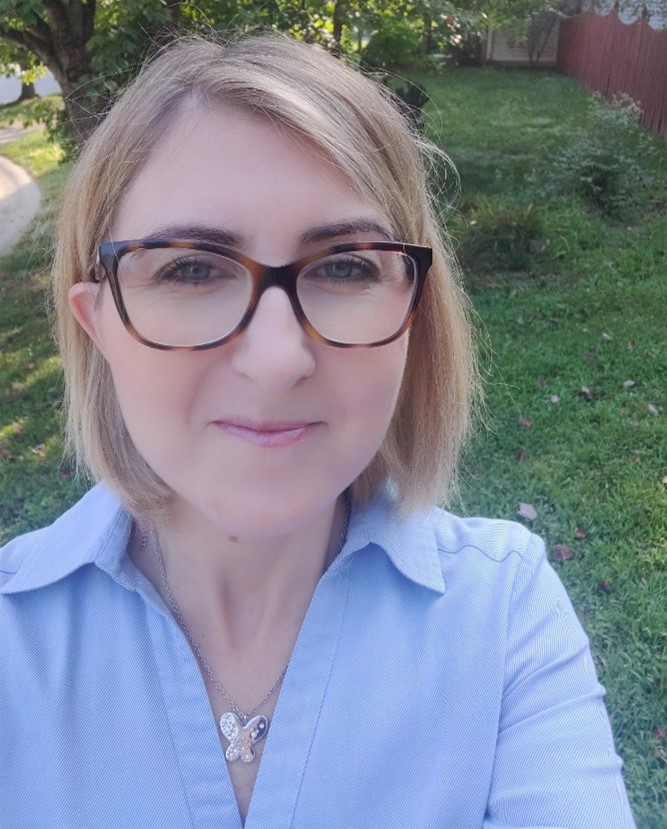 Accommodations
All conference attendees are responsible for making and paying for lodging reservations. Rooms are blocked off at the Turkey Run Inn and are available on a first come, first serve basis or you can reserve a campsite.
To reserve a room you can call call 877-563-4371 or reserve online at www.indianainns.com and use the group code 0930AL.
CONTACT INFORMATION:
Turkey Run State Park
8102 E. Park Road
Marshall, IN 47859
Reservations: 877-LODGES-1
Front Desk: 765-597-2211
Website: https://www.in.gov/dnr/state-parks/inns/turkey-run-inn-at-turkey-run-state-park/
Group Code: 0930AL
GATE ENTRANCE FEE:
All vehicles will be charged a fee to enter the park: $7 in-state and $9 out-of-state.
ALTERNATE ACCOMMODATIONS:
In the event that all rooms are filled at the Turkey Run Inn, there are several hotels in Rockville, IN (~15 min. drive from Turkey Run State Park)
Old Jail Inn
127 South Jefferson Street
Rockville, IN 47872
(217) 808-1309
Covered Bridge Motel
346 South US Hwy 41
Rockville, IN 47872
(765) 569-2833
Parke Bridge Motel
304 E Ohio Street
Rockville, IN 47872
(765) 569-3529
Motel Forrest Rockville
868 North Lincoln Road
Rockville, IN 47872
(765) 569-5250
Conference Schedule
| | |
| --- | --- |
| Friday | |
| 3:00 – 5:00 pm | Check-in- Lusk Room |
| 4:30 – 5:30 pm | Poster Session A- Lusk Room |
| 5:30 – 6:30 pm | Poster Session B- Lusk Room |
| 6:30 – 7:15 pm | Dinner Group A (Dinner included in registration)- Dining Room |
| 7:15 – 8:00 pm | Dinner Group B (Dinner included in registration)- Dining Room |
| 8:30 pm – 12:00 am | Social Mixer- Tennis Shelter |
| | |
| Saturday | |
| 7:30 – 8:30 am | Breakfast Buffet (Breakfast included in registration) & Q&A with Eli Lilly- Lusk Room |
| 8:30 – 8:40 am | Conference Photo- In front of Turkey Run Inn |
| 8:45 – 9:00 am | Welcome- Lusk Room |
| 9:00 – 9:50 am | Keynote Speaker- Lusk Room |
| 9:50 – 10:00 am | Break |
| 10:00 am – 12:00 pm | Oral Presentations- Lusk Room |
| 12:00 – 12:10 pm | Closing Remarks |
School Representatives
University of Notre Dame
Kathleen Hayes (khayes5@nd.edu)
Heather Whitehead (hwhitehe@nd.edu)
Purdue University
Yunfei (Veronica) Feng (feng346@purdue.edu)
Steven Sharpe (sharpe22@purdue.edu)
University of Illinois-Urbana Champaign
Gayle Adkisson (adkssn@illinois.edu)
Indiana University
Quintin Brown (brownq@iu.edu)
Ethan Douglas Call (etcall@iu.edu)
The Ohio State University
Vicki Wysocki (wysocki.11@osu.edu)