Faculty Advisors
Professor Paul Weithman, Humanities Faculty Advisor

Professor of Philosophy and Humanities Director of the Glynn Family Honors Program
Professor Eileen Botting, Interdisciplinary Faculty Advisor

Professor of Political Science
Professor Christopher Kolda, Science Faculty Advisor

Professor of Physics
Science Director of the Glynn Family Honors Program
Student Staff
David Phillips, Editor in Chief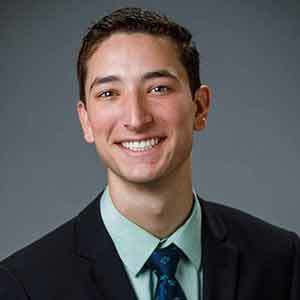 Hesburgh-Yusko and Glynn Scholar
English and Economics Major '21
David has conducted human rights research in Santiago, Chile and Cuzco, Peru over the last two summers. Today, he assists Professor Paolo Carozza with human rights and international jurisprudence research. David is interested in leveraging legal theory to promote human well-being.
Humanities Team
Patrick Aimone, Humanities Editor

Hesburgh-Yusko and Glynn Scholar
Political Science Major '22
Patrick Aimone is a first-year Political Science major with particular interest in modern political theory. He is currently conducting research with Dr. Eileen Hunt Botting on the philosophical correspondence between John Rawls and Susan Moller Okin and its influence on the former's views on abortion, as well as on the influence of Jurgen Habermas on modern bioethics.
Angelica Ketcham, Humanities Editor

Hesburgh-Yusko and Glynn Scholar
Architecture Major '22
Angelica is a member of the D.H.A.R.M.A. research team in the architecture department, which focuses on the documentation, examination, and preservation of historic sites. She is currently working on D.H.A.R.M.A.'s Taj Mahal project, and hopes to work with the Vatican and Roman Forum in the future.
Pierce Lewin, Humanities Editor

Glynn Scholar
Theology, Philosophy, and Latin Major '21
Interdisciplinary/ Science Team
Aidan Crowley, Interdisciplinary Editor

Stamps and Glynn Scholar
Neuroscience and Behavior Major '21
Aidan is a researcher in Dr. Hyde's neuroscience lab, where she studies neuron damage and regeneration. She is interested in researching ethics of patient-centered medicine and healthcare policy in a universal healthcare system.
Sara Rani Reddy, Science Editor

Stamps and Glynn Scholar
Chemistry Major '21
Sara Rani is a research and editorial assistant for Professor Botting. In the summer of 2018, she did bench research in a developmental biology lab at Cincinnati Children's Hospital Medical Center. This summer, she will be working as a research assistant in a clinical research lab at Cincinnati Children's. In the future, Sara Rani is interested in working on bench-to-bedside medical research to improve patient treatment options.
Connor Sabers, Science Editor

Glynn Scholar
Physics and Mathematics Major '21
Ryan Klevens, Science Editor

Glynn Scholar
Biochemistry Major and Philosophy, Politics, and Economics Minor '21
Ryan is an undergraduate research assistant in the Smith Lab, where he focuses on synthesizing figure-eight shaped molecules designed to target certain proteins on the surface of certain cancer cells for fluorescent imaging. He is interested in conducting research at the interface of chemistry and biology.
Lorena Morejon-Lasso, Science Copy Editor

Glynn and Latino Studies Scholar
Biological Sciences Major '22
Promotion Lead
Mithara Kaluarachchi
Hesburgh-Yusko Scholar
Neuroscience and Behavior Major and Gender Studies Minor '22
Mithara is a research assistant in Dr. Yoon's Cognition, Emotion, and Emotional Disorders Lab where she studies factors that affect, and are affected by, the way we process other people's facial expressions. Mithara aims to research the disparities in mental illness and psychiatric healthcare in developing nations and low income communities through biological, chemical, and social lenses.
Website Team
Lynn Sang, Website Designer
Greater China Scholar
English and Economics Major, Computing & Digital Technologies Minor '21
Joshua Cepeda, Website Manager

Trustey Scholar
Computer Engineering Major '22