'Everywhere you go, you always take the weather with you' – Crowded House
It does rain in San Antonio, Texas apparently. This actually has nothing to do with five actors from London bringing the London weather with them and it has everything to do with Hurricane Patricia who is wreaking havoc across Mexico and Texas at the moment.
The rain we experienced in San Antonio was not devastating, thank goodness, but there was enough of it that the San Antonio River was made so proud that she had overborne her continents. We Brits and Irish are used to the rain and in a way it was a nice reminder of home, just like a hot cup of tea with milk is, or a crumpet with Marmite on.
This week was our second at the University of Texas, this time at UT's San Antonio campus. Again, we were welcomed by some extremely clever and engaging people at UTSA. Mark Bayer is in charge, and his team of Kimberly Fonzo, Bridget Drinka, and Georgia Richter were extremely helpful in welcoming us and getting us around all of the spaghetti roads that wind through San Antonio. In the course of the week we all got to work with some very friendly professors and students alike.
UTSA campus is a little out of town and we were performing in the Recital Hall of the arts building – a cavernous stage with a huge organ at the back and a couple of Steinways stage left. It was quite tricky to tech the show as it wasn't in a purpose-built theatre; however, our student technician Chris, was incredibly good! As were the audiences that braved the weather to come in. It rained on Friday and Saturday so the numbers were down in the audiences compared to Wednesday but it is quality over quantity. On Saturday we were joined by a clan of Scots in the front row all sporting tartan kilts who seemed extremely engaged.
I think Mark Bayer has done his research into British taste and culture because on the first night he took us out for an Indian curry – the national dish of England which was thoroughly enjoyed, and then, on our last night, we went to a pub serving food late – perfect having done the final performance for the week.
In our spare time we wandered around The Alamo and went to the Menger Hotel, where Teddy Roosevelt recruited his Rough Riders (funnily enough the bar at the Menger is designed to resemble the House of Lords in our Parliament). Sam and I visited the Pioneer Flour Mills in the historic King William district that has some beautiful houses. On Sunday Chris, Claire, Sam, and I hired bikes and went down the river walk on the Mission Trail to see the old Spanish missions from the 1600's. Sunday evening had dried out a bit which meant that the Dia de los Muertes festival was in full swing in the La Villita district of San Antonio.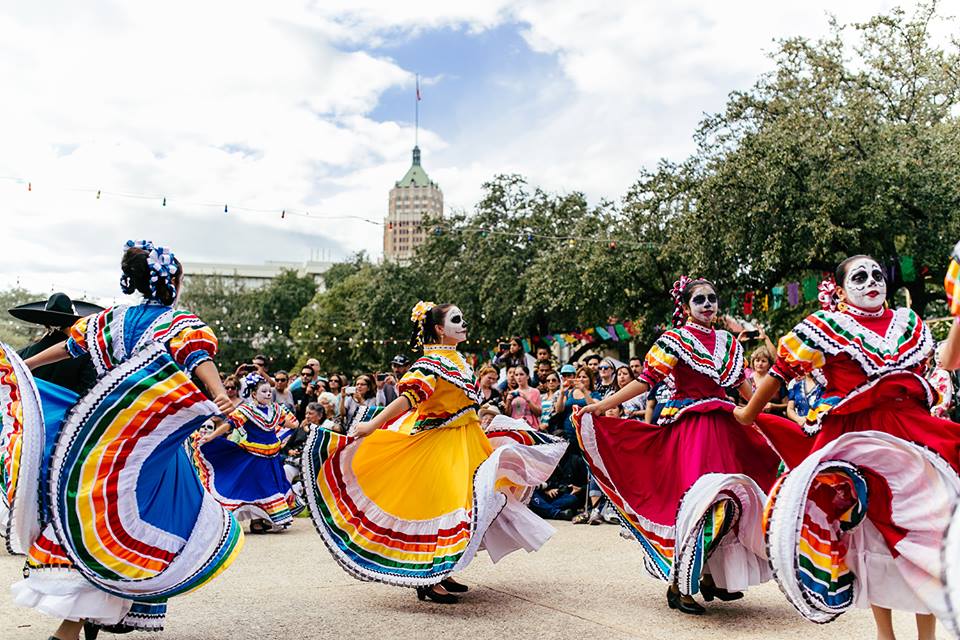 Ghouls and ghosts danced and sang through the night…It was a ghoulish spectacle, a lovely way to end the week in SA, and great preparation for Halloween in Massachusetts. Stonehill College, here we come!