Shana

 Scogin
 is a PhD student in Comparative Politics, Political Theory, and Political Methodology. She earned her B.A. in Political Science and Biology from Kenyon college and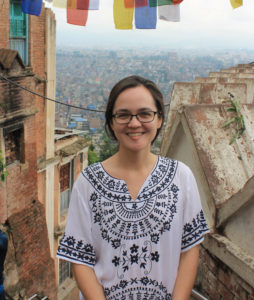 her M.A. in Political Science from Marquette University.  Her research interests include economic migration, political participation, ethnicity, and gender in post-disaster rebuilding in the South Asia. She hopes to do research subnationally in the context of the the 2015 Nepali earthquakes for her dissertation. Last summer, she participated in an intensive Nepali language course in Kathmandu, Nepal with the help of a Notre Dame SLA grant. She currently listens to as much Nepali pop music as she can while she's cleaning her house.
In addition to her academics, 
Shana
 taught English in Korea for three years and worked as a supply chain analyst in Minneapolis hospital for four years. She's never stopped missing the mountains of Korea, but she does enjoy walking her dog along the river in South Bend. Before graduate school, she was an avid climber, and she tries to get down to climbing wall in Duncan when she has free time. Her other interests include reading sci fi novels, hiking, and playing board games with her friends.
Shana's office hours are M 1:00-2:00 and Tuesday 2:00-4:00.  She will hold them in the Enclave of the Nanovic Institute for European Studies, ground floor of Nanovic Hall.
Jeong Hwan Bae
 is a PhD student in Political Theory and Constitutional Studies. He earned his B.A. in Political Science and Philosophy from Davidson College. His research interests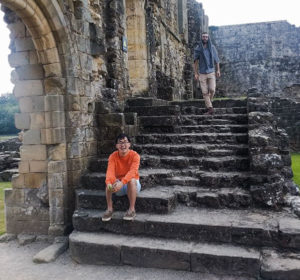 include the history of political thought, political liberalism, the problem of faction and regime change, religion and politics, and historical reconciliation in East Asia. He hopes to write his dissertation on Aristotle's understanding of faction, regime, and civic education. Growing up in South Korea, Jeong-Hwan naturally took an interest in the liberalization of North Korea and in the peaceful unification between South and North. He has a particular attachment to political liberalism as he grew up enjoying the blessings of liberal democracy while simultaneously witnessing the depressing political condition of a totalitarian regime. He welcomes any question about his country, his avid interest in political theory, and his personal and educational background. Besides his academic interest, he loves playing and watching sports and traveling around the world.
Jeong-Hwan's photo was taken at an Abbey in England.  He visited England last summer to participate in a seminar that explores diverse themes such as the purpose of higher education and the relationship between education and faith. If you are interested in taking part in this seminar, he can tell you all about it. See
HERE
Jeong-Hwan's office hours are Monday 2:30-3:30  and Tuesday 10:00-12:00 in the Enclave of the Nanovic Institute for European Studies, ground floor of Nanovic Hall.