Jorden Giger, Oletha Jones, and Regina Williams-Preston; Moderated by Love Lee and Dara-Marie Raggay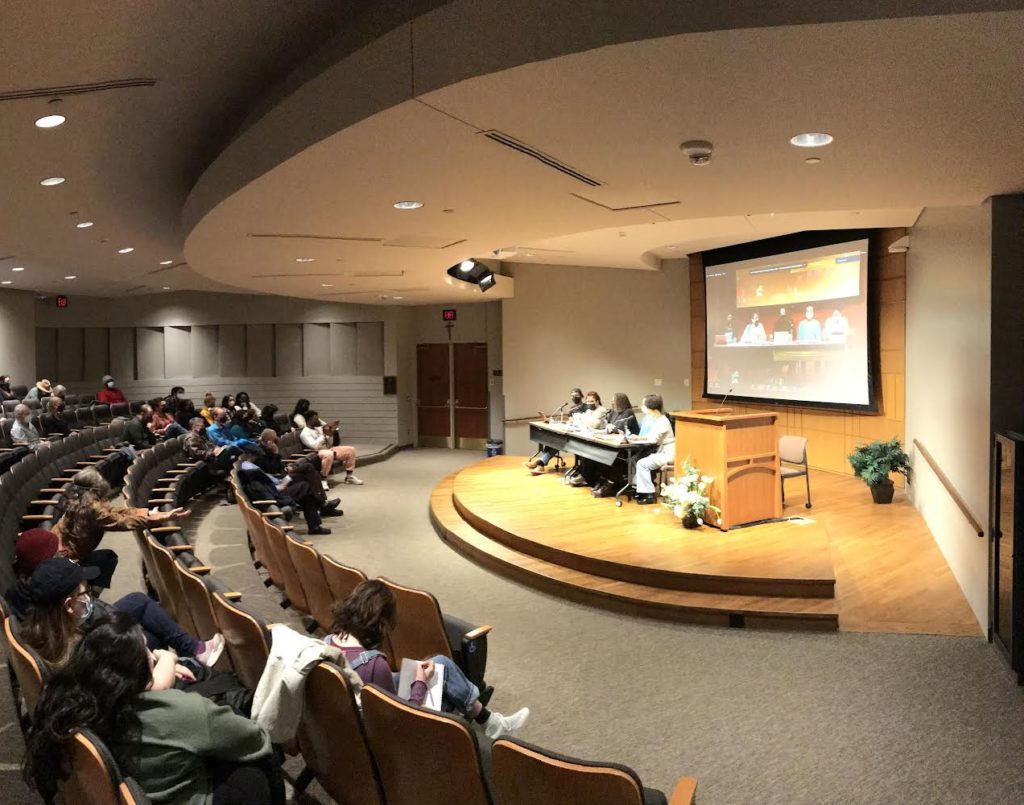 In honor of Black History Month, the Accomplice Project at the University of Notre Dame and the Black Lives Matter South Bend Chapter hosted a panel discussion on the case for reparations for South Bend's Black Community. This discussion explored the history of environmental racism and racial discrimination in housing and education in South Bend, and it also uplifted efforts to overturn these conditions. The event was held on Monday, February 28th at 6:30 pm EST in Hesburgh Center Auditorium, University of Notre Dame.
---
Guest Speakers
Regina Williams-Preston, Black Lives Matter South Bend
Regina is a South Bend native and Co-founder of Black Lives Matter. As a Dean of School Culture at Navarre Middle School, public school teacher, community organizer, and former South Bend Common Councilwoman, Regina Williams-Preston leverages political power for equity in schools, city government, and neighborhoods. Her advocacy has been the catalyst for structural changes that promote equity in institutions throughout the City of South Bend. As past President of the Board of the Community Forum for Economic Justice, she organized campaigns to help city leaders from the school board to the City administration, in creating people-centered policy with all stakeholders at the table. Recognizing the intersectionality of education, economic justice, and human and civil rights, her professional work is rooted in the tenets of Transformative Justice and Restorative Economics. Her work in South Bend has been featured in national media, including The Young Turks, CNN, Buzzfeed, NBC News, BET.com and The New York Times.
Oletha Jones, School Board of Trustees
As a member of the South School Bend Community School Corporation's Board of Trustees, former Education Chair for the NAACP South Bend branch, and a founding member of Community Action for Education (CAFÉ), Oletha is a leader in raising awareness of and fighting against the disproportionate and racist discipline experienced by BIPOC children and poor children in the South Bend Community School Corporation. In 1999 she joined Citizens United and started attending South Bend Community School Corporation Board meetings and pushing the school board to become more open and transparent in its decision making. From this, she saw a need to continue the conversation and widen her base of support, so she became involved with the NAACP. Her work with the NAACP began with the Statewide Listening Tour on the disproportionality of BIPOC youth being disciplined or assigned to Special Education classrooms. This tour spurred HEA 1419, which required the development of an evidence-based plan for improving school discipline and behavior. Through her work with CAFÉ, Oletha has helped raise awareness of the School to Prison Pipeline, which she describes as the "pattern of things that can track a student to prison or poverty" and includes "policies, practices, and procedures." CAFÉ has brought together parents, teachers, principals, and community activists to help fight together.
Jorden Giger, Black Lives Matter South Bend
Jorden Giger is a South Bend, Indiana native and co-founder of Black Lives Matter South Bend. He worked as an educator in his community and recently served as the Director of Outreach for Black Lives Matter Grassroots, which is the chapter organizing arm of the global organization. In 2016, he returned to South Bend from graduate school and began working closely with Regina Williams-Preston and a group of young, passionate activists. Since his return, he has worked tirelessly towards justice for Black and poor South Bend residents. Some of his organizing wins include working with Regina to secure millions in home repairs dollars for homeowners in low-income Black communities; stopping school board policies that would have revoked students' driver's licenses and work permits for truancy; pushing the Buttigieg city administration to conduct the city's first study on South Bend's racial wealth divide; organizing a rental assistance clinic for low-come families, providing nearly $400,000 in rental assistance; and working with westside residents to completely shift city's narrative around neighborhood development and economic inclusion.