This is Modern Art by Idris Goodwin and Kevin Coval, Directed by Zuri Eshun (ND'14), Fall 2021
Pictured: Dose (Lamont Marino), Selena (Lyric Medeiros), Seven (Eric Ways ND'18) and JC (Timothy Merkle) discuss their graffiti art.
Synopsis: Graffiti crews are willing to risk anything for their art. Though people call them vandals, criminals, and even creative terrorists, they're determined to make their voices heard and alter the way people view the world. So when a young graffiti artist named Seven comes up with a big, audacious idea to shake up the Chicago art scene, his crew is all in. But the biggest graffiti bomb of the LOH Crew's careers may also have serious consequences, for some of them more than others. This is Modern Art takes you racing over the rooftops, through the history of graffiti art, and face-to-face with a question of the moment: Where does art belong?
(Photo Credit: Peter Ringenberg)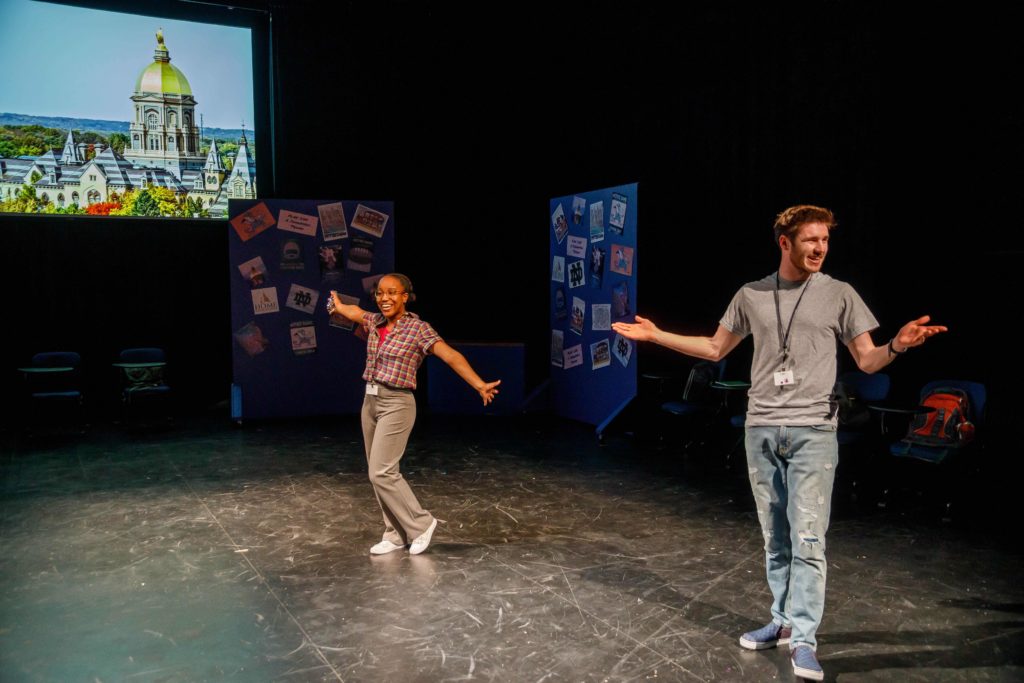 The Tea on ND by Samuel B. Jackson II, Directed by María Aménabar Farias, 2020
Pictured: Semaj (Theresa Azemar) and James (James Cullinane) give a campus tour.
Synopsis: The Tea on ND, written by Samuel Jackson II ('20) and directed by María Aménabar Farias ('20), imagines an alternate universe on the Notre Dame campus – a world in which identities are flipped, norms inverted, and expectations upended. An acerbic exploration of race, class, and mental health in the ND community, The Tea on ND turns Notre Dame upside down.
(Photo Credit: Peter Ringenberg)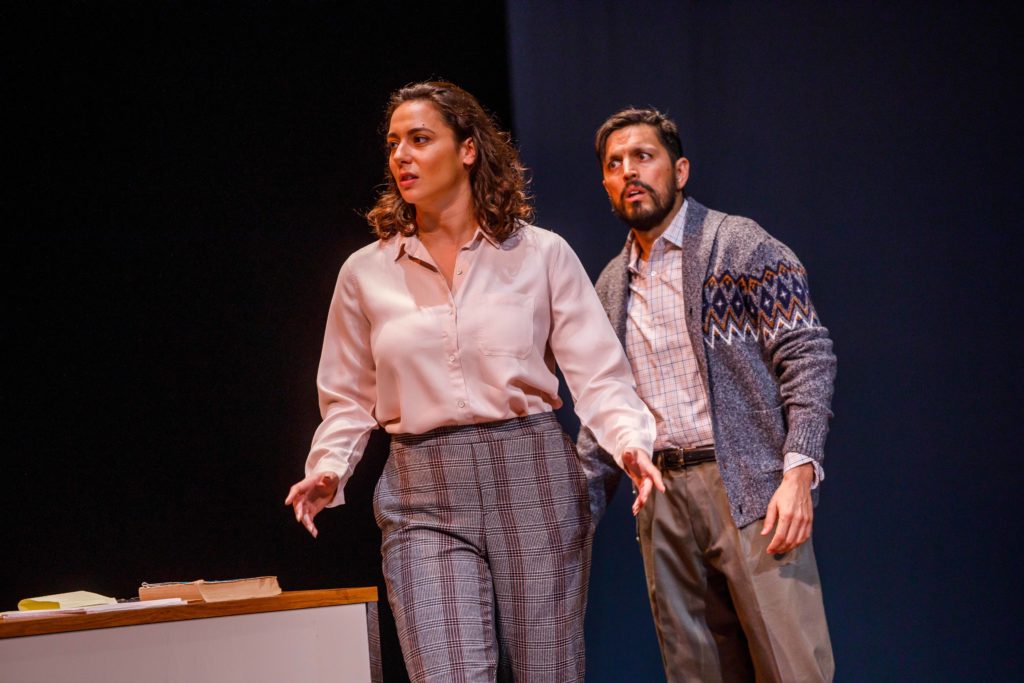 Staging the Daffy Dame by Anne García-Romero, Directed by Kevin Dreyer, 2019
Pictured: Lupe (Natalia Cuevas) and Robert (Jorge Azkarate) argue in her university office.
Synopsis: In the present, on the campus of a California public university, Lupe, a Latinx theatre professor, directs a production of La Dama Boba (The Daffy Dame), the 1613 Spanish Golden Age comedy, by Lope de Vega. Personalities collide onstage and off as the company grapples with the issues of race, class, and gender raised by the play. As opening night approaches, national politics start to invade the personal lives of the company, revealing the question: Can love truly give us the power to overcome our differences and lead us to a new kind of knowledge?
(Photo Credit: Peter Ringenberg)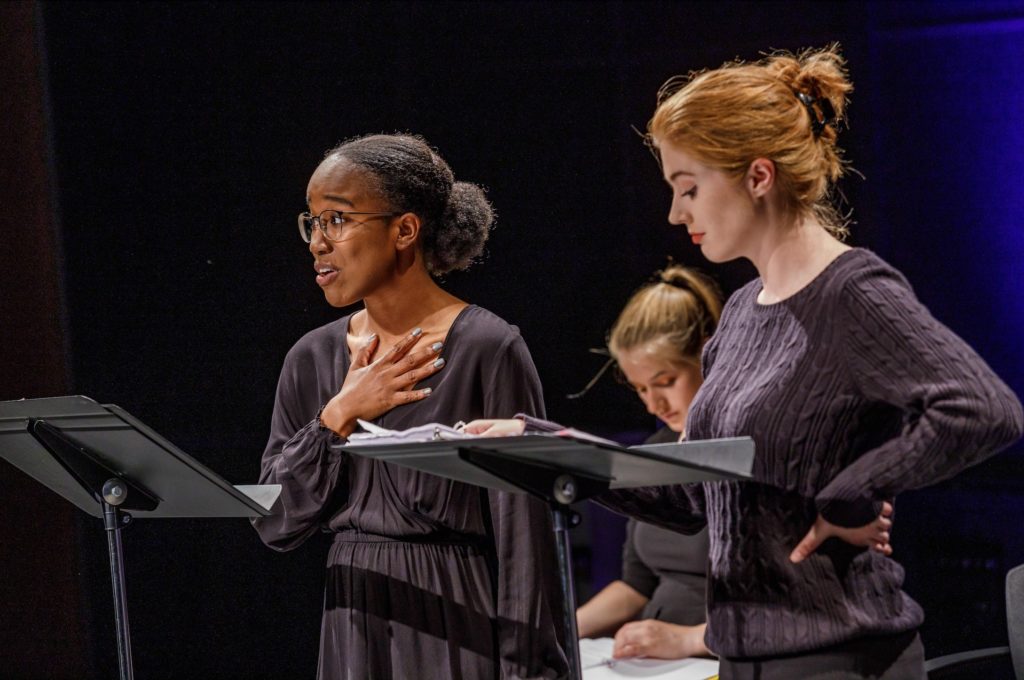 Fornés Festival: Celebrating the work of María Irene Fornés (1930-2018), Staged reading of Fefu and Her Friends, Directed by Stacy Stolz, 2019
Pictured: Christina (Theresa Azemar) speaks with Cindy (Teagan Earley).
Synopses from The Fornés Institute:
Fefu and Her Friends
A three-act play set in 1935. Eight women meet in the New England home of Fefu to rehearse for an educational fundraiser. The play morphs into an environmentally staged look into the intimate lives and relationships of these women. Part I takes place in Fefu's living room, establishing her unconventional marriage, tensions with her own sense of self and surroundings, and the previous relationships between the eight women. Part II has four scenes, each in a different location: the garden, the study, the bedroom and the kitchen. These scenes were originally staged simultaneously and environmentally although the most recent publication of the scripts presents a more traditional proscenium staging. The play ends in Part III in the evening of the same day. The women rehearse for their meeting. The play ends with a bizarre gun accident wherein Fefu shoots a white rabbit inadvertently causing one of the women, Julia, to receive a wound to the forehead.
Mud
Mae lives with Lloyd in considerable rural poverty but Mae attends classes and is committed to learning to read and becoming literate. While Lloyd takes care of their pig, Betsy, Mae works hard cleaning, cooking, and ironing. She attempts to deal with Lloyd's ill health and invites an older man, Henry, into their home. Seeing Henry's supposed intellectual superiority, her mind's hunger for knowledge and self-improvement accelerates. Henry replaces Lloyd in Mae's bed, but when an accident disables Henry, Mae feels that both men are holding her back. She tries to leave but is shot by a desperate Lloyd who carries her back on stage. A dying Mae speaks of the light she tried to attain.
The Conduct of Life
The stage has five areas – the living room, dining room, hall, cellar and warehouse in a private home in an unidentified Latin American country. Orlando, a sadistic army lieutenant, makes it clear in the opening soliloquy that despite his sexual drive, he is determined to achieve advancement using his physical strength allied to ruthless ambition. Having rapidly achieved his promotion it becomes clear that he is a self-acknowledged professional torturer now using violence to subdue and destroy others. His childhood friend and colleague, Alejo, wretchedly watches Orlando's behavior, unable to help himself or anyone else to conduct their private or professional lives better.
The women of the play are under Orlando's control. Leticia, his wife, suffers his open contempt and verbal abuse as she struggles to voice her ideas. She speaks of wanting to become better educated, to be respected, and listened to. Their servant, Olimpia, works with expertise without recognition and it is this servant who befriends Nena, a twelve year old street girl, whom Orlando kidnaps and hides in the cellar. His repeated rape of Nena and her presence in the home becomes known to Leticia. Shortly after she realizes Nena is in their home Orlando accuses his wife of infidelity, and during his violent interrogation of her she shoots and kills him. Leticia then passes the revolver to Nena.
The Summer in Gossensass
In London in 1891, Elizabeth Robins, a celebrated American actress, and her friend, Marion Leah, a well-known British actress, clamor at the possibility of performing in Henrik Ibsen's Hedda Gabler. With the help of Vernon, Elizabeth's brother and medical student, Lady Bell, essayist and reporter, and David, an actor and Ibsen admirer, Elizabeth and Marion at first find fragments of an English translation of a scene from Hedda Gabler and they try to decipher the essence of the characters through rehearsal. Finally, they find the complete English translation of the play and perform in its London premiere. Based on a true story, Summer in Gossensass offers meditations on Ibsen's classic play, the craft of acting and a life in the theatre.
(Photo Credit: Peter Ringenberg)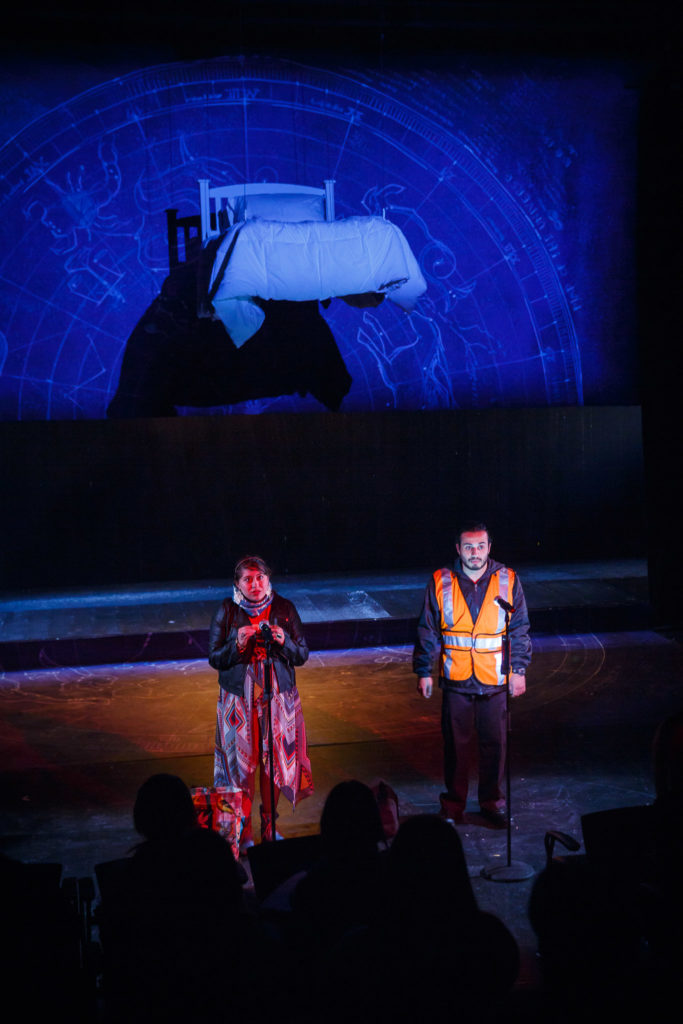 Cloud Tectonics by José Rivera, Directed by Anton Juan, 2015
Pictured: Celestina (Abigail Marie Hebert) and Aníbal (Guillermo Alonso) experience a deluge in Los Angeles.
Synopsis: A major Latino voice influenced heavily by the magical realism of Gabriel García Márquez, Rivera creates a world that is grounded in real life, yet seemingly full of impossibilities. A pregnant woman shivers at a bus stop as a hurricane swirls around her. Rescued by a kind man who offers her shelter in his home, she reveals that she's been pregnant, impossibly, for two years. A lyrical play from the writer of The Motorcycle Diaries, Cloud Tectonics is a poetic consideration of human relationships, the impermanence of time, and the possibility of miracles.
(Photo Credit: Peter Ringenberg)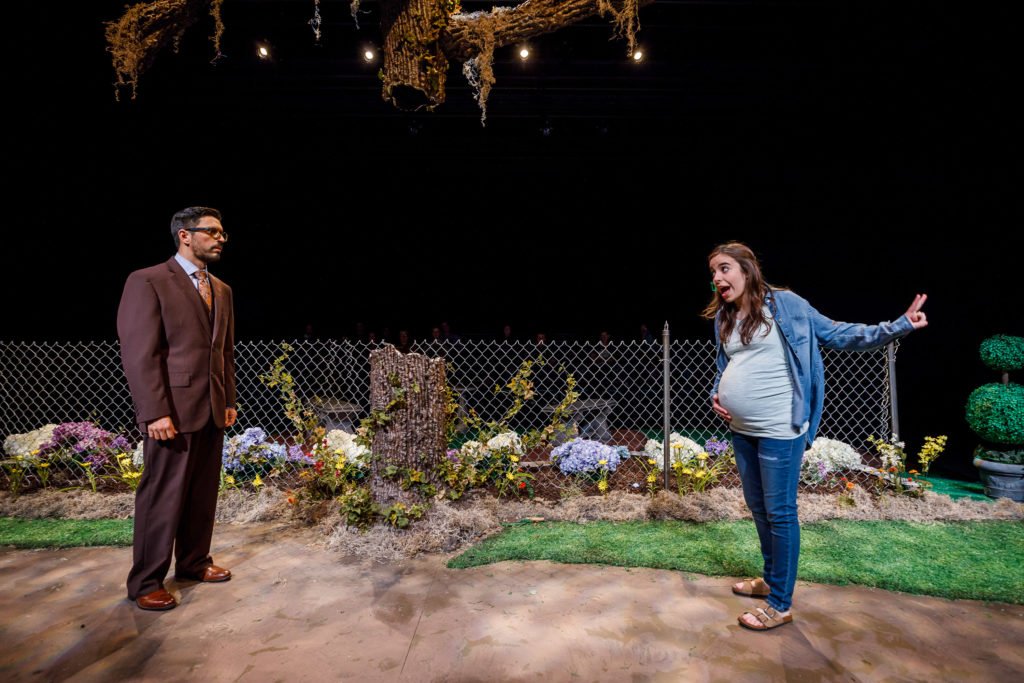 Native Gardens by Karen Zacarías, Directed by Kevin Dreyer, 2018
Pictured: Pablo Del Valle (Jorge Azcárate) argues with his wife, Tania Del Valle (María Amenábar Farias).
Synopsis: In Native Gardens, Zacarías considers complications between Latinx and Anglo worlds through the contestation of physical and cultural borders. She also focuses on
the intersectionality between Latina, Latin American, and Anglo cultures within a modern U.S. context. In her comedy, Zacarías provides the garden metaphor to complicate received notions of border crossing, land appropriation, and indigeneity. Though set in a U.S. neighborhood, the Latinx and Anglo characters' conflict over land rights echoes historical conflicts that exist along the U.S. Mexico border.
(Photo Credit: Peter Ringenberg)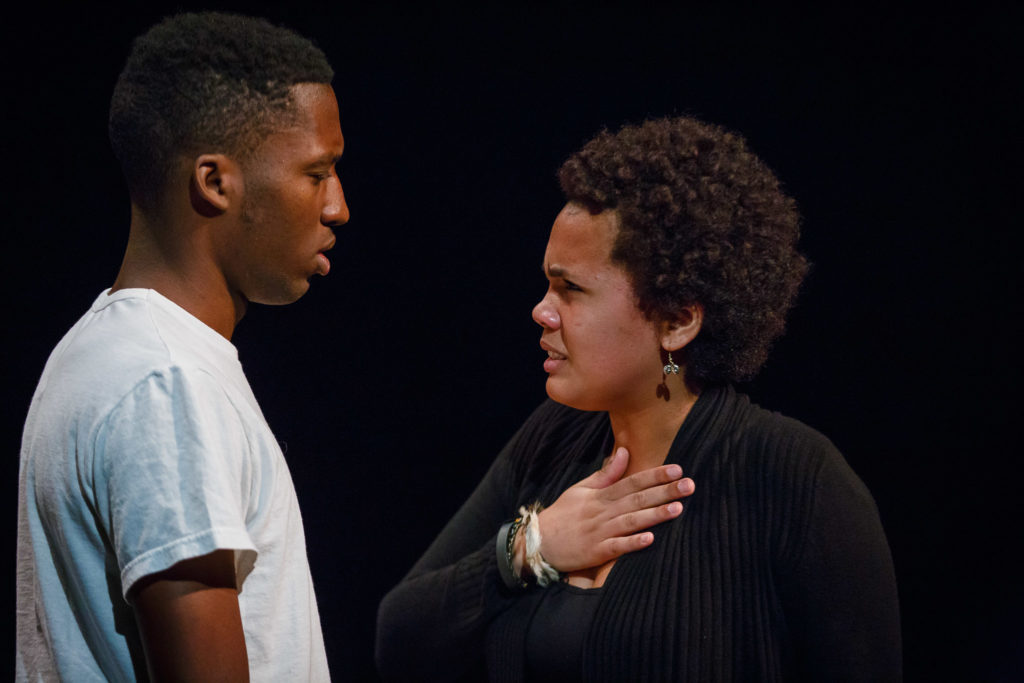 Out of Orbit by Lucas García, Directed by Anthony Murphy, 2014
Pictured: Joseph (Eric Ways) faces his mother Nora (Nandi Mgwaba).
Synopsis: In Out of Orbit, directed by Anthony Murphy, a college senior brings his boyfriend home for the weekend, propelling his parents into new and unexpected territory.
(Photo Credit: Peter Ringenberg)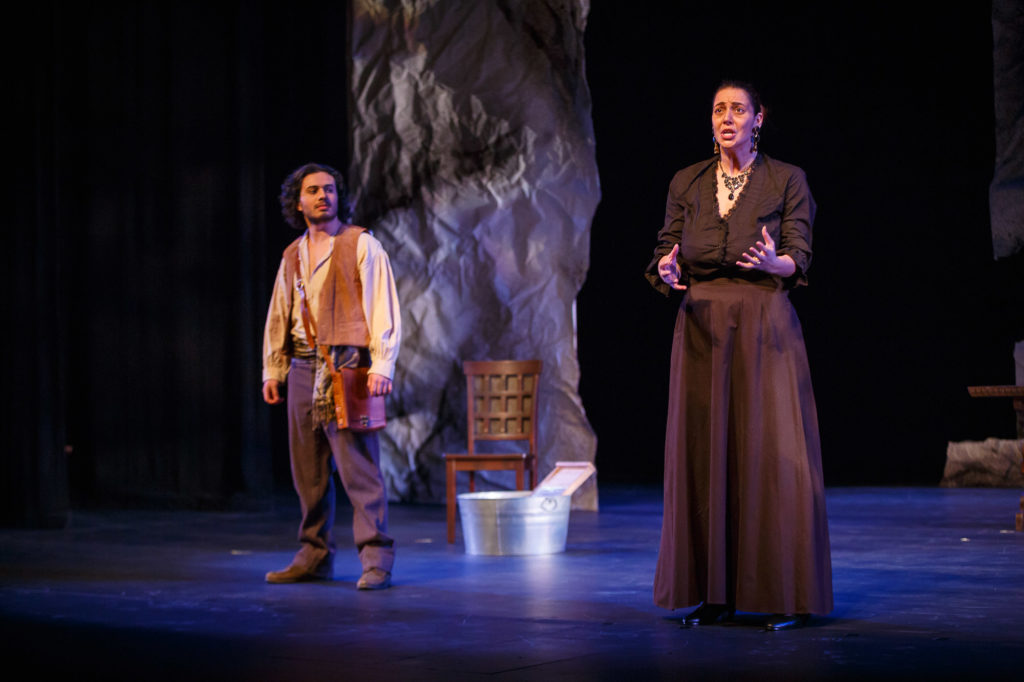 Blood Wedding by Federico García-Lorca, Translated by Caridad Svich, Directed by Anton Juan, 2014
Pictured: Mother (Natalia Cuevas) speaks to her son (Guillermo Alonso).
Synopsis:
(Photo Credit: Peter Ringenberg)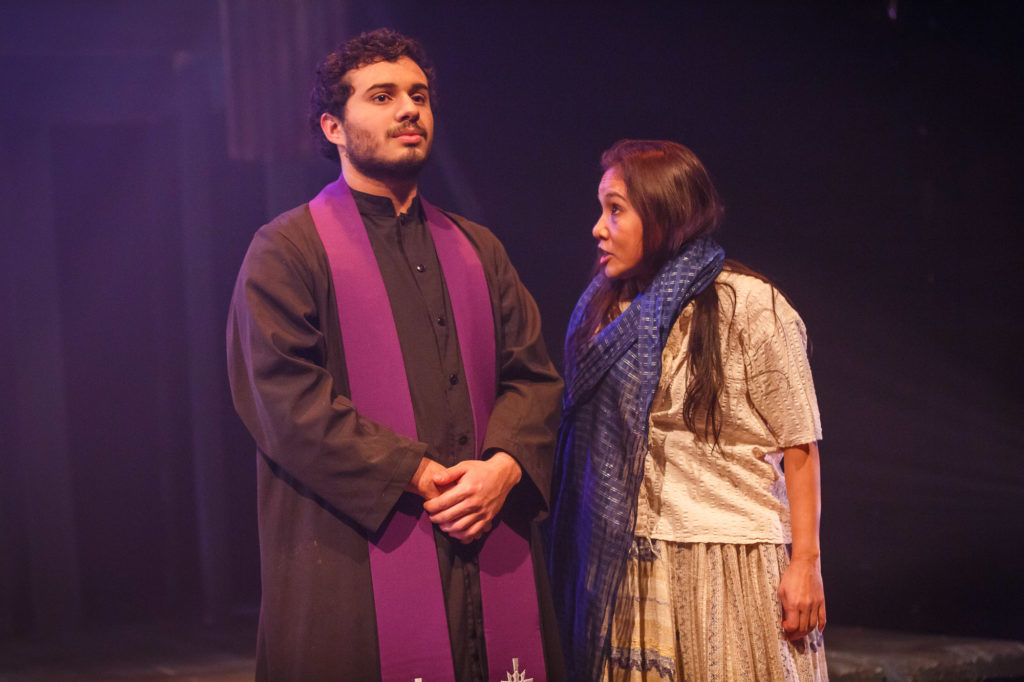 Shadows of the Reef, Written and Directed by Anton Juan, 2013
Pictured: Padre Justo (Guillermo Alonso Fourzán) speaks with Lupe (Olga Natividad).
Synopsis: Inspired by Good Friday observances in the Philippines, where blood-soaked flagellants walk the streets and towns hold annual crucifixions, Shadows of the Reef is set in a poor fishing village, where young boys are recruited by Japanese fishing trawlers to dive deep into the sea. There they pound on the coral to agitate the fish – then swim swiftly to the surface before they too are trapped in the trawlers' massive nets. After a mother loses her young son to a watery death in the nets, she is tormented by guilt. Believing that she can find redemption through her suffering, she pleads for the opportunity to sacrifice herself in the village's traditional Good Friday crucifixion. But is she – a woman and a prostitute – worthy of such an "honor"?
(Photo Credit: Peter Ringenberg)