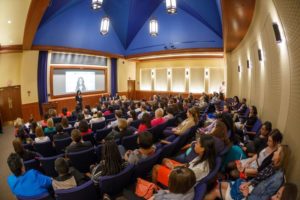 The venue for the symposium is Eck Center Auditorium, next to Hammes Notre Dame Bookstore and very close to Notre Dame main entrance.
Click here for direction to the venue.
Parking
During the weekend visitors are allowed to park in the faculty/staff lots in addition to the visitors' lots.
For the symposium in the Eck Center, park in the lot to the west of the bookstore lot – you will see the raised gates.
You may also park south of the stadium, close to Legends.
See on map: Bookstore's Faculty & Staff Lot, Stadium B Lot