We spent the first four days of the week interviewing individuals both in CRS and HCS diving into the Human Relations, Relationship Management, and Reporting sections of both organizations.  Friday and Saturday were all about getting out and seeing the work on the ground and having conversations with the workers and beneficiaries.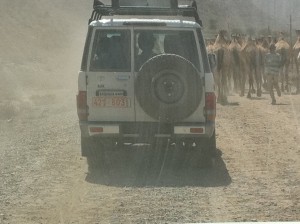 You haven't seen bad roads until you have seen some of the "roads" we traveled during our Friday trek.  A couple hours outside of Dire Dawa and a few bruises later we spent time in a handful of communities all engaging in one or more of the following projects: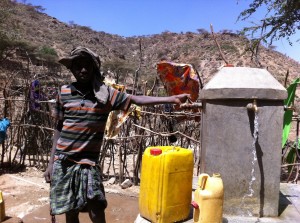 –       Domestic water use/access – tapping springs and creating pipelines and water sources for communities.  One woman said that she had to walk a total 4 hours in order to get water prior to the water source in her community. Talk about easing access to water.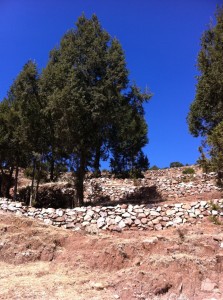 –       Terracing – Creating numerous terraces/plateaus that cascade down the side of a hill or mountain.  This allows communities to 1.) plant and harvest on a hillside and 2.) prevent soil erosion and destruction of crops if flooding occurs.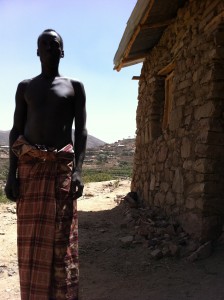 –       Sanitation/hygiene – Creating movable pit/latrines that eventually become the site for a new tree to be planted.
The benefits behind these endeavors include not only the outcomes such as access to water sources and increased crop yields, but community involvement in the development, construction and continued sustainability of the projects.  Community organizations/management systems are created for implementation and maintenance.  For example, there is a whole payment system and management committee developed within the communities that allows the water source in a community to have continued functionality.
Saturday was spent in different communities that were engaged in more integrated programs- a terracing project, a water project and livelihood programs (savings and credit groups, access to livestock, revolving seed bank) were all taking place in some of the communities we visited.
We were fortunate to close out our adventures on Saturday with a visit to a Coptic Christian Church in Dire Dawa. We enjoyed the chance to reflect on our day and take in the beauty and community that defined the church, as well as the people of Ethiopia as a whole.