The responsibility of caring for her 104-year-old mother has fallen squarely on Kathleen Leonard's shoulders. Due to her close proximity to her mother's home and the fact that her siblings live out-of-state, Leonard helps her mother with basic caregiving tasks daily. These include therapy appointments lasting around 2 hours and routine evening showers at exactly 8 p.m. While Leonard is grateful that she still gets to spend time with her mother, the emotional stress and burnout of caregiving is taking a toll on her mental health. This emotional rollercoaster worsens when she visits her grandchildren in New York; the guilt of physically leaving her mother in Houston doesn't allow her to fully relax and enjoy her time with other family members. "I love my mother, but it doesn't minimize the stress," she said.5 Leonard's story reflects the struggles that many Black caregivers face– while roughly 19.3% of American adults act as caregivers, Black caregivers report higher rates of intense caregiving and suffer a bigger impact from Covid-19 than other racial groups.1 Cultural dynamics further complicate caregiving in Black communities, placing more responsibility on family members to take care of loved ones.
"I love my mother, but it doesn't minimize the stress."

Kathleen Leonard
Impact of Covid-19
Pre-pandemic, caregiving for adult family members was already more commonplace in Black families than in white families. In fact, 18% of Black women reported caregiving compared to only 12% of white women.4 Similar to the gender makeup of caregivers for all races, Black women take on the brunt of caregiving work.5 The pandemic both exacerbated stress for existing caregivers and forced more women to become caregivers, with an additional 11% of Black female KFF survey respondents reporting that they started or picked up additional caregiving duties for family members during the pandemic.4
Covid-19's health risks and disruption of work habits played a big role in the pandemic's negative impacts on Black caregivers. Black workers and other workers of color were much more likely to be on the frontlines of the pandemic, which added the stress of having to keep working while simultaneously caregiving during their few hours spent at home.1 When considering the fact that Black Americans are less likely to have received at least one vaccine dose than Latinx or white Americans, the fear of bringing home illness to a physically compromised loved one adds to existing caregiving stress.1 
The pandemic also caused upset in the dynamics of homes with adult caregivers– the massive disruption of routines made it difficult for many caregivers to help family members readjust to a new way of life. Such as in the case of Sabrina Scott, a 56-year-old Black woman who was the primary caregiver for her maternal grandmother through the pandemic, disrupted routines may have contributed to the health decline of her grandmother and other adults who depended on caregiving.1 The pandemic's disproportionate health, financial, and work-related effects on the Black community directly impacted the mental and physical health of both Black caregivers and their loved ones they looked after.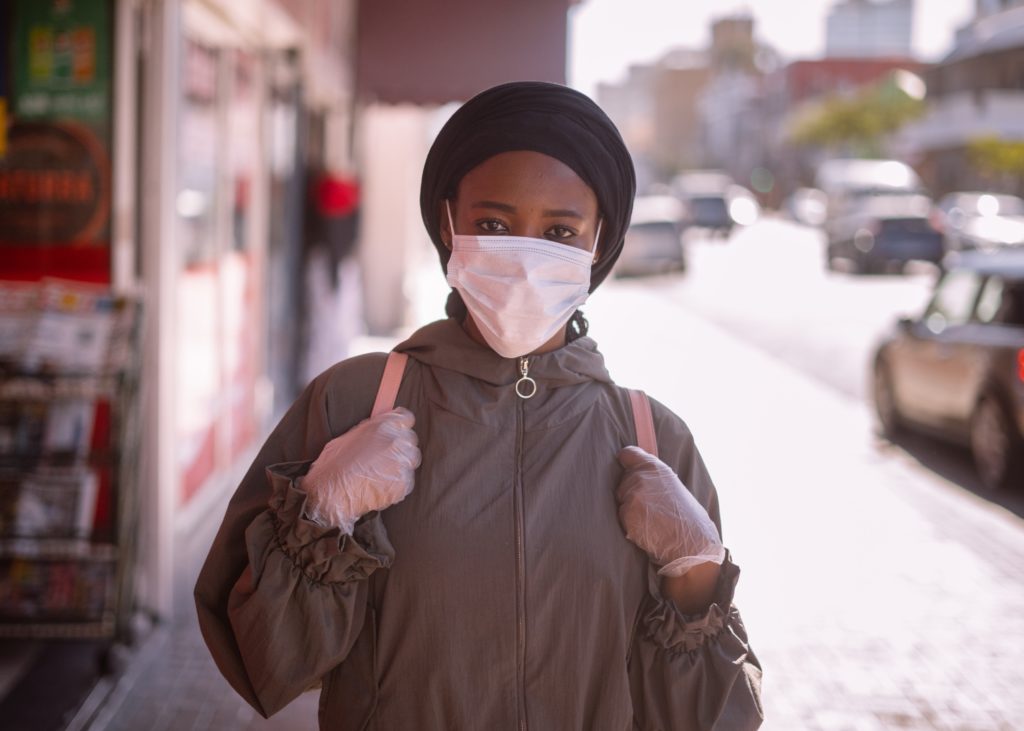 It Takes a Village
"Healthcare providers aren't patient, don't listen and tend to make assumptions about African Americans and Blacks."

Anonymous respondent to American Society on Aging survey
According to the American Society on Aging, Black caregivers are less likely to have undergone formal training or enlist the help of paid caregivers/care facilities.2 This can be due to multiple reasons, such as the fact that there is a stigma against entrusting the care of loved ones to others outside of family, friends, and community members. Due to a historical bar of access and subsequent poor interactions with medical staff, many Black families are deterred from the traditional medical system of caregiving. When attempts to use the traditional system are made, 56% of surveyed Black caregivers report some or a great deal of difficulty coordinating with health care professionals such as doctors, nurses, and service workers.2 A respondent to the aforementioned survey included the sentiment "Healthcare providers aren't patient, don't listen and tend to make assumptions about African Americans and Blacks," exemplifying the reason why loved ones who cannot advocate for themselves are not commonly left in the care of medical professionals.2
This cultural attitude towards refusing formal caregiving assistance was noticed by Sabrina Scott, who felt the added pressure to take care of her grandmother herself. Her family resisted a higher level of care for both her maternal and paternal grandmothers, essentially saying, "We don't do that."
"We meaning Black people," Scott further explained.1 Overall, informal sources of support such as friends, family, church congregations, and other community members are much more common for Black caregivers who enlist additional help.2 
"We don't do that. 'We' meaning Black people."

Sabrina Scott
Cultural practices play a large role in the dynamics of Black caregiving– both in positive and negative ways. The value placed on community and family can help provide additional support networks and often justifies the reason family members are willing to make sacrifices to care for their loved ones. While roughly half of the respondents to a National Alliance for Caregiving survey reported that they felt they had no choice in caregiving, the majority said they found an important sense of purpose or meaning in their role (more so than white and Asian respondents).3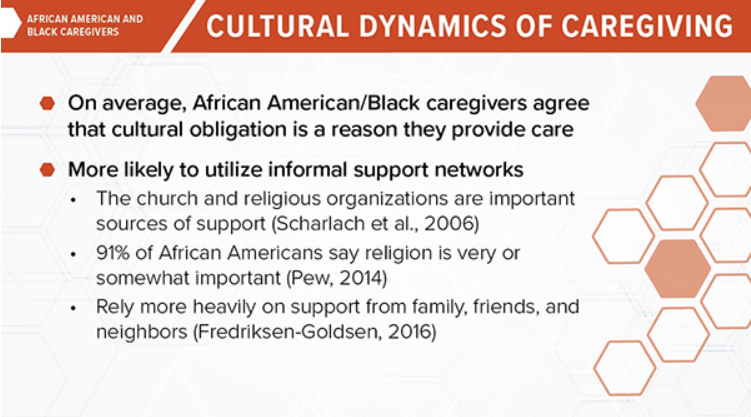 However, cultural factors can also have negative impacts. Black caregivers work the most unpaid hours of any race, averaging 31.4 hours weekly, and 54% of Black caregivers provide high intensity care.1 This is likely due to the reluctance to enlist formal medical services to assist in caregiving, although the cultural mistrust of such services is justifiable. Cultural generational differences can also create tension in households, which adds to caregiver stress. While Millennials are more likely to be open about mental health issues, the deeply ingrained stigma about mental health in the Black community makes discussing mental health a point of contention for many Black seniors.5 The role that cultural dynamics play in Black caregiving is important to consider when trying to integrate healthcare and formal support workers into caregivers' support networks. 
Conclusion
Moving forward, it is essential that an effort is made to regain and establish the Black community's trust in medical professionals, particularly those that work in long term care or assisted living sectors. Healthcare workers must continually check in on the mental and physical health of Black caregivers, and all formal support workers must be educated on how they can begin to heal the divide of mistreatment and mistrust. Partnering with faith-based or community-based organizations to spread the word about assistance for caregivers would be a step in the right direction.2 While family and community holds an incredibly important position in many Black communities, caregiving is still labor.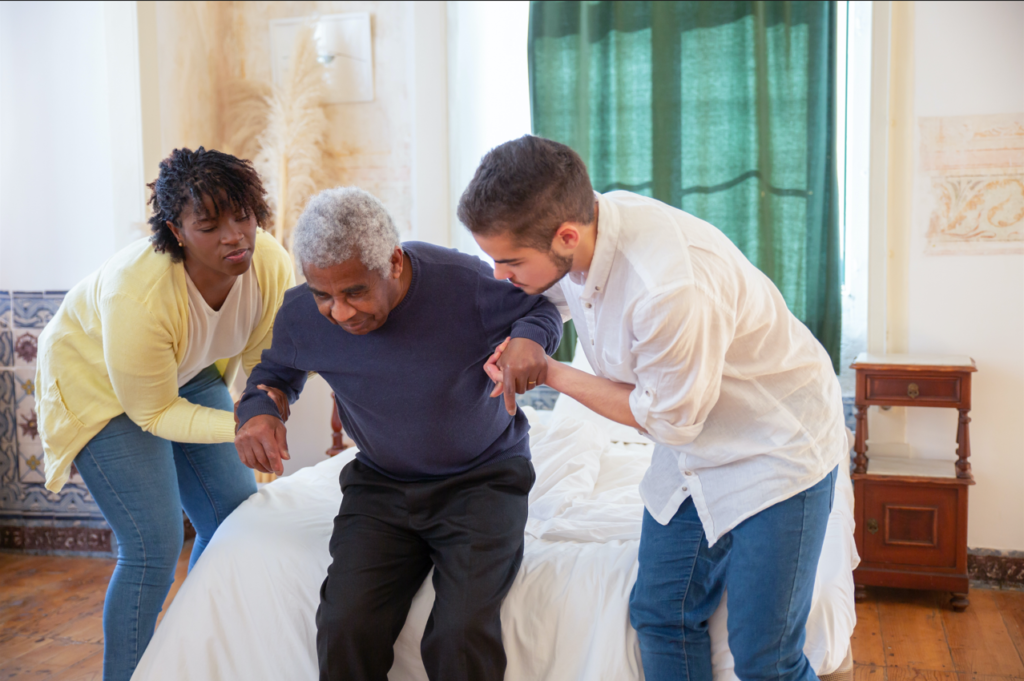 Works Cited