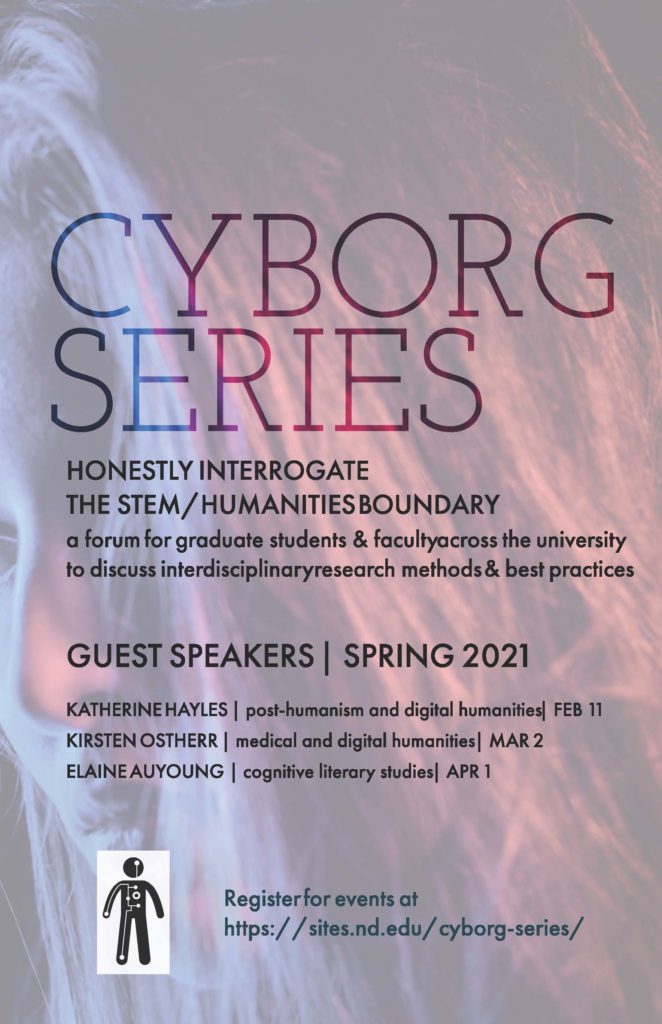 The Cyborg Series is a new program of webinars hosted by the University of Notre Dame on the topic of interdisciplinary work across STEM and humanities boundaries. The series is organized by graduate students, for graduate students, and is primarily intended to offer a forum to discuss the challenges and barriers that face new scholars who wish to cross disciplinary boundaries in their research.
Through reading groups and guest speaker sessions, we will consider such questions as:
What are the fundamental goals of humanities and STEM disciplines, and how do they differ and converge;

How can humanities research benefit from STEM insights and methodologies, and vice-versa;

How to navigate the different epistemological and methodological assumptions across disciplines;

How to overcome the training discrepancies that result from highly specialized graduate programs.
If you are interested in participating in the series, either by attending a single event or several, please sign up for our mailing list. Please see the Events page for more detail on our guest speakers and reading sessions.
The Cyborg Series is co-sponsored by the Graduate Students Union, Grad Life Grants, and the Navari Center for Digital Scholarship.
Any questions about the series can be directed via email to Claudia Carroll, ccarrol3@nd.edu.