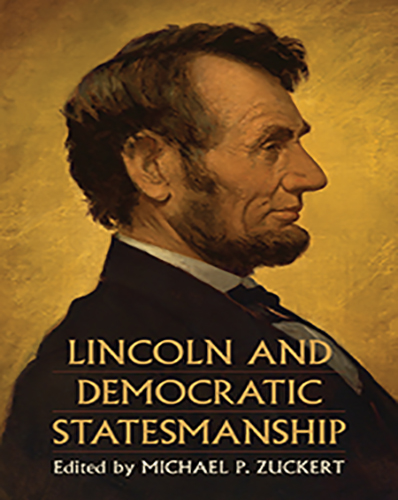 "Michael Zuckert has assembled a remarkable group of scholars whose grasp of Lincoln's principles and practices is matched by their deft understanding of ancient and modern conceptions of statesmanship. These insightful essays restore both the notion of democratic statesmanship to its proper place and Lincoln's status as a statesman. This collection is a must-read for students of American political thought and serves as a reminder that democracies can produce leaders who appeal to the better angels of our nature."

—Stephen F. Knott, author of The Lost Soul of the American Presidency: The Decline into Demagoguery and the Prospects for Renewal
___________________________________________________________________________________________
Tocqueville's thesis on the relation between religion and liberty could hardly be timelier. From events in the Middle East and the spread of Islamist violence in the name of religion to the mandated coverage under the Affordable Care Act, the interaction between religion and politics has once again become central to political life. Tocqueville, facing the coming of a new social and political order within the traditional society that was France, faced this relation between politics and religion with freshness and relevance. He was particularly interested in reporting to his French compatriots on how the Americans had successfully resolved what, to many Frenchmen, looked to be an insuperable conflict. His surprising thesis was that the right kind of arrangement—a certain kind of separation of church and state that was not also a complete separation of religion and politics—could be seen in nineteenth-century America to be beneficial to both liberty and religion. This volume investigates whether Tocqueville's depiction was valid for the America he investigated in the 1830s and whether it remains valid today.
---
"The Zuckerts have done it again! Their new book establishes Strauss as being at the forefront of the great philosophic minds of the twentieth century. This book not only makes Strauss's writings clear and accessible but raises him above the shabby polemics to which his thought has too often been subject. Their careful readings, together with a mastery of the entire corpus of Strauss's work, will put this book on the top shelf for those interested in a serious engagement with Strauss the thinker."  —Steven B. Smith, Yale University
---
The Anti-Federalist Writings of the Melancton Smith Circle makes available for the first time a one-volume collection of Anti-Federalist writings that are commensurate in scope, significance, political brilliance, and depth with The Federalist. Included in this volume as an appendix is a computational and contextual analysis that addresses the question of the authorship of two of the most well-known pseudonymous Anti-Federalist writings, namely, Essays of a Federal Farmer and Essays of Brutus. Also included are the records of Smith's important speeches at the New York Ratifying Convention, some shorter writings of Smith's from the ratification debate, and a set of private letters Smith wrote on constitutional subjects at the time of the ratification struggle.
---
Catherine and Michael Zuckert—both former students of Strauss—guide readers here to a nuanced understanding of how Strauss's political thought fits into his broader philosophy. Challenging the ideas that Strauss was an inflexible conservative who followed in the footsteps of Nietzsche, Heidegger, and Carl Schmitt, the Zuckerts contend that Strauss's signature idea was the need for a return to the ancients. This idea, they show, stemmed from Strauss's belief that modern thought, with its relativism and nihilism, undermines healthy politics and even the possibility of real philosophy. Identifying this view as one of Strauss's three core propositions—America is modern, modernity is bad, and America is good—they conclude that Strauss was a sober defender of liberal democracy, aware of both its strengths and its weaknesses.
---
This welcome new book explores the relationship between Protestant theology and American political thought of the founding era. It gathers together both new and well-known essays by scholars and outstanding thinkers in political philosophy, beginning with Michael Zuckert's lead essay, derived from his work "The Natural Rights Republic, that the thought of the American founding era is best described as an amalgam of Protestantism and Lockean political philosophy.
---
In this volume, prominent political theorist Michael Zuckert presents an important and path-breaking set of meditations on the thought of John Locke. In more than a dozen provocative essays, many appearing in print for the first time, Zuckert explores the complexity of Locke's engagement with his philosophical and theological predecessors, his profound influence on later liberal thinkers, and his amazing success in transforming the political understanding of the Anglo-American world. At the same time, he also demonstrates Locke's continuing relevance in current debates involving such prominent thinkers as Rawls and MacIntyre.
"Arguably one of the most subtle, intelligent, and compelling accounts of Locke's political philosophy and its bearing o the American Founding."  —American Political Science Review
---
"This exemplary work of historical reconstruction dramatically transforms our understanding of the genealogy of early American political thought. No one who deals with the eighteenth-century Anglo-American political tradition will be able to avoid the unsettling challenge of Zuckert's original and painstakingly documented reinterpretation, for this is one of those rare scholarly achievements, at once capacious and meticulous, that forces all of us back to the drawing boards." —Thomas L. Pangle, William and Mary Quarterly
---
"Michael Zuckert is one of the best historians of all the political theorists writing on the American Revolution and its sources. Deeply thoughtful and profoundly learned, The Natural Rights Republic is a critically important book – the most successful yet in the contemporary effort to explain how several ways of thinking came together to create the unique amalgam of political ideas on which America was founded."  —Lance Banning, Department of History, University of Kentucky
---
Natural Right and Political Philosophy
Essays in Honor of Catherine Zuckert and Michael Zuckert, Edited by Ann Ward, Lee Ward
"In their diversity and quality, these essays bear eloquent witness to the range of the Zuckerts' interests, to the depth of their scholarship, and to the extent of their impact on colleagues and students. Everyone interested in political thought, from the Greeks to contemporary America, can profit from this excellent collection." — William A. Galston, The Brookings Institution
In this collection compiled in honor of Catherine and Michael Zuckert, the contributors address a wonderful variety of serious issues in important literary and philosophic texts. Their topics range from Plato on piety to Stoppard on socialist utopianism, and from Aristotle and Augustine to Euripides, Locke, Hegel, Shakespeare, and Booker T. Washington. The volume stands as an impressive introduction to the liberal arts and a lively introduction to many great issues of liberalism, Christianity, justice, and liberty; it is also a tribute to the Zuckerts' breadth of study, teaching, and influence." —Robert K. Faulkner, Boston College