Thank you to Carter G. Woodson for creating Negro History Week in 1926, which evolved into Black History Month in 1976.  MSPS believes the contributions of African Americans, Asian Pacific Islanders, Latinos and Native American should be celebrated year-round, not just in a relegated month. Therefore, our programming reflects this philosophy by inviting scholars, experts and lectures based on the series theme and not their race or ethnicity.  Our goal is to educate the Notre Dame community by exposing the students to voices or perspectives that are normally not included in scholarly dialogues.  Thus the paradigm is shifted and so is our worldview.
In highlighting the African Diaspora and issues that impact all historically underrepresented groups, the February Interrace Forum titled We Are ND…Aren't We? Call to Action: Do Race and Class Affect Inclusion? began a challenging discussion. American Studies Professor and Executive Director for the Institute for Latino Studies, Tim Matovina addressed the topic in the context of religion. The lively conversation that ensued forced the undergraduate and graduate students, faculty and staff to reflect on their respective perceptions of the face of God and how God calls us to interact with others. This was an inspiring way to begin our Black History Month Celebration.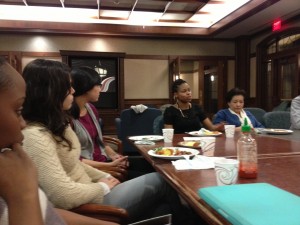 The continuation of the Dr. Martin Luther King, Jr. Study of Race Series Playing with Fire II Race and Sport in American Culture resumed with Dr. Adrian Burgos, Professor of History and African American Studies at the University of Illinois, Champaign Urbana. Professor Richard Pierce and Dr. Burgos conversed on the theme, "Latinos in the Negro League." Professor Pierce poised questions that uncovered the collective integration of American Baseball and sports and unknown historical facts.  Tuesday, February 19 Professor Pierce will engage Ms. Wendy Lewis, Senior Vice President of Diversity and Strategic Alliances at Major League Baseball, on "The Past, Present, and Future of Race in Professional Baseball." Their conversation will begin at 6:00 p.m. in the Eck Visitor Center Auditorium with a reception following.
Kudos to the Black Student Association for the Blacks at Notre Dame Exhibit in the Hesburgh Library corridor. The history spans from the first African American to current students.  During Junior Parents Weekend, the Black Cultural Arts Council successfully hosted their annual Coffeehouse on Friday, February 15. The serenity of poetry, music and fine art filled the La Fortune Ballroom. Proceeds were applied to BCAC's Thurgood Marshall Scholarship. Congratulations to the 2013 Thurgood Marshall Scholarship winners Ms. Olivia Mitchell and Mr. Steven Waller. These exceptional first-year students have been actively involved with BCAC and within the Notre Dame Community.
Thursday, February 21, the Gender Relations Center, MSPS and Walsh Hall are hosting "RACEing into Relationships", a luncheon addressing interracial relationships. Arnel Bulaoro-MSPS, Emmanuel Cannady –GRC, and LaTonia Ferguson – Human Resources will share their insights from 12:30 p.m. -1:30 p.m. in the Coleman Morse Lounge. Lunch from Jimmy Johns will be provided.
The month will conclude with Shades of Ebony sponsoring their annual "BeaUtiful You" symposium for local middle and high school female students on February 28th.  The workshops will focus on creating positive self-image and establishing meaningful relationships between young women.
Do not hesitate to contact MSPS (msps@nd.edu or call 574-631-6841) regarding any event. Unless designated they are free and open to the public.