Happy New Year. Frigid cannot begin to describe what we experienced the first week of 2018 along with snow accumulations and hazardous driving conditions. Last week was noted at times to be colder than Alaska. This was conducive to staying inside and getting some rest and relaxation after the holidays.  Now you are geared up and ready for the spring semester. For several this means securing internships, summer research opportunities or taking advantage of learning beyond the classroom.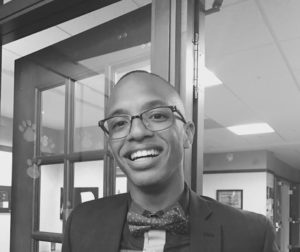 Kendrick Peterson Class of 2020
Congratulations to the Kendrick Peterson, a second-year political science major and Building Bridges mentee, on his selection to participate in Harvard's Kennedy School of Public Policy Conference.  This is the primary focus of Building Bridges to nurture the academic pipeline. Please visit our website: MSPS.ND.Edu to see other MSPS constituents who have and will be doing outstanding work in preparation for either graduate/professional school or in pursuit of their career goals.
 Bree Newsome
Walk the Walk Week begins on January 15, 2018. We are very excited about our MLK Study of Race Series for the spring semester.  Multicultural Student Programs and Services will host Ms. Bree Newsome on Tuesday, January 16, 2018. Ms Newsome is an American filmmaker, musician, speaker, and activist from Charlotte, North Carolina. She is best known for her act of civil disobedience on June 27, 2015, when she was arrested for removing the Confederate flag from the South Carolina state house grounds.  The office will sponsor a student workshop titled, "Mindful Protest" at 4:00 p.m. in 138 DeBartolo. Ms. Newsome will address the community at 7:00 p.m. "Tearing Hate from the Sky" in 101 DeBartolo. Thank you to our co-sponsors the Center for Social Concerns and Department of Africana Studies.  We will also have tickets available for DPAC's production – The Mountaintop on Friday, January 19 at 7:30 p.m. They will be distributed on a first come first serve basis.  Contact Sue Pawlicki at msps@nd.edu to reserve your space. Tickets must be picked up by Friday noon.
Black History Month is rapidly approaching. There are a plethora of activities planned from African International Weekend to the Black Cultural Arts Council's Coffee House. During Coffee House an outstanding first year male and female will receive BCAC's Thurgood Marshall Scholarship. First Year students, how involved have you been with this club? You could be one of the fortunate recipients of this book award.  On February 19th, MSPS will hold our third MSPS Study of Race speaker in collaboration with the Student Union Board. The February Interrace Forum is considering an excursion. So stay tuned for  further announcements.
Enjoy your last week of Christmas Break and place the stated events on your calendar for things to do.
Safe Travels.
Iris Outlaw `90 MSA
Director