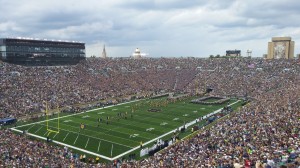 A post from our student blogger Roberto
After all the anticipation and preparation our first week of studies is finally in the books.  After searching the beautiful campus we have found all of our classrooms and have met all of our instructors.  And after the first football game of the year we have all been unofficially initiated into the Irish family.  As students in the MSPL, most of us take courses in patent law and prosecution, patent application drafting, patent searching, as well as our capstone project and two science or engineering electives of our choice.  All of our MSPL courses are taught by current or retired patent professionals who have a wealth of experience in their fields and are preparing us to hit the ground running after graduation.
By far the largest pillar in the MSPL curriculum is the capstone project I mentioned earlier.  Throughout the course of the year each MSPL student will work directly with an inventor at Notre Dame to go through the entire process of patenting their work.  To do this we meet with our inventors regularly to work through the process with them.  Our meetings during the first week of classes consisted mainly of getting to know the inventor and the research.  As an engineer, this was a really enjoyable part of my week.  I loved getting to know the inventor, research, and invention.  My curiosity keeps me asking questions.  How does it work?  Why does it work this way, and why does it have this part?  Can it do this?  Why doesn't it do this?  The answers to all of which, will greatly help me draft a patent that will protect every aspect of what the invention is and could be.
While the academic and professional activities I took part in during the first week of school were fun, I would be lying to say that the football game against Rice was not the best part.  My father, brother and I all got to go to the game and had amazing seats directly opposite of the student section.  From where we sat we could see everything.  We saw the crowd pour into the stadium and we saw the student body quake and move in unison, we saw the band draw out complicated patterns on the field, and we saw the Irish dominate on their new turf.  As I took it all in, I couldn't help but feel like I was a part of something special.