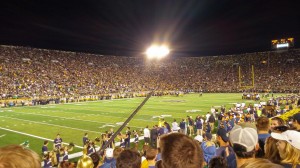 A post from our student blogger Roberto
After the first few weeks of class I have learned so many interesting things.  I have done patent searches in the patent application information retrieval and Google Patent databases, learned parts of the United States Code, examined the manual of patent examining procedure and worked intensely on my capstone project.  Our classes in the MSPL guide us step by step through the entire patent process with each class focused on one particular aspect.  This semester we have a class on patent searching, application drafting, and patent law and prosecution.  This past week we were put directly in the shoes of an everyday patent agent.  We were given an invention disclosure and a few related patents and asked to construct a search report and comment on the patentability of the disclosed invention.  This is just one example of the many real world situations we are put through in the MSPL.
We have also had our first "lunch and learns" for the school year.  These special events are guest lectures where renowned patent professionals come in and share their experiences and knowledge with students.  It has been really helpful to have people come in and tell their story and explain their career paths to us especially as we begin to understand this field and where it may take us.
The most excited thing to happen around campus since my last post was our 31-0 rout of Michigan in the final scheduled meeting between the historic rivals.  Words simply cannot describe how awesome and incredible that experience was.  When I parked my car a few miles from the stadium I could hear the faint fanfare of tailgating in the distance.  As I walked closer I could smell the brats and burgers on the grills and I could hear the vibrant music; the atmosphere was electric.  During the game I struggled through the chants and cheers seemingly every other student had memorized.  However, by the end of the game I think I had most of them down.  I still have a few games to go and can't wait to experience them with the amazing Notre Dame community.