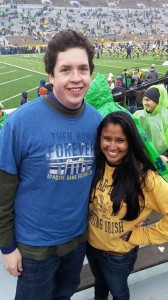 A post from our student blogger Roberto
The past few weeks have blown by like a finely crafted Italian sports car on the Nürburgring.  Fall break is finally upon us and we have taken our first midterms.  We have also all received our Patent Bar review kits from the Practising Law Institute (PLI).  These robust study aids were provided to us by Notre Dame to help us prepare for the rigorous Patent Bar exam that awaits our imminent arrival.  For anyone considering a career as a patent agent, you should know that the Patent Bar is one of the most difficult standardized tests with a pass rate of 46.8% in 2013.  It is also one of the least taken with only 2766 exams being taken in 2013.  With only around 40,000 active licensed members nationally, patent agents are always in demand.
One of the nicest things about Notre Dame is how much is always going on at school.  During bootcamp we were lucky enough to have a guest speaker come in and give an almost day long presentation on intellectual property.  The presentation was open to the entire campus and surprisingly, since it was the week before the start of classes, many other students took advantage of the opportunity as well.  During the question and answer session one of the students stated that he was an aspiring young entrepreneur.  After the lecture was over and we were all walking out I made my way over to talk to him.  I just wanted to let him know that I had been through some of the entrepreneurship process before, both with my family business and with a startup business I had explored as an undergraduate student, and that I would love to talk with him about my experiences.  We ended up exchanging phone numbers and have met for lunch a few times since.
A few weeks ago I came up with a pretty cool business idea while sitting in class.  I knew right away that my new friend would be the perfect person to start this endeavor with me.  I spent a few days perfecting the idea in my head and met with him later that week.  After I shared my vision with him he was sold.  We decided to enter the McCloskey business plan competition here at Notre Dame together and have begun the process of assembling a team comprised of students from a wide array of backgrounds.  While it is still early on in the process I can say without a doubt that it has been a very rewarding experience.  Even though I cannot guarantee our venture will work out, I am so thankful that Notre Dame has made it possible for us to give it a shot.
I could not publish this post without mentioning the incredible game Notre Dame played against Stanford a few weeks ago.  Despite the rainy and chilly conditions throughout the entire game the sellout crowd stuck it out.  It was an incredibly close game with tremendous momentum swings between the two legendary foes.  The adverse conditions only served to enliven the crowd and strengthen their resolve as the Irish beat the Cardinal with a last second touchdown right in front of the student section.  Long after my days on campus are over I know that memory will stick with me and remind me that when the going gets tough, it's time to get tougher.