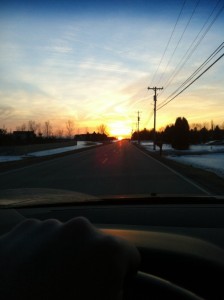 A post from our student blogger Roberto
It has been a fast couple of weeks studying at Notre Dame but now fall break is finally upon us. While many of my classmates in the MSPL are returning home this break to warmer climates than Indiana I ventured north.  I wanted to share a video with you that may shed a little light on where I'm from.  The video captures the spirit of many Wisconsinites and it seemed fitting for this time of year.  While I was home I had the chance to spend some quality time with my family and friends.  Seemingly everyone I saw over break seemed to ask me about Notre Dame and how I was liking patent law.  Many of my friends are engineers and were curious as to how I felt about my decision, to pass on a highly sought after job opportunity last May and instead continue my education, in retrospect.  I told them I could not be happier that I took that chance and that I was excited to see where this new chapter in my life would take me.
After a while I realized just how little most people understand about patent law.  The problem seems to be due to the fact that patent law is such a specialized area and that it is not something you can easily describe or understand in its entirety.  While there are countless television shows and movies glorifying the day-to-day lives of attorneys, the field of patent law is largely ignored.  This is one reason why I am excited to say that I will be a part of an upcoming presentation on patent law at my alma mater given by Dr. Deak, the Director of the MSPL program here at Notre Dame.  I am really looking forward to providing students with some insight into what the career path and transition looks like for an engineer considering patent law.  When I applied to the MSPL I had very little exposure to patent law and there were plenty of unknowns.  Many of my friends said they would have been hesitant to go into patent law because they saw it as a completely different field.  I want to help show students that there are so many similarities and just how special the program at Notre Dame is.  In particular, the Bootcamp offered at Notre Dame does a great job of getting everyone on the same page and ready for the year ahead.
Even though we have been on break there is a ton of work to do.  For our patent application drafting class we worked through the entire process of writing a patent application once and now we are working on our second application starting first with the search report.  In our patent searching class we are working on an assignment using complex searching strategies to find elusive search results in patent databases such as Patentscope and Espacenet.  In my elective I am working on a computer face detection program that uses a laptop's webcam to identify a student from a pre-loaded database.  All the while I am working closely with the inventor for my capstone project to craft a patent that will stand the test of time.  There is never a dull moment in the MSPL and break has been no different.  In the next few weeks we will start working through our PLI study kits to prepare for the patent bar exam and our first term of classes will finally be wrapping up.  Taking some time away from the classroom was reinvigorating and now I am recharged and ready to finish this term at full speed.