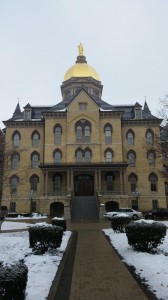 A post from our student blogger Roberto
Classes are wrapping up as the snow starts to fall here at the Golden Dome.  As the semester draws to a close the work in the MSPL is doing just the opposite.  For example, the major component to this semester's capstone course is a two hour long technical presentation which is given at the end of the semester.  This presentation includes a summary of your invention, descriptions of the prior art (which is material related to your invention that has previously been publically disclosed), what you see as potentially patentable, and what your proposed claims are.  Thankfully, we have done a large portion of this work through our classes already.
As many of you may have already discovered, through your own research or other determinations, the MSPL program at Notre Dame is exceptional.  While I could sit here beat you over the head with a bunch of different reasons why I think it's a great program, which I and other student bloggers have previous outlined, I think what you are really looking for is results.  Students that graduated from the MSPL in past years have enjoyed great success, but what about this year's class?  Many of us have already been contacted by multiple high profile law firms and are accepting offers well before the semester is over.  For a new program still gaining traction and attention this is some great validation of what is going on at Notre Dame.  During interviews I have been through, much of my time has been spent explaining what exactly the MSPL is and what we have learned.  I love getting asked those kinds of questions because it's great fun being in a cutting edge program like the MSPL.  I strongly believe that programs like the MSPL will continue to flourish and rapidly expand because of the demonstrated need in the workforce.  In a lot of ways I feel like I entered into this field at just the right time.  With the intellectually property field expanding like never before there will always be work to be done and opportunities to be had.  In addition, the MSPL puts you ahead of the curve and in position to hit the ground running from day one.
In other Notre Dame News, one of the many opportunities that has been made available students this semester is an upcoming business pitch competition.  The competition has a preliminary stage and then three teams are selected to give a final pitch to Kevin O'Leary from ABC's hit television show, Shark Tank.  Another great thing that is going on here at Notre Dame is the McCloskey business plan competition that I mentioned in one of my previous posts.  For anyone interested in how small businesses are started and run I highly suggest visiting the competitions page and keeping tabs on it throughout the course of the year.