A post from student blogger Brittany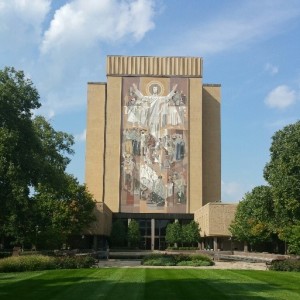 I finally touchdown at Notre Dame and I am absolutely in love with the campus. It is breathtaking and despite living in Florida for the last couple of years I am excited about the first snowfall although from speaking to current students and faculty that feeling will be short-lived due to unforgiving temps.
Our first week consisted of a getting familiar with fellow cohort members. I must say we all have very diverse educational backgrounds but have already found commonalities and I feel this will be a great group. We all showed up ON TIME for our headshot which Karen said was a first so I think we're off to a record setting start. We attended a South Bend Cubs game and of course we had to let everyone know that the 2015 MSPL cohort was in the house. Two classmates decided to partake in some half time shenanigans by racing on the field…on bouncy balls. It's safe to say that neither of them will be living that down.
Outside of our "getting to know you" activities we were also thrust into the world of patent law by an outstanding presenter. Because of his 20+ years in the field he was so insightful, thorough and most of all honest about life as a patent agent. I'm not going to lie, it was a lot of material to take in especially for someone that had just completed her dissertation less than a month prior. I had to get right back into student mode, feverishly taking notes making sure not to miss a thing. The week ended with a mock Patent Bar Exam. Let's just say that I walked home feeling completely defeated questioning what the heck I had gotten myself into. That practice test made me quickly realize that if I thought these 9 months would be a walk in the park compared to 5 years of research that I was DEAD WRONG.
Meeting all the professors who were a combination of patent agents and attorneys was quite interesting. I was pleased that we were learning from people that had YEARS of hands-on experience in the field. It was already refreshing that Karen was so down to earth and witty, but each of our professors have comical personalities as well.
All in all, being at Notre Dame these last two weeks have subsided the apprehension I had about making a career transition and made me realize how many doors this program could open for me. Being in the program is already getting me out of my comfort zone and I look forward to sharing my ups and downs throughout the next 9 months.