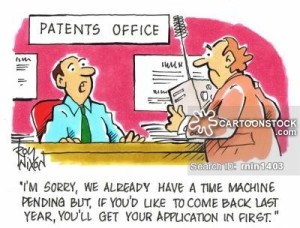 A post from student blogger Nicole
Patent pending.  A term that many people have heard before, especially for all the Shark Tank lovers out there.  For those of you that don't know what it is I will be happy to explain.  Patent pending is the period of time from filing a provisional patent application to the allowance of your nonprovisional patent application.  In the case that you didn't file a provisional patent application it would be the time from filing a nonprovisional patent application to the allowance of the nonprovisional patent application.  Phew! I think I said patent application too many times!  Let me clear that up even more.  A provisional patent application is an application you can file before the nonprovisional that contains an informal general idea of the invention to get your foot in the door at the patent office.  For example, when you go to file your nonprovisional you are able to say that you had this idea at the time of your provisional filing.  This is important because if someone else goes to patent a similar idea, then you have proof that you had the idea before them.  Also for you Shark Tank lovers, those people file a provisional patent application on their idea just to say that it is patent pending on the show.  An added bonus would be that you are able to say patent pending for the full year of the provisional patent along with the time it takes for the nonprovisional to be granted.  One thing you should know about the provisional patent is that it does not contain any legal status instead it is just a place holder for a future nonprovisional patent.  This nonprovisional that I've been mentioning is the formal legal application for obtaining patent rights on a particular invention.
Okay so enough about all this definition mumbo-jumbo.  I wanted to talk about patent pending because I see it everywhere!  It's on the bottom of drink containers, on cooking utensils, and even on disposable tupperware containers.  I believe it was this MSPL program that opened my eyes to another world. The patent world.  Ever since starting this program I see patent pending on a lot of different items.  It's funny to think about because now I actually look for patent pending and patent numbers on things that I buy or use.  I get excited to see if something is patent pending or already has a patent.  I actually try to guess what it is that's unique or separates it from similar items.  Just be ready for this to happen to you when you become a member of the MSPL program.
Speaking of patents, I have a warning for those of you with new ideas.  Don't listen to those commercials that say they can help you with your invention.  It's a scam! All they do is get a design patent which only protects the look of your invention and not the invention itself!  I was shocked when I found out about this.  Can people really be that shady?  Well now that you know not to listen to those commercials, just give me a call when I become a patent agent, and I'll do it the right way.