After a good sleep in our new retreat center (Our Lady of Snows) and a strong concert with the Masterworks Chorale, we set off Monday morning to explore St. Louis. Our first stop was the St. Louis Gateway Arch, also known as the Jefferson Memorial Expansion Monument. We stopped for pictures beneath the arch and to imagine the architects and workers who constructed it.
The National Park includes a film about the creation of the arch between 1962-64 and how the structure had to support the weight of the cranes that built it as it curved inward. It remains the largest freestanding steel structure in the world! And not a single worker's life was lost in the Monument's construction.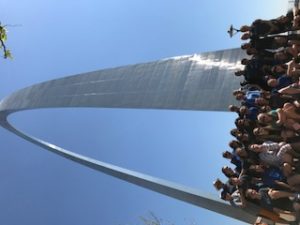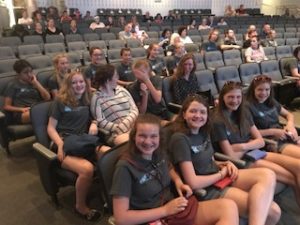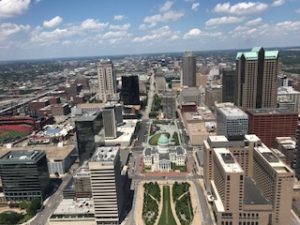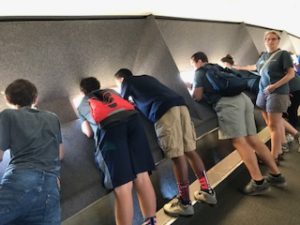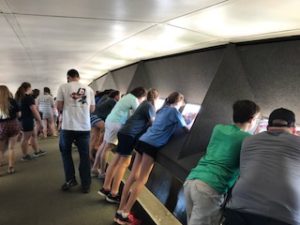 Brave members of the choir piled into tiny tramcars five at a time (the cars were the size of a large cloths dryer). The tram took four minutes to rise to the top, but swayed as it traversed the arch at an angle. The top of the arch held clear views of the city of St. Louis and the Mississippi River.
After visiting the Gateway Arch we went to lunch at Central Table, a very friendly sandwich and salad restaurant on St. Louis' west side near the Cathedral-Basilica of St. Louis. We had burgers, macaroni and cheese, salads, and more!
After lunch we walked to the Basilica and learned that it was constructed between 1907-1914 and holds the largest collection of mosaics in the world! The space was jaw-droppingly beautiful and our singers were awe struck by its majesty.
We returned to the retreat center after visiting the Basilica to rest and dress for our trip to the MUNY theater to see Jesus Christ Superstar. The MUNY is the country's oldest continuously operating outdoor theater and seats over 11,000 people for each performance. Andrew Lloyd Webber's musical (he is also known for Phantom of the Opera, and Joseph and the Amazing Technicolor Dreamcoat) was a dramatization of the passion of Christ set to rock music (of the 1970s, lots of disco music). We danced in our seats to the music and we loved the amazing voices of the lead signers; our singers remarked that the men could sing as high as our sopranos!
After the show, we boarded the bus only to sit in the traffic of all 11,000 people departing the theater. We held our evening prayer on the bus so that we could head right to sleep. We were weary, but our hearts were full of great music and exciting adventures from our day in St. Louis. Tomorrow we are off to Atchison, KS to sing at St. Benedict's Abbey.
We still miss our family and friends, but we are having a great time!