On Tuesday we began our journey to Atchison, KS to sing for the Summer Sounds Concert Series at St. Benedict's Abbey. After a five-hour bus ride, we crossed over the Missouri river, which took us from Missouri to Kansas. We stayed in Guadalupe Hall at Benedictine College, a beautiful campus of almost 2000 students. We were greeted by Abbot James from the Abbey who helped us get settled and escorted us to Vespers.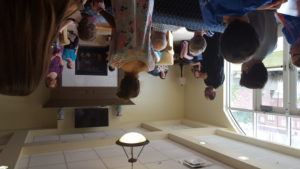 The brothers of the Abbey welcomed us to Vespers where they made us feel at home. We even recognized one of the monks, Fr. Jeremy King was visiting from St. Meinrad Archabbey; Fr. King was instrumental in the recording of our album O Day of Peace. We sang Vespers with the monks who have been continuously celebrating the tradition for over 160 years. It was a beautiful, calming, and serene service; many of our singers recognized and sang the hymns and concluding Salve Regina chant.
After Vespers, the monks escorted us to dinner, which was a feast of grilled chicken, pasta, salad, and cupcakes. The brothers farm their land, which produces some of the food they eat each evening. The monks began dinner with a reading from the Rule of St. Benedict and we concluded the dinner by singing Bless, O Lord, Us Thy Servants.
We warmed up for our Summer Sounds concert in the Abbey, which was a stretched setup with the organ at one end of the sanctuary, the audience at the other, and the choir in the middle. Our voices carried throughout the room to our appreciative and largest audience of our tour so far. Atchison is the birthplace of one of our singers and was a homecoming for her; many of her family and friends turned out for the performance.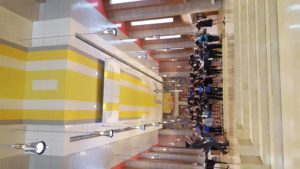 We had a few stomachaches, backaches, and weak spells, but all our singers finished the performance together. Needless to say the singers were exhausted after the performance. Day four is always our low-energy day, but everyone rallied to support each other.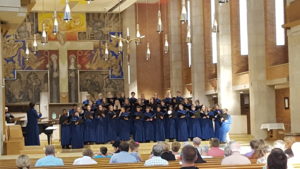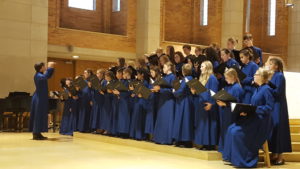 We had a cathartic evening prayer where singers voiced the joys and sorrows of the day. We were delighted to be joined by Sacred Music at Notre Dame alum Michael Duryea who is working at a Catholic Church in Emporia, KS.
The boys kicked the ball around outside until dusk while the girls prepared for bed. We all went to bed early and slept hard last night and woke up refreshed. We are now on the road to Minneapolis and the Mall of America!
Love to all our families!