By David Rubin
I'm going to start this entry in blank verse.
And in rhyming couplets I'll also this immerse.
In hope that it will inspiration bring,
As I explain this week: 'The play's the thing'!
We have returned once more to Illinois.
Decatur this time, and a place enjoyed
By each of us five – off the stage and on.
And at the strange hotel (back of beyond).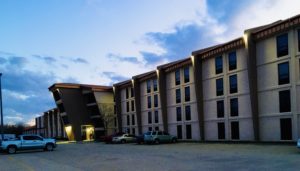 Again we're on a highway, cars a must.
Roadtrips daily for eats and drinks and just
To see more of the place, spend some time
Within contrasting cultures we're consigned.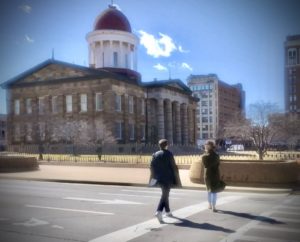 But this week I want to write about the play.
Those intriguing worlds behind words we say.
For they are what this work is all about.
'The play's the thing', of that there is no doubt.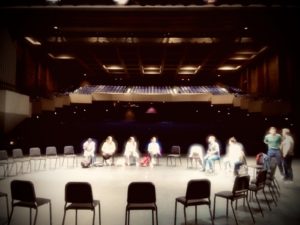 Shakespeare's insights, ideas and images
Make performing his plays a privilege.
His stories told so personally heard,
The heart of his great work lies in his words.
So many ways a thought we can interpret,
And so I muse muchly on that subject.
'We are such stuff…' 'Be collected…' 'Mine shall…'
'I here abjure…' 'Ye elves…' 'And fare thou well…'.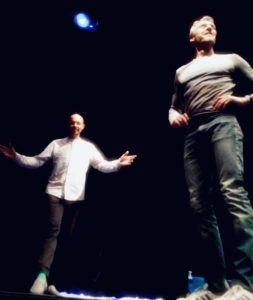 His words my scattered thoughts will sometime find,
(Like seeds amid the spirals of my mind),
I then exploring how his words have grown
When then I get to say them as my own.
OK, this is taking a bit too long. Back to prose. Chattier, eh?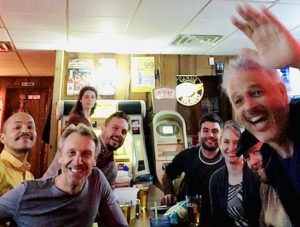 We did have a fun and fairly sociable week in Decatur. It was particularly good fun hanging out with 'the staff' after the last show. Lovely people. The students were fabulous all week, too. Dedicated and talented. We worked almost exclusively with the University Theatre Department students this week and they were inventive, detailed and playful throughout.
Our performance space was a 1900 seat theatre! We had a couple of hundred in for each performance. They all sat at the front of the auditorium close to the stage and it worked well.
We finished our working week on the Friday and then had a couple of days off in St. Louis, Missouri, which was great. Beautiful weather for some touristy outs and abouts, and St. Louis struck me as a very clean and quiet town… very few people about on the streets but plenty busy once into the bars, shops, parks and attractions…
Off to Alabama tomorrow morning. Two weeks to go.
Here are some pics from this last week.