Why one of today's smartest multimedia artists is branding one of today's slickest cars
by Catherine Schafer
"Small victories are progress," says Janelle Monáe, one of today's most colorful and hip multimedia artists, on how we each can drive progress in the world in her interview with Audi. It's everyone's job to move the world forward–by staying true to themselves and celebrating even the smallest victories–because we all rely on one another to survive.
It seems fitting that Audi, a brand claiming to be so focused on propelling the world forward through their "passion for progress," would include Monáe in their marketing campaigns. Their innovations technologically, creatively, and sustainably are meant to both literally and figuratively "drive" the world into the future. But why Monáe? What can be said about Audi's ambitions through this collaboration?

Let's first take a closer look at their summer 2021 commercial itself, "Audi Presents: Janelle Monáe & the Audi RS e-tron GT." It begins with Monáe setting a metronome then looking out at the rest of a city from the window of a skyscraper. The metronome pulses at a slow tempo, and she begins to sing freestyle. "Singing or speaking," she remarks as her voice switches with a soft laugh. The camera then changes to a shot of the Audi itself, Monáe getting in the driver's seat (the beat of the metronome fades out in the background). "Mine or yours" is followed by "reason or fun" and a plethora of either-or statements as she drives through the city streets:
"Singing or speaking.
Mine or yours.
Reason or fun.
Statement or silence.
Sensitive or strong.
Intelligent or intuitive.
Luxurious or mindful.
Fast or long-lasting."Janelle Monáe
Here the metronome returns with "intelligent or intuitive," as if to establish a sense of assuredness, of rhythm: Audi has technology down to a science, never skipping a beat. It returns for a third time with "fast or long-lasting" and the car coming to a stop on an overlook, the sprawling city below. "Progress isn't either-or," says Monáe as she stops the metronome: "progress is everything." Almost a redefining of time itself. Audi, like Janelle Monáe, is not afraid to be bold and innovative. Neither is locked into just keeping time, the systole and diastole—the heartbeat—of the now. Either-or becomes both-and. Moving on, or, driving forward.
But Monáe's words up to this point are not really opposites. There is no black and white. The commercial's colors are neutral hues of gray, beige, and shades in between. The RS e-tron GT is shown in "Daytona Gray," Monáe wears a beige suit, and the high-rise apartment is awash with beige-ish flooring and furniture. These colors even permeate the city itself. Audi wants the world to know that it can do it all, and its customers can have it all. This flagship model is a "both-and" car, looking toward the future naturally electric but fun to drive all the same.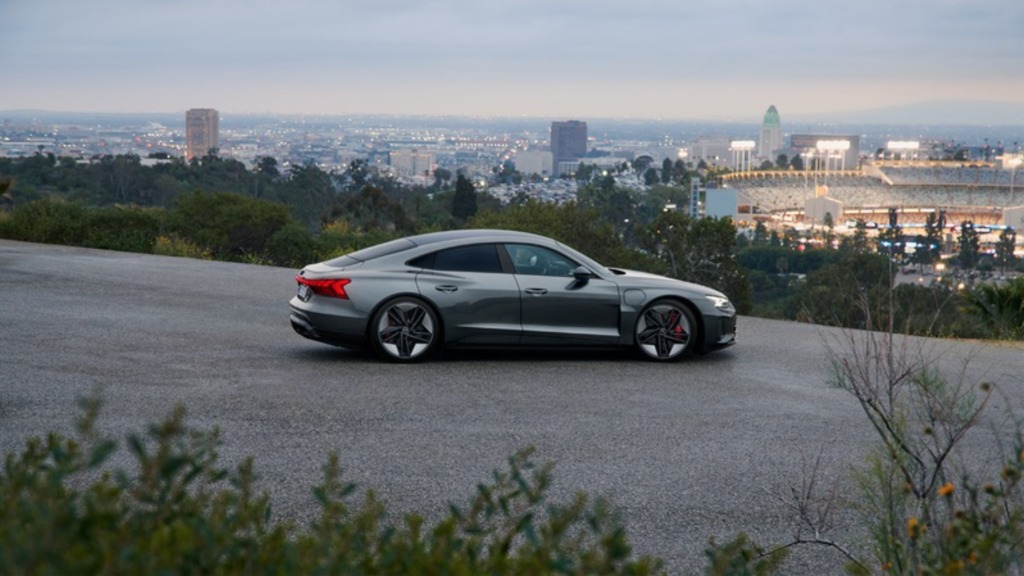 However, there's not just color; there's also sound. A review in Car and Driver mentions the car's "soundtrack", played just for the driver, described as "a sort of intergalactic hum that transforms into a turbine whoosh as you accelerate, culminating in a 78-decibel whir at full thrust. It says, 'I am the future,' … but it's not quite right for the e-tron." Whether or not this sound is wrong , Audi must have done something right to let us "hear" the future of driving. Car enthusiasts are taking note.
But what does Janelle Monáe have to do with this future, or this "sound of the future"? In the interview, she describes her approach to progress as incrementalist: it's the little things that build up to become bigger things, and there is no one-size-fits-all to this. It takes a small effort each day towards becoming the best version of yourself to drive this progress in the world. Maybe this is what Audi means when they say "Future is an attitude." Having a growth mindset and remembering our common humanity shapes our progress towards the future.
Monáe embodies this attitude in her own life, never being afraid to be a radical storyteller and always living as authentically as possible, evidenced through her iconic fashion. She mentions her imagination a lot in her interview–imaginations are what effect change in the world and what can change others' perspectives in the process. Imagination shapes the future.
In a recent interview with People, Monáe talked about how "Sci-fi and Afrofuturism have nurtured [her] imagination for many moons" as she works to inspire others through her passion and life's work. In her forthcoming collection of fictional stories, she and other writers build upon the Afrofuturistic world she established in her album Dirty Computer, "exploring how different threads of liberation–queerness, race, gender plurality, and love–become tangled with future possibilities of memory and time in such a totalitarian landscape… and what the costs might be when trying to unravel and weave them into freedoms."
The term "Afrofuturism" goes back to the late 19th century. As Mark Bould, Reader in Film and Literature at UWE Bristol, notes, it "offers a way of engaging the past [and] a site where both the past and the future can be, interwoven with the present reality." Georgia Tech Regents Professor of Science Fiction Studies Lisa Yaszek adds that "Afrofuturists 'use stories about the past and the present to reclaim the history of the future.'"
With this in mind, we should also consider Black Panther, which combines traditional (and stereotypical) Pan-African details with the hyper-futuristic city of Wakanda, thus transcending lived reality and letting liberation abound. University of Cincinnati Associate Professor of Communication Omotayo Banjo describes the effect as "[carving] out a space to reimagine Blackness ­by reclaiming the past while seizing the future."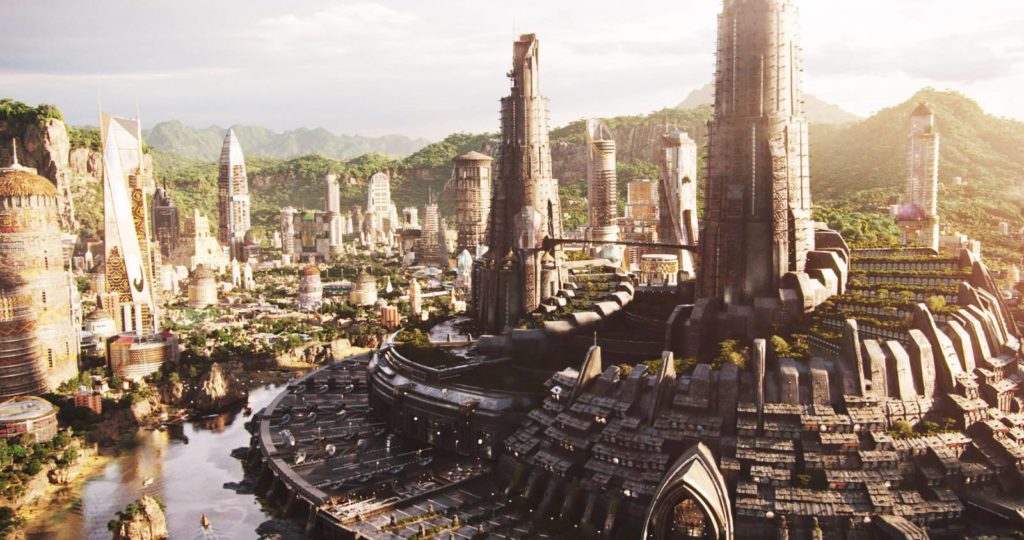 Why would Audi co-opt Afro-futurism? It turns out the car maker also collaborated with another black artist, Regé-Jean Page, the wildly popular actor in Netflix's Bridgerton, to advertise the new Q4 e-tron (an electric SUV). His interview was about communication and "shared experience." Just as Monáe speaks of inspiration and imagination, he talked about how he seeks to continually allow people to "feel less alone after they've seen something that you've put into the world."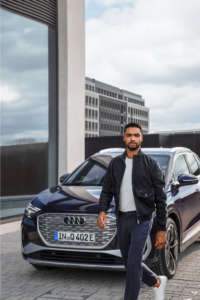 Q4 e-tron," is not as potent as Monáe's either-or, conveying the experience of progress slightly differently, but is similar in color palette (with fewer gray or mixed hues), minimalist city setting, and aim:
"For me, one of the best things about life is that we keep moving forward. I love that we're constantly evolving. We progress every day. We discover exciting new technologies, redefine who we are, and how we want to lead our lives. Basically, we choose what we want our future to look like."

Regé-Jean Page
Two new cars and faces for Audi. A man and a woman chosen as accompaniment (notable given how such advertisements have historically been oriented toward men as researcher Namrata Sandhu has noted). Both are successful (some might call them "classy") black artists. Is Audi attempting to converge white- and blackness in a "luxury" land or perhaps responding to Black Panther or recent events like George Floyd's murder? Regardless, like in the film, a sense of this almost-"fantasy" of black excellence persists–as a world on which Audi may be capitalizing–articulating "the 'what if' of a world lived and controlled by and for Black subjects."
Audi Q4 e-tron charges against backdrop of city