Thursday, April 3, 5 pm, 715 Hesburgh Library
Topic: 
Disability Studies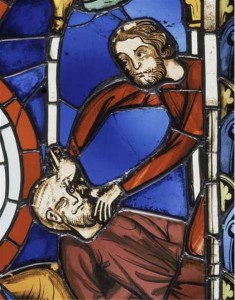 Speakers:
Richard Cross (University of Notre Dame, Philosophy): "Disability in Historical Theology: The Medieval Period"
In this paper, I document two different approaches that I have tried to use in writing about disability in scholastic theology. The first is purely historical, giving an account of medieval views of the role of grace in the lives of those with severe cognitive impairments.  In the process I attempt to rehabilitate the medieval theology of (created) habits of grace, arguing that those who affirm are such habits are in a stronger position to give an account of the grace given to those with severe cognitive impairments than those who denied such habits.  The second is more constructive: drawing on insights from the medieval theologians Duns Scotus and Hervaeus Natalis, I argue that medieval views of the incarnation require that there is a sense in which the divine person depends on his human nature for his human personhood, and thus that the paradigmatic pattern of human personhood is in some way dependent existence.
For further research, please see: Richard Cross, "Disability, Impairment, and Some Medieval Accounts of the Incarnation: Suggestions for a Theology of Personhood," Modern Theology, 27 (2011), 639-58; and idem, "Baptism and Severe Cognitive Impairment in Some Medieval Theologies," International Journal of Systematic Theology, 14 (2012), 420-38.
Candida Moss (University of Notre Dame, Theology): "Reconfiguring Healing and Disability in the Early Church: The Case of Eschatological Barrenness"
In Biblical Studies and theological enquiry more broadly, infertility is seen as the Biblical disability par excellence. From the stories of the miraculous pregnancies of the matriarchs of the Hebrew Bible to the interweaving of imagery of barren earth and divine judgment, barrenness is widely interpreted as disability, result of sin, and – at best – occasion for healing of divine assistance. Utilizing the methods of disability studies, this paper will examine the exegetical and theological traditions that saw barrenness as a prefiguration of the resurrected body and a desirable characteristic for women seeking the divine.