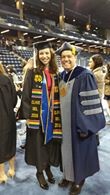 The spring semester has been exciting and exhilarating.  It began with a two- week celebration highlighting the morphing of the civil rights movement from 1960 to 2016. Multicultural Student Programs and Services' Interrace Forum and Africana Studies and Institute for Latino Studies luncheon covered the various components of the civil rights movements.  MSPS compared the 60's efforts led by Dr. King to the Black Lives Movement, where Africana Studies and ILS did a comparison of the Black and Brown movements. They also discussed possible collaborations.  The Fr. Hesburgh and Dr. King mosaic project featured in LaFortune Student Center was a effort between students, faculty, administrators and staff representing the joining of two men committed to the betterment of society.  Thank you to our co-sponsors and Notre Dame Community members, who worked tirelessly to send the message that Our Lady's University aspires to be a place that is welcoming to all and a place where civil discourse is appreciated.  This is another form of intellectual growth for all who are "Under The Dome."
Throughout the remainder of the spring, Dr. Shannon Dee Williams, professor of History at the University of Tennessee, Knoxville revealed the history of blacks within the Catholic Church as the keynote for Black History Month. She shared the struggles and successes of nuns and priests. As part of the Asian Heritage Month, Jennifer 8 Lee, former New York Times journalist, shared the history of Fortune Cookies and Asian Cuisine. The misinformation and assumption of what is Chinese food was entertaining and educational.
The year ended with many of our students being recognized for their contributions to the Notre Dame Community. Congratulations to Hesburgh Award Winner – Preston Igwe `16 and the other Student Award recipients: Ray `Von Jones `16, Chizo Ekechukwu `16, and Leana Jonassaint `16.
The academic year ended with MSPS sponsoring recognition ceremonies acknowledging the academic achievements of two hundred and fifteen MSPS constituents during Commencement Weekend. At the Africana Ceremony, Arienne Thompson Ploude `04 addressed the graduates on their theme "We Did It All" realizing the pitfalls and successes that they will experience as their life journey continues. Latin Honors Cum Lande recipients: Arlia Delphonse – Japanese & Gender Studies Major; Obiageliaku Ekwueme – Psychology & Pre-Health; Adam Henderson – Political Science; Francesca Simon – Political Science & Africana Studies; Dina Yared – Political Science & Spanish were presented with a gift from MSPS as a result of their achievement.  During the Asian and Pacific Islander Ceremony, API Alumni Chair Andrew Mascarenhas '03 shared his life's journey and challenged the graduates to remain open to what life has in store for them. The API Board gave their 2016 Distinguished Student Awards to Crystal Chen – Goodspeed `16; Michael Dinh `16, Mike Lin `16, Khanh Mai `16, Gaby Mercurio `16, Sneha Modi `16, Dong Gue On `16, Luning Selina Wang `16 and Hansel Weihs `16.  These students were selected because they demonstrated outstanding leadership and remarkable commitment to the Asian American community throughout their tenure at Notre Dame.  Thank you to Dr. Laura Murillo, speaker for the Latino Recognition Ceremony, Elaine DeBassige `92 and 2016 Honorary Doctorate recipients Pauline Yu and Arturo Sandoval for gracing the graduates with words of inspiration.  Also, I want to extend a heartfelt "Thank You" to the faculty, administrators, staff and alumni, who served in various capacities to ensure this was a memorable weekend for our graduates.
Have a Blessed Summer,
Iris L. Outlaw
Iris L. Outlaw `90 MSA
Director
Multicultural Student Programs and Services