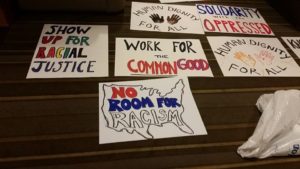 The end of summer vacation is rapidly approaching. With that comes apprehension on the 2016 -2017 campus environment.  How will the political landscape, violence erupting throughout the country and perspective of law enforcement affect your experience at Notre Dame?  Your ideologies and arrival will determine how you and your peers will react. We, Multicultural Student Programs and Services in collaboration with the Center for Social Concerns and Notre Dame Security Police, held vigils and a march beginning mid-July. These events were to create space for people in our community to:   
Stand against police brutality, racial injustice, systemic oppression and all forms of violence
Show up for racial justice, SHALOM, care for ALL CREATION, human dignity, solidarity, the common good, the end of systemic oppression, and LOVE
Join together in communal lament to share our grief and our hope together and move forward as one
More than one hundred Notre Dame undergraduate and graduate students, faculty, administrators and their family members participated. These align with three of the Holy Cross Pillars: Mind – Seeking to understand; Heart – Rooting choices in values; and Family – Embracing community.   The continual dialogue has resulted in an action plan for those who want to join the conversation about solidarity dignity, and the ending of systemic oppression.  Watch for announcements of upcoming events advertised through various media.
First Year students, I strongly encourage you to participate in the various Welcome Weekend Events (https://welcomeweekend.nd.edu/schedules/). You will observe a sense of the culture of Our Lady's University and the journey you are embarking on for the next four years. Opportunities to consider during your tenure will also be shared in numerous events. At the Multicultural Reception on Saturday, August 20 6:00 p.m. in the Leighton Hall, Justin Ruiz, professor in American Studies, students and their  mentors will talk about expectations, experiences available, and how to maximize your time at Notre Dame while leaving your legacy.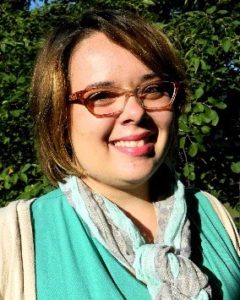 Students, please welcome Yvette Rodriguez, MSPS Assistant Director for Programming to ND.  Yvette joined the MSPS Team in July. She has been working feverishly preparing for the MSPS Leadership Summit and securing speakers for the 2016 – 2017 MSPS MLK Study of Race Series. We have selected the play for the Diversity of the Arts event. The unveiling of the play will occur in September. Watch the MSPS newsletter for the announcement. Limited tickets are available.
Please mark your calendar for the Welcome Back Picnic on September 13, at 4:00 p.m. to 7:00 p.m.  The first Interrace Forum will be on September 21 5:30 p.m. in the McNeill Room.  In respect of Hispanic Heritage Month, we will discuss Latinas in the Media.  As a hint, this alludes to our speaker who will join us the following week.
Campus Ministry is hosting their Multicultural First Year Retreats beginning the weekend of August 27 – 28 and September 3 -4.  Visit their website for more information http://campusministry.nd.edu/undergraduate-resources/multi-cultural-resources/retreats/.
If you have questions about these events or information shared, please email: msps@nd.edu.
Have a Blessed 2016 – 2017 Academic Year and Safe Travels,
Peace,
Iris L. Outlaw
Ms. Iris Outlaw, `90 MSA
Director