A post from our student blogger Roberto Fernandez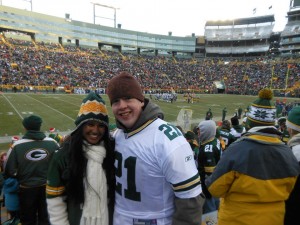 Welcome to the 2014-2015 Masters of Science in Patent Law (MSPL) student blog!  My name is Roberto Fernandez and I am a member of the class of 2014-2015.  I will use this blog throughout the year to catalogue my journey at Notre Dame and within the MSPL curriculum.
Before we begin, I think it would be helpful for you to know a little about me and how I got here.  I am the oldest of five, with one brother and three little sisters, and I am from the small town of Mukwonago in south-eastern Wisconsin where I have lived my entire life.  I am blessed to have two incredible parents.  My mother who worked as a nurse for many years, eventually managing the trauma team of the emergency room of Children's Hospital of Wisconsin and now is actively involved in alternative education advocacy, and my dad who is currently in his 23rd year as a career firefighter on the City of Waukesha Fire Department.
As a child, my parents made the incredible decision to take on the responsibility of educating me themselves.  I was homeschooled until 5th grade, when my parents learned about a new virtual public school which had just opened in Wisconsin under the Charter School Act.  This new school, known at the time as the Wisconsin Virtual Academy (WIVA), was one of the first schools of its kind in the world.  At WIVA, students participated in a new blended learning style which combined a typical classroom with the internet and virtual technology.  While I may not have gone to a traditional brick and mortar school like many of my friends, I ended up receiving the education that was best suited for me.
When I got to 8th grade I knew I wanted to attend a brick and mortar high school.  I wanted to play sports with my friends as well as prepare myself for a traditional college environment.  My parents and I chose Catholic Memorial high school where I would go on to play baseball, football, be a member of the school's Science Bowl team, as well as an award winning actor in the state of Wisconsin.
Now that you know a little bit about my childhood background I want to shed some light on my career motivations and inspirations.  While my unique upbringing is largely responsible for my character and personality, one particular set of events forever shaped the career path I would take.  While lifting wet and heavy hose after a large fire my dad severely injured his back and, as a result, was relegated to bed rest and physical therapy for a few months.  While he recovered, my dad secretly developed an invention that could have prevented the injury he and many other firefighters had sustained while performing daily tasks with fire hose.  He labored relentlessly for the next few years tweaking the design and molding it into a work of art.  Eventually, my parents scraped together enough money to contract out a blacksmith in town to weld together a rough prototype of my father's design.  After constructing a working prototype my parents decided to take a huge risk by starting a family business.  Our company, RollNRack LLC. Inc, has come to offer firefighters around the world tools that have revolutionized the way daily tasks are performed.  Throughout the process my parents explained to me what was going on and gave me a first-hand entrepreneurship experience that has continuously proved invaluable in my professional life.  As a young child I was able to see the way a dream could be transformed into a reality as we went from a small start-up to an industry leader.  During the summers since, I have traveled the country selling our products to customers from all over the world at countless conventions, conferences and tradeshows.  It is through these amazing opportunities that I first realized some of my true interests and passions in life.
After graduating from high school I went on to attend the Milwaukee School of Engineering (MSOE) pursuing a Bachelor's of Science degree in Mechanical Engineering (B.S.M.E.) with a minor in mathematics.  While you may not have heard of MSOE, its Mechanical Engineering program is ranked 11th in the Midwest, according the U.S. World and News Report, and it prepared me extraordinarily well for a career in industry.  After an amazing internship my junior year I discovered that I would not be happy working in industry like many of my peers.  I yearned for the opportunity to do something revolutionary. I knew wanted to make a difference in the lives of as many people as possible and I just could not see myself doing that in a traditional engineering setting.  This is when I knew that I needed to continue my education beyond MSOE.
At first, I looked at graduate programs in Mechanical and Aerospace engineering.  I was really interested in the research going on in these fields and felt like they would be a great fit.  I applied to schools all over the country looking for the right program.  One of the programs I applied to was the Mechanical Engineering graduate program at the University of Notre Dame.  Shortly after applying I received an e-mail letter advertising the MSPL program.  After opening the e-mail I thought back to my experiences with my father and how my parents were told they would need to patent my father's designs before we manufactured them.  At the time I remember thinking that the job sounded very interesting but that I was more interested in building the products being patented rather than actually constructing the patents.  I could not help but wonder, however, if this was the next step for me.  As I looked over the program I was impressed and intrigued with what it had to offer.  I loved that it was a one-year program and that it was one of the first of its kind.  Ever since I was a child I have enjoyed challenging the status quo and this program certainly seemed to offer an avenue for me to continue that mission.  I felt like if I wanted to receive an education in Patent Law there was nowhere that I would rather go.  Soon after I read the e-mail I had to leave for class but I continued to think about this new and exciting opportunity throughout the day.  The next morning I had decided that I would apply for the program and see how things played out.  Before long, I found myself accepting a spot as a member of the 2014 MSPL class at the University of Notre Dame.  That decision was one of the easiest decisions I have made in my entire life.  From the moment I applied to the program everyone I spoke with at Notre Dame was amazing; answering every question I had and making me feel like I was already part of the community.  The morning that I accepted my spot in the program I knew this was the way things were meant to be; though, a year ago I would not have guessed that this is the path I would find myself on.  This experience has shown me first hand that sometimes we cannot possibly predict the path that life will take us on.
During the first weeks of this summer I was able to make my way down to campus for a visit.  My brother and I woke up at 4 in the morning and drove down from Wisconsin stopping only for the unfamiliar tolls along the way.  Despite a constant downpour we drove throughout the entire campus and ran through campus buildings like teenage girls tearing through stores on Black Friday.  After walking into each new building I was more amazed than when I had left the last; I was in utter shock that this immaculate and awe inspiring place would soon be my new home.  I could not believe it when I first saw the courtroom in the Eck Hall of Law, seemingly hidden within one of the most beautiful and miraculous buildings at Notre Dame.  As an incoming student it is exciting to imagine working on homework on the luscious grass of the quad during the week and enjoying football games at the second most beautiful stadium in the country (with the first being Lambeau Field, the home of the Packers, of course) on the weekends.  After visiting campus I knew that Notre Dame was my new home.
Well I hope that this introductory blog post sheds some light on who I am and allows you to understand my unique perspective as a student and as a professional.  I will use this blog regularly to showcase my MSPL experience as well as my other adventures around Notre Dame.  It is my ahope that this blog will give others a firsthand look at the program and answer any questions that they may have.  If there is something that I have not addressed in my blog that you are curious about or if you have any other questions please send an email to rfernan3@nd.edu and I will do all that I can to help you find an answer.  Thank you for your time and welcome to the 2014-2015 student blog!