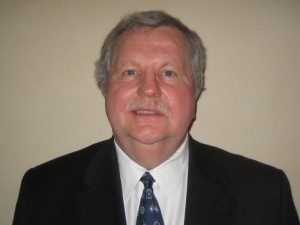 A post from our student blogger Catie
As the bloggers have discussed numerous times, a thorough prior art search is pivotal to drafting a worthwhile patent application. During the fall semester, patent searcher Ron Kaminecki instructed the MSPL students in a course that focused solely on patent searching. Ron is a wealth of knowledge and experience, and he uses that knowledge and his own personal connections to provide his students with the broadest possible exposure to the realm of patent databases. Ron also uses his experiences to provide real-life examples of what he teaches, which hold the attention of his students.
After graduating from the Illinois Institute of Technology with a Bachelor's degree in Chemistry, Ron began his career as a technical assistant chemist at the IIT Research Institute in Chicago where he did chemical information work, mostly concerning contract research. One of his first big jobs was to prove that trains can spontaneously catch fire; a task in which he succeeded and gained a passion for information searching. He transitioned into performing patent searches, and decided on a whim to get a Masters in Computer Science and then later take the patent bar exam. By the suggestion of his wife, he decided to take the LSAT and was later accepted into DePaul Law School, which he attended while also working as Manager of Patent Information at a drug company. Because of the law school's newly formed department of intellectual property, Ron was one of the first graduates to receive a Certificate in Patent Law at the same time as a JD. Ron has spent his career as an independent Patent Information Researcher, assisting clients and leading courses in patent searching in all parts of the world. I asked Ron to answer a few questions for the blog, and the following is a brief overview of the fantastic stories and experiences that he shared with me.
What do you like about patent searching?
"I would be given the name of a company or a patent number and was expected to do a full legal briefing to my boss and the rest of the team (a techie and a financial person) usually within the next day or two!  Then, we would all fly onsite, armed with a blank check and would have to decide whether or not to buy the company/patent from the client. I did deep dives into the literature and would love finding "embarrassing" facts, like one company in which the president's spouse had owned a trademark for the company.  When I name dropped this, the room went silent and they asked how I knew this!  Just did my homework.  I did several of these and really enjoyed doing this work."
What brought you to be an adjunct professor at the University of Notre Dame?
"I was out of a job after 32 years at one company and was consulting when an old friend told me about the new program that Karen Deak was setting up. I contacted Karen and proposed a patent analysis course. Just a few days before we met to discuss this possibility in person, I fell off my bicycle (I'm a big bicyclist) and ended up in the ER with my entire left side abraded, a crack in my pelvis and other painful injuries.  I could barely walk and could not sit and didn't think I made a good impression on Karen; she was gracious as always.  She contacted me a few weeks later to say that she could not use a patent analysis course.  However, during the first school year, she contacted me because she noticed the students were struggling with finding patent information for their capstones. I did a two hour quick overview with the students, along with the same goofy examples that you saw, and showed them how to search.  I agreed to consult over the semester, and Karen asked me to put together a syllabus for the next year of patent law students. Since then I have done a similar class at DePaul Law last summer and have since put together another class for New Hampshire Law. Luckily, this class is all online (which, while I am typing this, I am staring at my recording apparatus as I am recording my classes now)."
What do you like most about teaching a patent law course at the University of Notre Dame?
"I really like meeting the students because I like to meet people face to face.  I learn from students, too, and I do change my syllabus, my teaching methods, and my presentations based on feedback.  Yes, I do notice people almost dozing off when I am going through one of my hundred slide presentations. So, I add ridiculous inventions, or I try to find a really memorable example (like the black pills made by heating a mole for a week) to make people remember that a drug can involve a product and a method patent.  Or, I will introduce something colorful, like the Mars lander that I worked on.  I try to teach while entertaining, never the other way around, because I have found that all this technical stuff goes in and out and no one remembers it, but show them a tea bag and how to do a patent search on it, and they tend to remember it."
You often spoke about your experiences in China. How did that shape your career in patent law? Do you get to travel outside of the country for your job?
"At one point I traveled about 80% of my time, though that was mostly in the US.  I've been to many countries in Asia and Europe several times per year for many years and have even been to South Africa a few times. Based on my work in Asia, I have been asked to speak at legal meetings in which people paid to hear about the latest cases.  My background in law and public speaking has taken me around the world many times.  I once had a million miles on American and an a million and a half on United. I also learned that you have to be able to say a few words in the native language.  Nothing special, just "Thanks; yes, no; bathroom?" and such essentials."
If you weren't a patent searcher, what would you be?
"I would be a judge in the Court of Appeals for the Federal Circuit; the court that decides patent cases.  Nothing like having everyone stand up when you walk into a room!  Just kidding.  I would love to dig into the depths of really technical cases and then argue with others."
What is the greatest piece of advice that you would give to a beginning patent agent or attorney?
"Meet as many people as you can and remember them.  Get to know their spouse's name, their kid's names, their dog's name, their favorite food and better yet, the food they hate.  People really like it when you recall such details years later. Also, I encourage everyone to get as educated as possible!  I would love to further my education in a different field or learn something fun instead of something technical/legal.  I learned how to cook for very large groups (hundreds) when younger, and I have an award winning chili recipe that made it into a cookbook! I've finally hit upon the almost right recipe…I'm always improving on my recipes!"