Posted on April 16, 2020 in Uncategorized by Aedin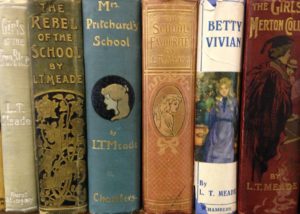 Do you miss going to the shelves to browse?  Here is a selection of recent e-books in the Hesburgh Libraries' Irish literature collection. 
I would be very interested in hearing about your experience with various e-book readers and platforms.
A Notre Dame user name and password is needed to read these books.
FICTION
A Girl is a Half-Formed Thing.
Eimear McBride. 2015
Days Without End.
Sebastian Barry. 2017.
Beatlebone 
Kevin Barry. 2015
The Gathering. 
Anne Enright. 2007
POETRY
The Lost Land. 
Eavan Boland. 1998
Poems read by Eavan Boland on video:
Quarantine  
Code
Love  
Exile, Exile!
Lava Cameo
The Journey
The Pomegranate

From There to Here: Selected Poems and Translations.
Ciaran Carson. 2018
The Mother House. 
Eiléan Ní Chuilleanáin.  2020
Besides the ebooks listed above, the Literature Online collection includes thousands of poems. It allows the reader to view poems individually rather than turning pages, and the lines of poetry are all numbered, which is a distraction. So it is useful for reference but a poor substitute for the printed page. Included in the collection are poems by Louis MacNiece, Patrick Kavanagh, Medbh McGuckian, Seamus Heaney, Dorothy Molloy, Paul Muldoon, Derek Mahon, Eavan Boland.
CRITICAL WORKS ON IRISH LITERATURE
Revolutionary Damnation: Badiou and Irish Fiction from Joyce to Enright.
Sheldon Brivic. 2017

After Ireland: Writing the Nation from Beckett to the Present.
Declan Kiberd. 2017
Shakespeare and Contemporary Irish Literature.
Nicholas Taylor-Collins and Stanley ven der Zeil, eds. 2018
All on Show: The Circus in Irish Literature and Culture.
Eleanor Lybeck. 2019
Irish Literature in Transition, 1940-1980.
Eve Patten. 2020
The New Samuel Beckett Studies.
Jean-Michel Rabaté. 2019
Samuel Beckett: Poet + Critic.
Lawrence E. Harvey. 2019
Modern Irish Drama: W. B. Yeats to Marina Carr.
Sanford Sternlicht. 2010
Literary Visions of Multicultural Ireland: The Immigrant in Contemporary Irish Literature.
Pilar Villar-Argaz, ed. 2013.
The Cambridge Companion to Irish Poets.
Gerald Dawe, ed. 2018
Languages of the Night: Minor Languages and the Literary Imagination in Twentieth-Century Ireland and Europe.
Barry McCrea. 2015
Paul Muldoon and the Language of Poetry
Ruben Moi. 2020
Five Irish Women: The Second Republic, 1960-2016.
Emer Nolan. 2019
Laying Out the Bones: Death and Dying in the Modern Irish Novel from James Joyce to Anne Enright.
Bridget English. 2017