Posted on October 28, 2019 in Uncategorized
Over 170 new books arrived this month. The list below includes poetry, history and Irish language books.
Poetry
Many poetry books come in paperback covers that are attractive, but not very durable. If you see a book listed here that is not yet available according to the catalog, it might have been sent to the bindery. You may still place a hold and the book will be held for you (Notre Dame community only).

The following books from Salmon Poetry arrived this month:
Anne Casey. Out of Emptied Cups.
Ethna McKiernan. Swimming with Shadows.
Nessa O'Mahony. The Hollow Woman on the Island.
Other poetry books (a selection):
Medbh McGuckian. Marine Cloud Brightening. Gallery Press.
Vona Groarke. Double Negative. Gallery Press.
Frank McGuinness. The Wedding Breakfast. Gallery Press. 
Shirley McClure. Origami Doll. Arlen House. (See Irish Times article by Jane Clarke.)
Glen Wilson. An Experience on the Tongue. Doire Press.
Michael Gorman. Fifty Poems. Artisan House.
History
From Medieval Ireland to the Nineteenth Century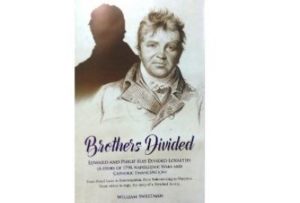 Aidan Clarke, e. 1641 Depositions, volume V. 
John Gibney. Ireland and the Monarchy. Pen & Sword.
Suzanne Leeson. The Kirwan Murder Case, 1852. Four Courts.
Victoria L. McAlister. The Irish Tower House: Society, Economy and Environment, c. 1300-1650.  Manchester UP.
Breandán Ó Cathaoir, ed. The Diary of Elizabeth Dillon. Currach.
Fergus O'Ferrall. John Ferrall: Master of Sligo Workhouse. Four Courts.
Peadar Slattery. Social Life in Pre-Reformation Dublin 1450-1540. Four Courts.
William Sweetman. Brothers Divided: Edward and Philip Hay, Divided Loyalties. Pike.
Paul Walsh. Renaissance Ireland. RIA.
Twentieth Century
Seán Enright. The Irish Civil War. Merrion.
Conor McNamara. Liam Mellows, Soldier of the Irish Republic. Irish Academic.
Maryann Valiulis. The Making of Inequality. Women, Power and Gender Idealogy. Four Courts.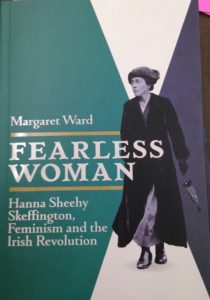 Margaret Ward. Fearless Woman: Hanna Sheehy Skeffington. UCD Press.
Late Twentieth Century to Contemporary Ireland
Giuseppe Franco Ferrari and John O'Dowd. 75 Years of the Constitution of Ireland: An Irish Italian Dialogue. Clarus Press.
Brendan Marsh. The Logic of Violence: An Ethnography of Dublin's Illegal Drug Trade. Routledge.
Gavan Reilly. Enda the Road: Nine Days that Toppled a Taoiseach. Mercier.
Gaeilge 
Leabhair Ghaeilge agus Leabhair faoin nGaeilge.
(Books about Irish)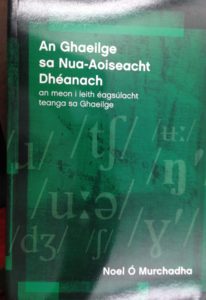 Marcas Mac Ruairí. An Buntáiste Breise. Glór na nGael.
Isobel Ní Riain. Labhairt na Gaeilge: Dúshlán agus Réitigh.  Coiscéim.
Isobel Ní Riain. Léiriú Socheolaíochtúil ar Litríocht an Bhlascaoid. Coiscéim.
Tom O'Donoghue. Irish Speakers and Schooling in the Gaeltacht, 1900 to the Present. Palgrave Macmillan.
Tadhg Ó hIfearnáin, ed. An tSochtheangeolaíocht: Taighde agus Gníomh. Cois Life.
Noel Ó Murchadha. An Ghaeilge sa Nua-Aoiseach Dhéanach. Cló Iar-Chonnacht.
Mary Phelan. Irish Speakers and Interpreters and the Courts. Four Courts.
Litríocht
Máirtín Coilféir. Titley: Saol agus Saothar. Leabhair Comhar.
Proinsias Mac a' Bhaird. Tairngreacht. Leabhair Comhar.
Seosamh Mac Muirí. Scríobhnóirí Cois Teorann 4. Coiscéim.
Tomás Mac Síomóin, ed. File ar Fhile. Sraith: Dánta Antonella Anedda; Dánta Erich Fried; Dánta Andrée Chedid; Dánta Arthur Rimboud. Cois Life.
Caitlín Bheití Ní Chuireáin. Muintir an Ghleanna. Éabhlóid.
Isobel Ni Riain. An Buchcafé. Coiscéim.
Máirín Bheartla Sheáin Ó Cualáin. Bean an tSidheáin. Coiscéim.
Breandán Ó Doibhlin. Sliocht ar Thír na Scáth. Coiscéim.
Seosamh Ó Murchú. Athchuairt. Coiscéim.
Pádraig Ó Riain. Beatha Ailbhe. Irish Texts Society.
Mícheál Ó Siochrú. Scáil an Scéil. Coiscéim.
Béaloideas
Pádraig Mac Cearáin. Sayonara. Béaloideas Seapánach arna Bhailiú ag Patrick Lafcadio Hearn. Coiscéim.
Isobel Ní Riain. Logainmneacha agus and Chuimhne. Coiscéim.
Seán Ó Muimhneacháin. An tAgallamh Muimhneach. Oidhreacht Chorca Dhuibhne.
Leabhair le hAghaidh Lucht Foghlamtha
(Children's books and translations, accessible for learners)
Hervé Bourhis. Darach Ó Scolaí, trans. An Broc-chú. Leabhar Breac.
Road Dahl. Charlie agus Monarcha na Seacláide. Leabhar Breac.
Malachy Doyle agus Andrew Whitson. Muireann agus an Míol Mór. An tSnáthaid Mhór.
Leabhair Eile i nGaeilge
Colm Ó Sé. Dochtúirí an Dóchais: Stair Acadamh na Lianna 1969-2018. Coiscéim.