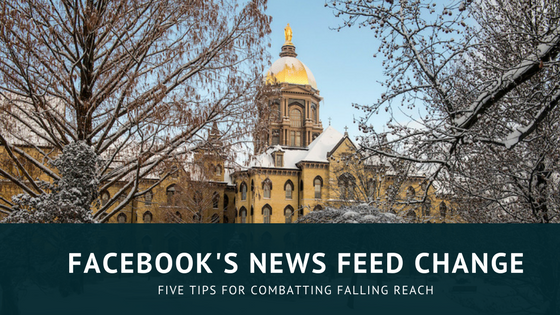 Two weeks ago, Facebook announced a major change to their News Feed which they titled "Closer Together." It's been talked about substantially by many major media outlets – who will be greatly affected by the change – and others across industries that use social media (including me last week), but what is it really going to mean for those of us here at Notre Dame?
In last week's blog post, I discussed that we now have a hierarchy of engagements defined by Facebook's News Feed Chief Andrew Mosseri:
Likes < Reactions < Comments < Long Comments
While it was always crucial for brands and publishers to post engaging content to reach more people, it is even more important now as Facebook has spelled out that brands and publisher pages will see their reach, video watch time and referral traffic to websites decrease; many predict these metrics will decrease dramatically.
In 2017, the University of Notre Dame Facebook Page posted 298 times and reached an average of 53,500+ people on each of those posts. This was a 38% increase in average reach over 2016 when we posted 294 times and reached an average of 38,600+ people on each post.
That 2017 number increased so considerably because our organic reach evened out considerably. In 2016 our highs were very high and our lows were very low — 51 of our posts did not reach 10,000 people. In 2017, there were only 10 posts that did not reach 10,000 people or more.
I attribute that growth and sustained reach to the fact that we always posted with intention – never posting just to post – and we had great success with links to our Strategic Content features and videos on the site.
In 2018, I can already tell you that we'll be closer to that 2016 number for posts that reach less than 10,000 people if we don't exceed it.
Last week, I posted two news stories that failed to meet that threshold – one was an invitation to the January 22 MLK Celebration Luncheon featuring David and Corey Robinson and the other a link to the 2018 Driehaus Prize Laureate announcement. Both of these items would have reached about 20,000 people, if not more, in the News Feed of 2017, but because they collectively received 351 likes, 11 shares and 7 comments (most of which were "Congrats!" or "Wonderful!"). In other words, because the posts did not engage others as much as Facebook requires, Facebook didn't show the posts to as many people.
On the other hand, our post on the more than 1,000 students, faculty and staff traveling to Washington, D.C. for the March for Life reached a handful more people than a similar post last year even though this year's post was much more engaging with 5,000 people commenting, reacting or sharing versus last year's 3,000.
Engagement matters. That's the name of the game here.
So how do we write posts that engage our audience? It's going to be very difficult, especially if you're trying to primarily reach a student audience (for all the reasons described last week) and if your content is primarily news- or event-based.
We're going to have to become better storytellers and explore the "Why?" of a piece of content. Why does this matter to my audience?
We're going to have to move beyond headlines and share the meat of a story while still keeping in mind how a post will appear in someone's newsfeed. Here are some strategies that we're going to try to be more engaging:
Get to the point faster
Facebook inserts a line break after 7 lines of text or about 220 characters. The majority of people will not click to read more. Put links and calls to action before this point.
Post longer videos
Long videos perform better than short videos even after the algorithm change. If you're sharing something with a video attached make sure the video is longer than 30 seconds or you're already hampering the post. Make sure the you're making your video as accessible as possible, too:
Make sure the video begins in the action, too. You have to capture someone's attention immediately, so leave brand marks for the end of a video
Create your video to be consumed silently, too. Either include closed captioning or create a video with text on the screen as most people will not click to turn the sound on.
Post more frequently
This is not something I ever thought I would say as I treat the University's Facebook page as the equivalent of nd.edu – we don't post multiple new things on nd.edu every single day so we didn't post that many on Facebook either. With this new algorithm, however, it seems like posts have a shorter shelf life. Posts used to reach people throughout a 24-hour period and then much slower after that. I've noticed that on posts since the News Feed change, our reach has considerably slowed within the first 12 hours. Consistency will be key to see if posting more frequently will reach more people, or reach that same small number of people.
Use Live video very sparingly
Facebook has already said that Live Video will perform better than pre-produced video in the News Feed environment, so we should all switch to going live, right? Wrong. Live Video should only be done sparingly and for events that it makes sense for. Because many people get a notification when your page goes live you're interrupting their day and you better make it worth their while.
Consider consolidating pages
This could be the most controversial of all the things I say about the new News Feed because we all like to feel an ownership of our audiences and our content. Facebook has told us that groups will feel this News Feed crunch less than pages, and Facebook pages now have an option for sub-groups. If, in a few months, campus partners are still seeing severely decreased reach it may make sense to begin a conversation of consolidating centers and institutes under an umbrella heading with subgroups for each constituency under that page. So far there are no plans to do this on campus, but the option is still there as having more units contributing to one page could help with consistency and engagement.