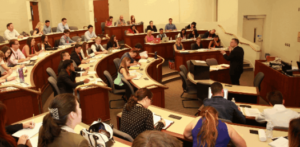 Many have recognized that law schools must implement changes in order to adapt to the continuously evolving legal landscape.  (One example of such commentary can be found here.) These changes to the legal profession include automation, changing client demands, and legal technology development.  While law schools continue to emphasize doctrinal law, changes in the legal industry mandate experiential learning and learning about the business of law, among other things.
Some law schools and state bar associations have attempted to keep up with the changing legal profession by effecting changes to their curriculum, emphasizing tech-savvy, forward thinking and taking legal education outside of the typical classroom.  Such innovative courses include those that require the creation of a legal aid app, those that focus on e-discovery, and those that target business professionals.  Other law schools have attempted to expand access to a legal education by accepting both the LSAT and the GRE.
Other changes have been suggested, such as shortening law school to two years in order to lower the cost of tuition and allow for a year of experiential learning.  The idea has been voiced for many years, as this example from a 2013 speech given by former President Barack Obama at the University of Chicago illustrates.  Additionally, some have suggested that the ability to get a law degree through online courses would expand accessibility to a legal education.  For example, in Fall 2019, The University of Dayton's law school plans to offer a curriculum in which some of its courses may be taken online.
It will be interesting to see whether these implemented changes prove successful and become more widespread, and what new changes will emerge as the legal landscape continues to evolve.