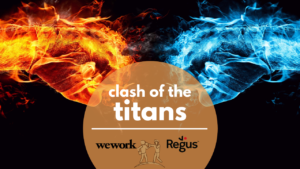 In this era of innovation, most of us are used to seeing disruptive businesses entering the market. What's interesting to follow is how quickly after a new model shows some success, a competitor quickly launches a similar model and tries to dominate the space. As a recent example, the latest IPO news coming from Uber and Lyft remind us of how these disruptive companies are often reaching their milestones at a similar pace.
There are two companies with similar business models that are currently in court trying to defend the uniqueness of their brand. Regus and WeWork are two industry innovators that have created alternatives to traditional office space. Regus is the earlier version, and it offers office space that looks more like a typical office. WeWork has developed a collaborative workplace with features not found in conventional offices. Both services provide flexible payment options not available in standard office leases. Clients can choose a package of office essentials based on their individual needs for things like conference rooms, secretarial services, and printing. The companies share the same disruptive model, with WeWork adding a new layer.
Recently, WeWork created a new model of its product geared to midsized companies and called it HQ by WeWork. Regus owned a subsidiary called HQ Global Workplaces and sued WeWork for trademark violations.
The case is primarily a trademark case, but I believe the underlying factor is that WeWork has borrowed Regus' business model. Regus has no way to stop them from using their idea. They can only interfere if WeWork violates an IP right as they claim happened here. This example might not bother us much considering the trendy WeWork model looks very different than the corporate Regus model, but it got me thinking about whether we offer protection for entrepreneurs who create new business models.
A different example that I came across recently is in eyewear products. Warby Parker was a disruptive idea in an industry which was ripe for innovation. Warby Parker offers customers the option to try on a selection of sample frames before ordering a pair from their site. To do this, they figured out what materials ship well, what type of packaging works and what kind of selection works well with for their system. I discovered recently two sites, Jonas Paul and Pair Eyewear, that sell children's glasses and have each been described as the "Warby Parker" of kids' glasses. They are both run by entrepreneurs with interesting and compelling backstories and products. Both are held up as models of entrepreneurialism. They also, both borrow heavily from Warby Parkers model of shipping out sample frames. Pair Eyewear even hired a former Warber Parker exec to help them get their business going. Warby Parker has no legal claim as far as I know, but should they?
Entrepreneurs have been described in the readings as people who continuously tinker with an idea to make it work best.  What should happen when that idea is a product of another entrepreneur's creative business model? Should the law offer the first entrepreneur ownership of their innovative solution, or should it be free and open for all to use?