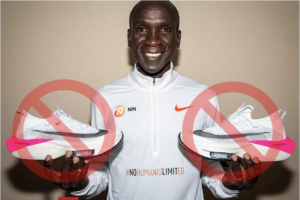 A marathon stretches just over 26 miles. According to MarathonHandbook.com (a website devoted to long-distance runners) the average marathon finishing time is 4 hours, 21 minutes, and 49 seconds with some participants finishing in the 6 to 7-hour range. A sub-3-hour marathon is considered an excellent time. But a sub-2-hour marathon? Impossible…. that is, until Kenyan long-distance runner Eliud Kipchoge completed a marathon in 1 hour, 59 minutes, and 40 seconds in Vienna in October 2019, becoming the first person in recorded history to break the 2-hour barrier. Interestingly, fellow Kenyan long-distance runner Brigid Kosgei shattered a 16-year-old women's record by 1 minute and 21 seconds the very next day.
There's only one tool of the trade: the sneakers that the athletes use in competition. But no pair of sneakers have caused as much fanfare and tumult in recent history than Nike's "Alphafly Next%" – the sneakers that both Kipchoge and Kosgei wore when they broke their respective records. Technological innovation is the name of the game when it comes to running sneakers used for competition. The Alphafly boasts a lightweight midsole foam called "Pebax" and a carbon fiber plate. The sneaker was scrutinized and its use in future competition was questioned: there was a call for banning the sneakers as some claim that they essentially act as a spring, giving athletes more forward push from each stride. Thus, some argued that using them pose an unfair competitive advantage that erodes the integrity and spirit of the sport.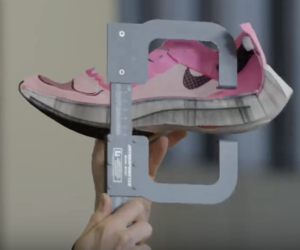 With the 2020 Summer Olympics in Tokyo just around the corner, the international governing body of athletics, World Athletics, acknowledged that there was a cause for concern: regulations state that shoes cannot confer an "unfair advantage" and must be "reasonably available" to everyone. Ultimately, in January of 2020, World Athletics ruled that the Alphafly (and another controversial sneaker, the Nike Vaporfly) would not be banned from competition, but it did establish guidelines for sneakers to be used in competition following its investigation:
The sneaker's sole must be no thicker than 40mm.
The sneaker must not contain more than one embedded "plate" that runs either the full length or only part of the length of the shoe. The plate may be in more than one part but those parts must be located sequentially in one plane (not stacked or in parallel) and must not overlap.
For a sneaker with spikes, an additional plate (to the plate mentioned above) or other mechanism is permitted, but only for the purpose of attaching the spikes to the sole, and the sole must be no thicker than 30mm.
Any sneaker used in competition must have been available for purchase on the open retail market (online or in store) for a period of four months before it can be used in competition.
Nike's success with the Alphafly and the Vaporfly has forced competitors to adapt to the market and produce comparable goods – companies including Brooks, Adidas, Hoka, Saucony, and more are set to release their own foam and carbon-fiber plated models. This competition will continue to drive new technology that benefits athletes and consumers alike.
In laying down ground rules, questions arise as to whether a governing body such as World Athletics undermine or impede the innovativeness that we have come to expect from industry leaders (such as Nike). For example, if no regulations existed, what would Nike's unbound, "true" innovation nature look like? (i.e. Create the lightest sneaker you can and there are no restrictions on how much cushioning or how many plates you can implement in the midsole). Or on the other hand does true innovation take shape amid forced restrictions? (i.e. Create a shoe within these defined regulations and you can only work within these parameters).
Additional sources:
Questions to consider:
Should governing bodies intervene and regulate at the cost of innovation?
Are governing bodies stewards or obstructions to innovation?
Are there any other examples that come to mind? What about the automobile industry? Airline industry? Architecture industry?