Dr. J.J. Wright, Director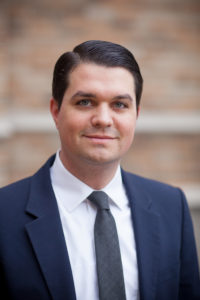 Dr. J.J. Wright recently completed his D.M.A. in Conducting from the University of Notre Dame's Program in Sacred Music. During his final year in the program, his studies brought him to Rome, where he researched and wrote his dissertation on translating the early Baroque oratorio to jazz. In addition, he studied at the Pontifical Institute of Sacred Music and interned with the Sistine Chapel Choir. J.J. also released O Emmanuel, an album for Advent and Christmas, with the Notre Dame Children's Choir, which debuted at #1 on the Billboard Classical Charts.
His latest album, Vespers for the Feast of the Transfiguration, is a participatory jazz vespers service that incorporates improvisation and popular music with congregational singing. The service was was recorded and filmed live at Saint Peter's Church, NYC as part of their Jazz Vespers Series.The accompanying documentary film will air this Summer on CatholicTV and Salt & Light TV. When he's not busy conducting or recording, he's a husband and father to three beautiful children.
Karen Schneider-Kirner, Associate Director
Karen Schneider-Kirner has been associated with the Notre Dame Folk Choir since 1997, working closely alongside the ensemble's founder, Steve Warner. As Associate Director, she collaborated with Steve in composing and arranging much of the music of the choir over the years, including the Mass for Our Lady, published through World Library Publications. She has also been a part of the extensive touring and recording aspects of the choir. She founded the Notre Dame Celebration Choir, which she directed from 1997 through the Spring semester of 2016. Karen also directs the five-octave Handbell Choir and serves as one of four full-time organists serving the Basilica of the Sacred Heart, under the auspices of Campus Ministry. She has also served as a music director for churches in Connecticut, New York, and Ohio.
An Indiana native, Ms. Schneider-Kirner is also a concert organist and has played solo recitals in cathedrals across the U.S. and in Europe. A graduate of Yale University, she holds a Masters of Music degree and a Masters in Art and Religion through the Yale Institute of Sacred Music. Her Bachelor of Music degree is from Ball State University in Muncie, Indiana. She has pursued further studies in organ and church music through the Hochschüle für Musik in Vienna, Austria.
Karen and her husband Scott, who supports the Folk Choir as guitarist, have three children—14 year-old twin daughters Claire and Emma along with their 11-year-old son Joseph.
Steven C. Warner, Director Emeritus
Steven Warner received his B.A. in Religious Studies from St. Michael's College in Winooski Park, Vermont, where he then served as Director of Liturgy for two years. He moved to the University of Notre Dame and earned a Master's degree in theology and liturgy in 1980.
Mr. Warner joined the Office of Campus Ministry staff at Notre Dame in 1979. Since that time he has continued to build up programs and enhance the integrity of sacred music at the University. With his assistance, the tradition of worship on campus continues to grow, influenced by the presence of the Folk Choir and the liturgical planning aids published through his office. A new hymnal supplement, planning and celebration of campus-wide liturgical events, and coordination of musical resources for more than three dozen residence communities all take shape under the guidance of his office.
The Notre Dame Folk Choir was founded by Steve in 1980. Then a group of eight vocalists with no musical library, the group has now grown to more than sixty singers, instrumentalists, an associate director, and several student assistants. The choir began a regular schedule of national and international tours in 1988, made its seventh tour to the Republic of Ireland in 2003, and celebrated its 25-year silver anniversary on the Notre Dame campus the first weekend of May in 2005.
The repertoire of the choir is published exclusively through World Library Publications outside Chicago, Illinois. "Songs of the Notre Dame Folk Choir" first appeared as an octavo series in 1995 and now comprises nearly a hundred pieces. Collaborators to the series include Rev. Chrysogonous Waddell, O.S.C.O., former choirmaster of the Abbey of Gethsemani. Some of the compositions have become parochial standards in just a few years—"Set Your Hearts on the Higher Gifts," "All Will Be Well," "The Lord's Prayer," and "Rosa Mystica" are several examples.