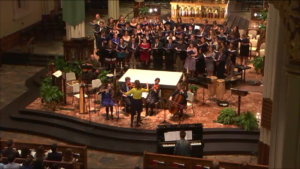 There are many different services the Folk Choir can offer your parish community. The Choir frequently tours both domestically and abroad sharing these services with faith communities across the globe. Some of the more common elements of our tours are described below. The Choir has made frequent appearances at schools and churches, but is always open to any new ideas or requests that come our way.
Repertoire Workshop
Many of the songs the choir performs on tour are written by Director Emeritus Steven Warner, Assistant Director Karen Kirner, and other composers. These pieces are bound to the mission of the choir; many are recent publications not yet in the canon of Church music. Repertoire workshops open up a discussion performance techniques, liturgical usage and principles, and cantor and psalmist techniques while the Choir shares songs with your community. All are welcome to join in this hands-on event, and local parish musicians and music directors are especially encouraged to attend. Bring your voices and your instruments!
Liturgy/Mass
The music of our Eucharistic Liturgy embraces all ethnic styles and varied instrumentation. We will work with a local cantor, or provide a cantor and/or psalmist for any service we are asked to accompany. Many of our psalm settings are performed with Celtic harp or guitar and organ, and were written specifically for the choir.
Evening Prayer/Vespers
Evening Prayer and Vespers form the other half of the great prayer tradition of the Church. For these services, the choir's voices, together with guitar, organ, and harp, offer a synthesis of English plainchant and contemporary musical forms. Often the parish also considers a Light Service (Lucenarium) to begin the liturgy. If the parish desires, a short concert by the Folk Choir can follow Vespers.
Concert
The concerts of the Notre Dame Folk Choir can take a variety of musical forms. Our most popular performances embrace the theme of the entire liturgical year, from the Advent season through the Feast of Christ the King. Using this as our starting point, we weave together many different kinds of liturgical music—psalmody, chant, spirituals, early American hymnody, contemporary compositions, and mantras. We celebrate the many cultural components of the Catholic experience through our international song; compositions from Ireland, Africa, France, and Mexico all find their way into this kind of performance.
Because we are a "folk" choir, we stress the involvement of the people in all our performances. Participants in our evenings of song and prayer are given a program which includes many of the refrains and hymns. The singing of the assembly is an integral part of a concert of sacred music with the Notre Dame Folk Choir.