New research addresses complexity of Neglected Tropical Disease (NTD) control
Read article here (February 16, 2017)
Research reveals a triple-drug regimen that could eliminate elephantiasis
Read article here (January 13, 2017)
WHO's LF elimination program is not enough
Read article here (November 16, 2015)
Climate change is affecting disease-carrying mosquitoes and other insects
Read article here (February 17, 2015)
Notre Dame researcher joins international consortium
Read article here (December 23, 2014)
Disease-carrying mosquitoes pack twice the punch
Read article here (June 14, 2013)
Announcements:

New article published in Infectious Diseases of Poverty! Read here.

New article published in Lancet: Infectious Diseases! Read here.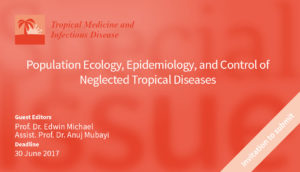 Call for manuscript submissions for special issue of Tropical Medicine and Infectious Diseases edited by Dr. Edwin Michael and Dr. Anuj Mubayi. More information here.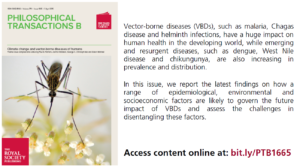 Special issue of Philosophical Transactions of the Royal Society B: Biological Sciences edited by Paul Parham, Joanna Waldock, George Christophides and Edwin Michael. Read here.