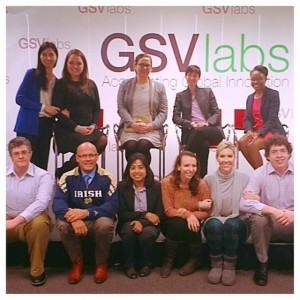 A post from our student blogger Catie
So, here we are at the end of MSPL Boot Camp…
No, wait, I've completed the program and I'm graduating in less than a week! I know that it's cliché, but where did the last 9 months go? Many of us came into the program without really knowing what we were getting ourselves into with this whole 'patent law' stuff, but now we're prepared and excited for the beginning of our careers in a field that we have become engaged in. I came into the program with a weak understanding of what a patent practitioner does and I had a few misconceptions about what their day-to-day lifestyle is like in law firm and in-house settings. Although I still have plenty to learn, I feel like this program has prepared me for whatever tasks and circumstance my first few years will throw at me.
I've learned plenty about myself, too. That's tacky, I know, but I really have. A year ago, as a brand-new college graduate, I enrolled into the MSPL with a vague, narrow-minded vision of what my future would be like. I was really anxious with the ambiguity of everything ahead of me, including the program itself. At this point, I still don't necessarily know what I'll be doing a few months from now. Believe it or not, I'm actually not too worried about it. I've learned that the potential of work that I could do within patent law is much broader than I expected. I'm not limited to my niche formed by my biology degree. As a matter of fact, this semester, I have been working at an internship where I have had the opportunity to work on technology in mechanical engineering, and it's been fantastic! I'm really excited about the prospects of working with a broad array of novel technologies in my career. It was not what I had originally anticipated when I thought of myself as a patent agent, but my initial expectations have been exceeded!
I'm also excited about the possibilities of my future. There are many potential opportunities for employment, and I could still opt to further my education, whether that be law school or another higher degree. I still have hopes of someday getting a Master's degree in genetic counseling, but for now, I want to focus on establishing myself in patent law. If I have learned anything from others in the program (from whom I've learned a lot), it's that there is plenty of time to figure everything out. As one of the babies of the group, I was incredibly lucky to have my friends in the program talk to me about their backgrounds and experiences that have led to the knowledge that they have acquired along their paths. There is a lot of pressure as a soon-to-be or recent graduate to have a job and a rock-solid plan for your future. It's almost assumed that you're supposed to have the rest of your life paved out at 22 once you have a college diploma. Everyone in the program showed me that it's okay to be a highly educated individual who is still trying to carve out a career, or someone who has already worked a professional job and wants to take a different path, or someone who still doesn't know "what they want to do when they grow up".
Speaking of the other MSPL'ers, I'm really going to miss the patent law family! We all hit it off from day one, and it led to wonderful friendships over our short year together. As much as I'm excited for the next chapter of my life, I'm sad to be leaving our little circle of friends and Notre Dame. I have to say: Notre Dame most definitely lives up to the hype! It really is a special place, and I consider myself so blessed to have had the experience of becoming part of the Fighting Irish! For that, I have my parents to thank! Attending Notre Dame and being part of the MSPL has majorly exceeded any expectations I had a year ago, and I will be forever grateful for this experience and those who made it happen.
I am now ready and excited for what my future holds, and I am reciprocally so excited to see my patent law family succeed! We have a great bond in a close-knit field, and we will from here on out be part of the great Notre Dame community. Thank you if you have taken the time to read up on any of the knowledge and experiences acquired by the MSPL bloggers; they are representative of our unique journeys through the program, and we appreciate any time that you took to read our thoughts! I am genuinely so happy and thankful to have been a member of this group of MSPL students. Within a short 9 months, Notre Dame became a new home to me, and I can easily say that enrolling in the MSPL was the best decision I could've made. "And our hearts forever, love thee Notre Dame!"
Catie Stevens
cmstevens8@outlook.com
LinkedIn